Angry Audience Takes On 'Rich Kids' Cast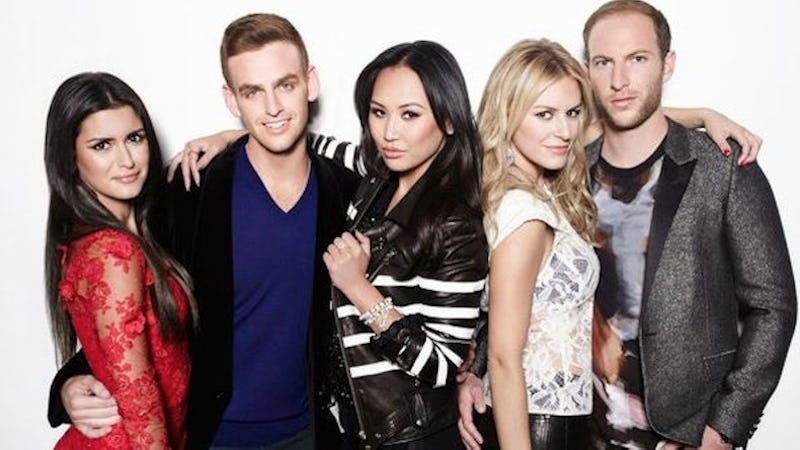 #Rich Kids of Beverly Hills is a real show that exists and that really uses a hashtag in its title. The show premiered on E! on Jan. 19 and left viewers (if there really were any) feeling all cringey because it's basically a show about rich people, who didn't work for their money, talking about their collection of Birkin bags. On Jan 20., in an episode that was likely filmed before the show premiered, the cast of #Rich Kids were taken down by the audience on Bethenny. The cast members tried to defend themselves, but any of those defenses flew out the window judging by their activities on show's premiere.
The cast, which is lead by friends Dorothy Wang and Morgan Stewart, were interviewed by Bethenny Frankel, but the real fun started when the audience got to express their feelings. The first woman that spoke said, "I've literally had to be working since I was 14 years old and then you're gonna sit up there and have all of your things handed to you. I don't understand what story you're trying to get out. That's not interesting." And so said everyone who's ever heard of Keeping Up with the Kardashians, except you could argue— you might not be successful, but you could argue— that that show is about family. This show is seriously only about being hashtag rich. Cast member Jonny Drubel responded that he's been working since he was sixteen while Stewart added that the woman can't judge without watching the show. I'm thinking that if this woman watched, she would feel the exact same way.
Another audience member said that they were "eating off of a silver spoon" to which Drubel responded, "Sometimes it's silver, sometimes it's gold." That upset Frankel who said her audience wasn't there to be "beat up." Go Bethenny!
The best audience comment came from a woman who said, "Own the show ... It's a bunch of spoiled brats showing off what they have. That's the show. Congratulations." It was so backhanded and so appropriate for these people who clearly just weren't getting it. She added that "I'm going to watch you spend thousands of dollars." To which Stewart said, "You don't even know that we're going to do that!"
Oh. She knew. On the first episode cast members spent $40K on one night out.
Image: E! Online