These 11 Scenes Do New Year's Eve Right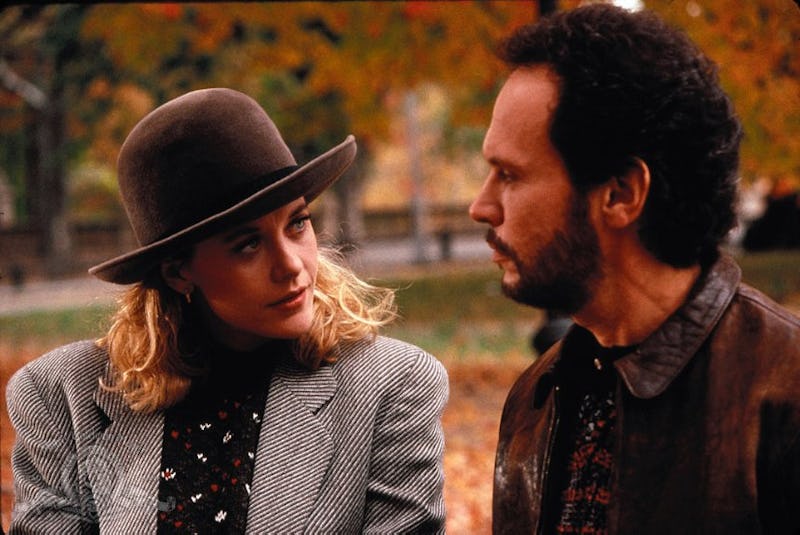 I've spent a lot of time over the past few days lamenting New Year's Eve. Living in New York, it's almost impossible to see all the friends you hope to connect with; Times Square is chaos; and hovering over it all is pressure to have fun. But we can all be grateful, at least, to have movie exemplars of how to do New Year's Eve right — from When Harry Met Sally to An Affair To Remember, these are some of the most essential New Year-centric viewings to occupy your Dec. 31, your January 1, and really any time of year you see fit. (I'm a person who listens to Christmas music year-round, so there's no judgment from this corner.) These 11 best New Year's Eve scenes in movies show that the most unexpected events can make the most memorable ways to ring in the new year.
There's a common thread in many movies tying the New Year to new romance — but these movies aren't just of the sappy romantic variety (though, as with the two mentioned above, there are some of those, too). They're not even necessarily about New Year's Eve, but they center on some very iconic midnight scenes that often outlast the movies themselves. And they are most definitely not realistic depictions of how Dec. 31 might go for most of us, but they're universally platonic ideals of how we might wish to kick off another year of existence on a tiny green planet.
11. The Godfather, Part II
No one would mistake The Godfather or its sequels for New Year's movies, but this iconic scene between Michael and Fredo in The Godfather, Part II reveals the ultimate betrayal, and a quick escape from reveling party-goers in Havana.
10. About A Boy
New Year's Eve is only the beginning for the burgeoning romance between Will and Rachel.
9. Happy New Year, Charlie Brown
No holiday would be complete without some sort of Charlie Brown special. So far this holiday season, we've had It's A Great Pumpkin, Charlie Brown, A Charlie Brown Thanksgiving, and A Charlie Brown Christmas, so the New Year's Eve scene in Happy New Year, Charlie Brown is a fitting conclusion.
8. Sex And The City
The movie doesn't quite hold up to the series, but the New Year's Eve scene in Sex and the City is a standout. It's worth the watch just for Sarah Jessica Parker's long-awaited subway ride.
7. 200 Cigarettes
Paul Rudd calls it like he sees it in this bleak appraisal of the "obligation to enjoy yourself" on New Year's Eve.
6. Radio Days
AMC voted Radio Days' scene among the top 10 greatest New Year's Eve vignettes in cinematic history, and with Diane Keaton serenading audiences, it's not hard to see why this Woody Allen flick earned its spot.
5. Bridget Jones's Diary
Because Bridget Jones is neither the first nor the last to break her New Year's resolutions on January 1.
4. Boogie Nights
It would be tough to characterize Boogie Nights as a New Year's Eve movie, but it does contain a key scene in which William H. Macy's character catches his wife in the act — with another man — on New Year's Eve. He returns home to get a gun, shoots her, the other man, and then himself. Not the happiest way to close out a decade.
3. New Year's Eve
New Year's Eve is a movie composed entirely of quintessential New Year's scenes — it circles around several couples, and singles, whose New Year's Eve celebrations intersect with serendipity. Plus, Robert De Niro. But the most emblematic scene must be Lea Michele's rendition of "Auld Lang Syne," New Year's Eve's own anthem.
2. An Affair To Remember
The New Year's kiss between Deborah Kerr and Cary Grant might be the scene that started the trend. I first saw An Affair to Remember on a cruise because it's also the quintessential cruise movie, in addition to an iconic New Year's Eve movie. In this 1957 classic, Cary Grant is perfect as ever, and the New Year's scene starts off the romance instead of providing the climax of the narrative. (Incidentally, that comes on Christmas Eve — there are a lot of reasons to celebrate the holidays in this one.)
1. When Harry Met Sally
If you type "When Harry..." into YouTube's search function, the first autofill option is the full movie title, and the second, "When Harry Met Sally New Year's Scene." That pretty much says it all.
These 11 scenes offer the best way to pregame the stroke of midnight, running the gamut from the heartfelt romance of New Year's Eve to the dark reversal of Boogie Nights. Much as Paul Rudd of 200 Cigarettes might wish New Year's Eve were just another night, there's no denying the cultural weight that we've placed on the turn of a new year — and its place in cinematic history bears witness to that.
Image: Columbia Pictures