7 Times Judy Blume Totally GOT You As A Teen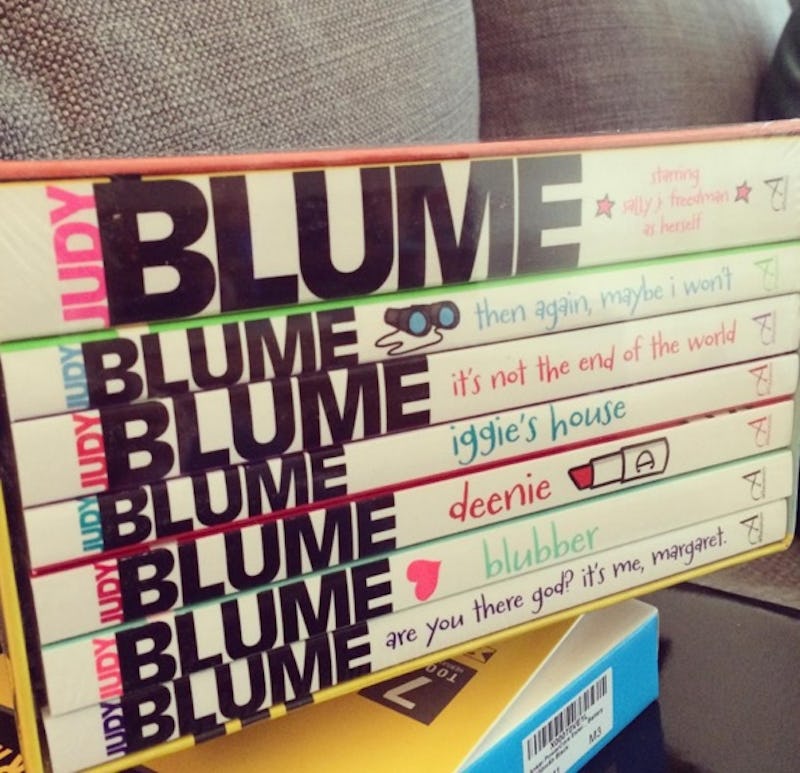 I don't know about you, but I was one gawky teen (and pre-teen, for that matter.) Five-foot-seven by the sixth grade, braces for years, shy as could be, all awkward angles and incoordination — sometimes the only place I felt normal was nestled among the pages of a book; especially if that book was written by teen bible connoisseur Judy Blume. You have to admit it: Judy Blume just GOT your life as a teenager.
From Margaret and Deenie to Katherine and Davey, the girls in Blume's young adult novels explained the unexplainable of growing up, (aka: boys, hormones, periods, love) tackled subjects head on that you and your BFFs only ever whispered about after health class, (again: boys, hormones, periods, love) and definitely made you feel a whole lot less alone. Blume's books just went there — answering all those questions you were too afraid to ask your mother, no matter how much your mother-daughter relationship might have rivaled that of Rory and Lorelai.
Here are seven times Judy Blume totally understood you, saved your life, and basically explained your entire adolescence to you — all between the covers of a book, no less. Read and relive all your teenage gawky goodness.
1. When You Learned It's OK If "Forever" Really Means "About Eight To 10 Months"
It took me a little bit longer than Katherine Danziger to get over my first love (OK, a lot longer) but thanks to Forever , I was able to rest assured that I would someday move on, once I just up and got around to it. Sure, "going all the way" — or whatever the kids are saying these days — is a big deal, but thanks to Judy Blume I developed the necessary gumption to love deeply, have my heart broken, and then love all over again. You know what I mean?
2. When The Chant "We Must, We Must, We Must Increase Our Bust" Worked About Three Years Later Than You'd Hoped It Would
This one pretty much speaks for itself. Because just admit it: Even though Are You There God? It's Me Margaret dealt with some pretty deep religious, spiritual, and interfaith issues, the major takeaways when you were 13 were bras, boys, and your period. Oh yeah, and waiting for your boobs to arrive.
3. When You REALLY Disappoint Your Parents For The First Time
Sure, denting the family Chevy is not quite the same as rejecting a parent's lifetime of hopes and dreams for their child, but at the end of the day you probably did end up doing something as a teen that disappointed your parents more than you would have liked. Deenie is a fierce reminder that all you can ever be is yourself, regardless of anyone else's expectations — even parents'.
4. When You Wanted Some Hints Into The Boys' Perspective
Tony Miglione of Then Again, Maybe I Won't is basically the male version of Margaret Simon, taking on pre-teen angst from the gentlemen's point of view. It turns out that unrequited love, unforgettable loss, and unpredictable hormones aren't experiences reserved exclusively for us gals — and honestly, phew.
5. When You Got Your First Period — And Then Everything Else Went Into Disarray, Too
I think as a general rule a first period tends to be one of the more un-fun moments in a gal's life, and without Judy Blume you might have thought the plight was yours alone. Steph Hirsch is one of the many fabulous ladies whose introduction to menstruation is chronicled in the pages of a Blume novel, in this case Just as Long as We're Together . When Steph's friendships suddenly fall apart as well, you probably started to wonder if Blume was actually watching your teen life unfold from inside your locker. Because we've all been there.
6. When You Learned About Bullying The Hard Way
While "blubber" is hardly the meanest word circulating middle school hallways these days, for Linda Fischer, the bullied pre-teen in Judy Blume's Blubber , it certainly didn't feel like a compliment. Whether you had your own gaggle of mean girls to contend with growing up, like Linda, or end up being unceremoniously teased by your own friends, like Jill Brenner, this novel was definitely there when you needed help sorting out your genuine friends from the crowd.
7. When You Encountered Your First "Adult" Issues
You might not have grappled with quite the onslaught of adult-level issues that teenager Davey Wexler did in Tiger Eyes — death, illness, anxiety, substance abuse — but you probably remember the first BIG challenge you encountered as a young adult, and how it made you feel like a completely different person than the one you used to be. Back then, Davey was definitely a kindred spirit.
Image: llloyd1985/Instagram