How Often Should You Clean Your Engagement Ring?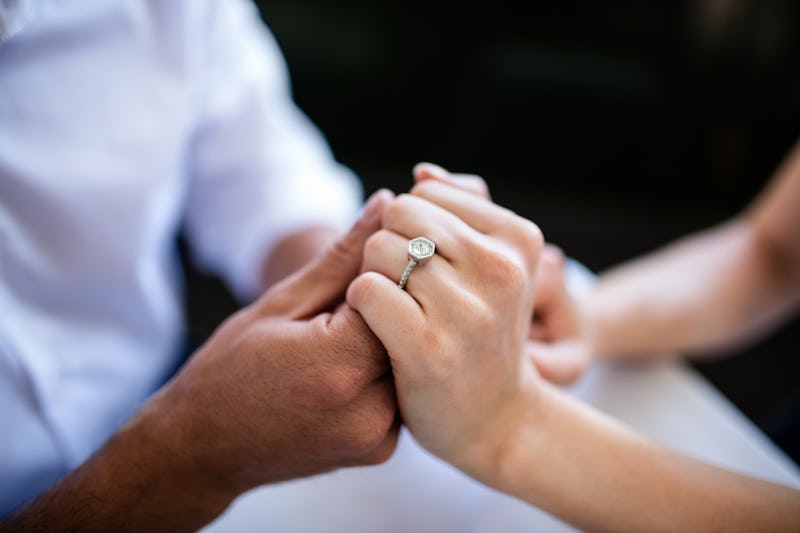 So you're engaged — congrats! You're probably posting photos of your ring to basically all channels of social media, while also being in the midst of planning a wedding. While it's hard to stop staring that that shiny piece of jewelry on your hand, it's easy to forget its maintenance. So how often should you clean your engagement ring? After all, you'll want it looking absolutely perfect for those engagement photos and eventual wedding photos. Plus, this is probably one of the only pieces of jewelry you'll be wearing for well, ever, so taking care of it is going to give it the longest life possible.
Engagement rings come in all shapes and sizes. From the wisdom tooth ring that one couple chose to exchange to incredibly unique, non-diamond stunners perfect for a non-traditional bride, each ring is different, and hey, not to get all sappy, but they all carry special sentimental value for the owner. While not everyone chooses to rock a ring — and there are lots of great arguments for and against the practice — if you're checking out this advice, you've more than likely got some type of ring on that finger of yours. So, how often should you remove your ring and clean it?
The short answer: Often. According to Martha Stewart Weddings, rings are fragile creatures and to keep them in tip top shape, you'll need to keep them clean. If you wear your ring all the time like many people, you'll definitely need to clean more often. Things like dish soap, shampoo, and lotions can buildup under the setting of your ring or your diamond and dull the quality. So, if you're going to be cleaning your ring say, one a week, what will you need? It's actually quite simple.
Use Lukewarm Water
14K White Gold Bezel Solitaire Engagement Ring, $780, James Allen
You'll need to soak your ring, and lukewarm water is your best bet.
Use Mild Dishsoap
Using heavy compounds to clean your ring could end up damaging your stone, so to get it extra clean, use a mild dish soap while you soak the ring.
Use A Toothbrush
Sapphire Fancy Halo Diamond Ring, $3,500, Brilliant Earth
You'll need to use a toothbrush to gently scrub between prongs after soaking.
With such an easy cleaning process, your ring should be cleaned often and well. Come engagement sesh time, you and your ring will be good to go.
Want more style tips? Check out the video below, and be sure to subscribe to Bustle's YouTube page for more hacks and tricks!
Images: Fotolia; Courtesy of brands.