'Grease: Live' Teases Awesome Songs From The Show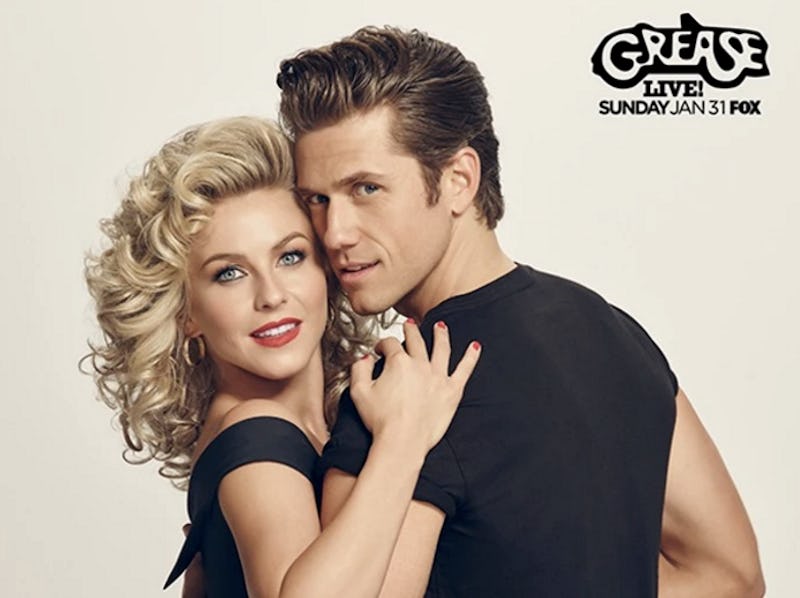 Are you excited for Grease: Live yet? No? Well, allow me to abruptly convert you from a doubter to a believer. I don't know how there can still be doubters left out there after we got our first look at the cast dressed up like our favorite Grease characters, but now Fox is giving us something even better than that. Grease: Live song clips were released onto Vine on Wednesday and, although the clips don't feature the actual cast singing, according to Sandy herself Julianne Hough, they're still catchy re-imaginings of our favorite songs that will get stuck in your head all day. It's unclear who exactly is singing in these Vines, if not the Grease: Live cast, but I'm not mad about it. It just gives me an excuse to sing "Hopelessly Devoted" all day long to annoy my family.
The four clips released feature four of the most recognizable songs from the musical. No, "Greased Lightning" is nowhere to be found, but "Summer Nights" and "We Go Together" and, of course, "You're The One That I Want" are all represented below. These clips sound so good that I already can't wait to hear what the actual cast sounds like when they take on the songs themselves. But, until then, check out the Vines.
1. "Hopelessly Devoted"
This is actually my favorite song from Grease, and thus the Vine that I have played the most since it went up. The raw emotion inherent in this song just gets me every time.
2. "Summer Nights"
It's the choreography on this one that gets me. Sure, you don't see any of that in this lyric video, but the guys and the girls dancing in the bleachers and around the school always makes me want to get up and dance myself.
3. "We Go Together"
This song couldn't get more '50s if it tried. In the absolute best kind of way.
4. "You're The One That I Want"
The happy ending, the pièce de résistance, the still-controversial ending to the love story of Danny and Sandy. Sorry, I can't hear you over the music.
Grease: Live premieres on January 31 on Fox. I'll see you all there.
Image: Tommy Garcia/FOX