Are The Yeezy Boost 350 Sneakers On eBay?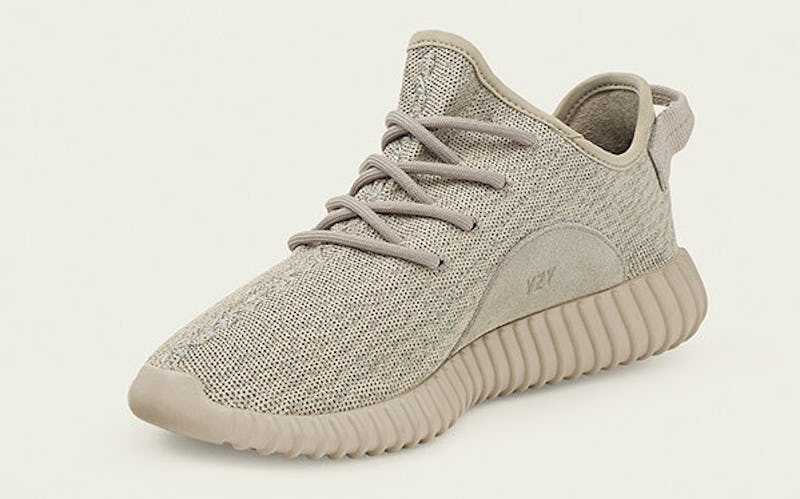 It seems like everything Kanye touches turns to gold — or, in this case, tan. The latest colorway in his sneaker collection dropped on December 29 and, of course, subsequently sold out. But are the Yeezy Boost 350s on eBay? Yep, but you'll have to drop some serious moolah to get your hands on a pair.
The tan hue is the fourth and final Yeezy Boost 350 color of the year. Following Pirate Black, Moonrock, and the original Turtledove, the newest shade is no less coveted than the others. Ye also dropped two Yeezy Boost 750 high-top shoes this year, in white and black, for $350 each.
As for the low-top sneakers, they retail for $200, but that seems like coffee cash now in comparison to what the kicks are going for on eBay. The average asking price of tan Yeezy Boost 350s is decidedly absurd: $900? $1,200? $1,500?!? I can't even.
If you're not willing to drop four digits on a pair of new sneakers this year, though, it's not too late — word has it that 2016 will see six new Yeezy Boost 350 colorways. If you want it, need it, gotta have it now though, head on over to eBay to try your luck (watch for UA pairs if you want the real deal, though — that means unauthorized. If you see a cheap pair, that's probably why.)
Of course, every size and listing varies in price, but here's what you're looking at in general for each pair.
Tan
The lower-cost tan Yeezy Boost 350s fall around $700, but if your heart desires, you can pay up to $3,000.
Pirate Black
The Pirate Black hue also clocks in around $700 for the lowest-priced authentic shoes, but go all the way up to around $2,800 (or $5,000, if you need a very rare size 15.)
Moonrock
My personal favorite Yeezy Boost 350 colorway, you can snag Moonrocks for as low as $550 or as high as $4,500. These look similar to the tan hue, but they're slightly more gray.
Turtledove
The original Turtledove colorway appears to go for no less than $800, but up to five grand. Woah.
Want more style tips? Check out the video below, and be sure to subscribe to Bustle's YouTube page for more hacks and tricks!
Images: Courtesy of brand