How This 22-Year-Old Is Helping Muslim Women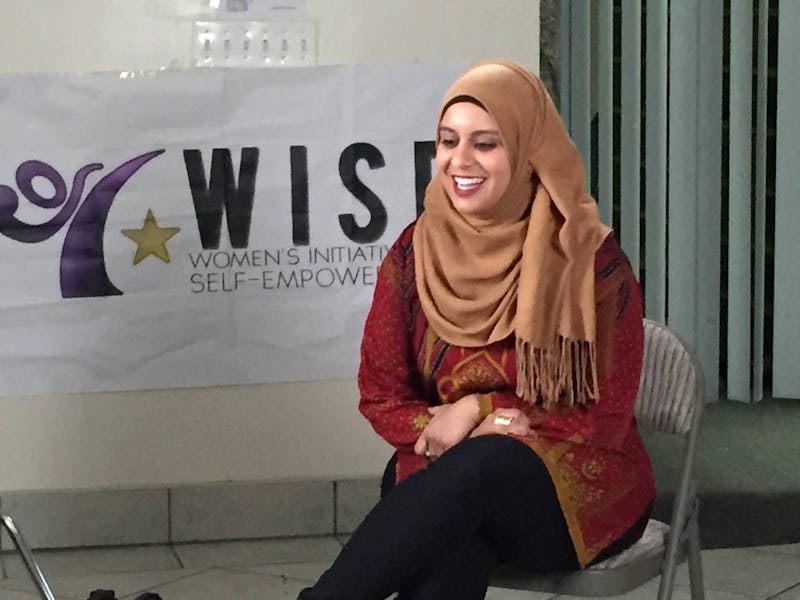 Rana Abdelhamid was 16 when a man attacked her on the street in attempt to remove her headscarf. The following year, in need of a space to discuss incidents like these and the cultural climate they're born from, she formed a workshop that grew into the Women's Initiative for Self-Empowerment (WISE). To give Muslim and Jewish women throughout the United States and Europe a forum to discuss the marginalization they've experienced and the tools to succeed in the face of it, WISE offers a summer program, a fellowship, workshops, and mentorship to train young women in self-defense, leadership, and entrepreneurship.
Abdelhamid, a 22-year-old currently getting her master's in public policy at Harvard, told Bustle over the phone that she noticed that many Muslim women, especially those who wore hijabs, shared her fear of attacks like hers, even before the Paris bombings and shootings. "They're very much associated with negative stereotypes," she said. "A lot of Americans do not know Muslims, so most of the information they get about Muslim Americans comes from very horrific news stories we hear about tragedies that happen unfortunately in the name of Islam. People take out that anger and fear on Muslim women." She decided last year to also include Jewish women after a Jewish woman approached her about bringing the program to her community. "Antisemitism has been on the rise," she said, especially in Europe.
Confirming Abdelhamid's observations, Britain experienced 115 anti-Muslim hate crimes during the week following the Paris attacks, and most victims were girls and women who wore traditional Islamic clothing. Similarly, 184 Muslim Americans were the victims of anti-Islam hate crimes in 2014, and Jews are the most targeted religious group in the United States, with 648 victims of hate crimes in 2014.
Abdelhamid has a black belt in karate and wanted to give other women the ability to fight back if they ever fell victim to violence due to their gender or religion. "That was the skill I could offer to my community," she said. One of the most rewarding moments of her work, she recounted, was hearing from a participant who stood up to someone on a bus who told her to go back to where she came from.
Beyond attacks from outside the Muslim community, Abdelhamid also learned from volunteering at a domestic violence shelter that many Muslim women are abused in their own homes due to some conservative Muslim values, which inspired her to add entrepreneurship and leadership training to WISE's programs. "My exposure to the types of domestic violence that Muslim women were facing showed me that it's a multilayered issue and oftentimes it could come from economic abuse," she said. She wanted to give women the skills to "be professional leaders in their communities and beyond so they have economic agency."
Abdelhamid also hopes to dispel stereotypes about Muslim women — not just that they're terrorists but also that they lack agency. There's a misconception, she said, that "women who cover have been forced to cover or have been oppressed or faced a lot of violence within their home. A lot of Muslim women actually choose to wear a hijab. There's a lot of agency and empowerment in that choice." Her own hijab, she said, is both an expression of her faith and a feminist statement. "It's empowering for me at a time when a lot of women are being objectified," she explained.
In a country where anti-Islamic sentiment is on the rise, it's important to remember that Muslims are often the ones living in fear. Abdelhamid's efforts to minimize these fears by giving women the ability to protect themselves and achieve the lives they want are commendable, but we shouldn't lose sight of the goal to create a world where nobody needs martial arts training to defend themselves, regardless of their religion, gender, or ethnicity or what they're wearing. "This is going to keep happening until we run out of business," Abdelhamid said — "which is what we want."
Images: Courtsey of Rana Abdelhamid