'My Sweet Audrina' Is Based On A Chilling Story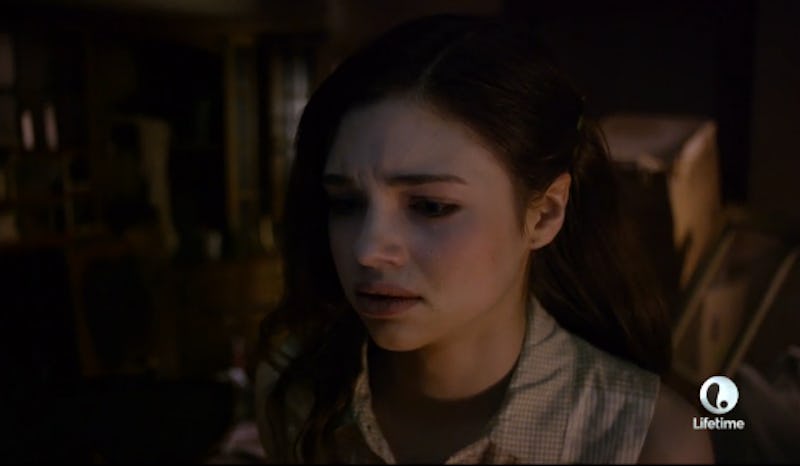 If there's one thing that we can learn from Lifetime's original movies, it's that parents can be cray. At least, that's probably what you thought after you watched its adaptations of V.C. Andrews' Flowers In The Attic series. Now the network is taking on the author's work once again with her 1982 novel My Sweet Audrina. Despite the saccharine-sounding title, this is one seriously messed up tale, much like Flowers in the Attic and its sequels. So you'll likely be relieved to hear that My Sweet Audrina isn't a true story, especially once you watch it.
Though it's unclear just how close Lifetime's version of My Sweet Audrina will be to the original novel, the story is certainly similar to the disturbing tale that is the Flowers In The Attic series. In the original novel, narrator Audrina is a young girl who cannot remember her past, and is unaware of things like her real birthdate or how old she really is. Her father, Damian, tells her stories of her older sister, also named Audrina, who was raped and murdered in the woods years earlier. Damian insists that the younger Audrina can get her memories back, as long as she becomes as much like her elder sister as possible — but as she soon discovers, there may be more to Damian's story.
Here is the official synopsis from Lifetime's website of the film adaptation:
My Sweet Audrina is a gothic psychological thriller centering on Audrina, a young girl with an inability to recall past events in her life. Living in her family's secluded mansion, Audrina is haunted by nightmares in which she dreams of her older sister, the First Audrina, who was left for dead in the woods after an attack. As she falls in love with a boy named Arden and is tormented by her sadistic cousin Vera, she slowly starts to regain her memory of the grim truth around the death of her sister.
It appears that the new film will follow the same general theme as Andrews' original novel, which fits in with how Lifetime adapted the four novels of the Flowers In The Attic series. As evidenced by the new promos for My Sweet Audrina, the film certainly won't downplay the disturbing concepts within the novel's text; even the theme music is quietly chilling.
My Sweet Audrina seems to be the perfect choice of adaptation for the network that introduced Flowers In The Attic to a new generation, but be warned: being a work of fiction doesn't make it any less disturbing.
Image: Lifetime