The One Thing You Need For The Perfect DIY Mani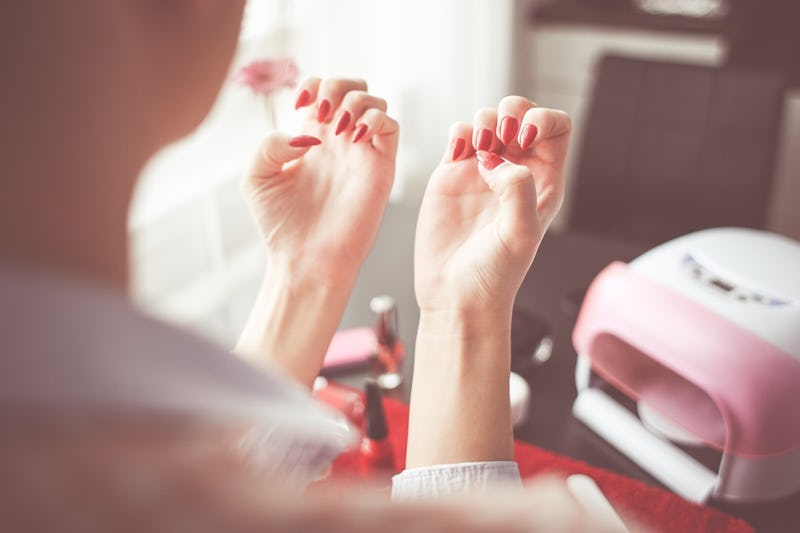 At-home manis are a great way to save cash and time, but unless you're a nail polish wizard, it's tough to make your DIY manicure look perfect. Chances are, even your best polish job doesn't stack up to a salon pro's handiwork. But there's one game-changing item your kit needs to take your good DIY manicure to great: pointed Q-tips.
Read more: 20 Glitter Nail Designs To Copy For An Eye-Catching Mani
There are a lot of little tools and tricks to give your at-home mani a salon-quality touch, but if you're going to invest in just one, pointed Q-tips are the way to go. You don't often see them in actual nail joints, because most of the time, they don't need 'em — a nail tech has the magical ability to get the polish exactly to the edge of the nail, but not even a teeny, tiny bit over.
Until you harness this superpower, the best way to get a precise, professional-looking manicure is to clean up after your adventures outside the lines (we all go there on at least a nail or two.) The challenge with regular cotton swabs is that your touch-ups on the skin around the nail often end up going too far, so you can accidentally remove teeny bits of polish on the nail itself in the process.
Consider this problem solved with pointed Q-tips. The quickest giveaway to an at-home job is nail polish that ends up around your nails as well as on them, or nail polish that doesn't get all the way to the edges. No need to fear with a pointy cotton swab — paired with a strong acetone polish remover, finishing up with a few swipes around the edges will take your mani to the next level.
Q-tips Precision Tips Cotton Swabs, $3.19, walgreens.com
Of course, if you're looking for a full salon result without the salon, these five products are worth the investment, too. (But seriously, those Q-tips? You need 'em.)
Nail Buffer
Revlon Crazy Shine Nail Buffer, $5.63, amazon.com
Before applying polish, buffing your nails smooths their surfaces, adds shine, and gets rid of the dead stuff you can't see.
Cuticle Oil
Essie Apricot Cuticle Oil Polish, $8.50, kohls.com
Just like they do in your favorite salon, massage oil into cuticles to soften and moisturize them before you go to work.
Base Coat
CND Stickey Base Coat, $8.50, ulta.com
This step is absolutely essential in keeping your polish chip-free and your nails protected from lingering pigment (if you wear red polish, you know what I mean.)
Top Coat
Nars Top Coat, $20, nordstrom.com
A top coat is also a must-have for chip-free nails. After applying to your entire polish job, brush some over the tips of each nail for extra protection.
Acetone Polish Remover
Beauty Secrets Nourishing Acetone Nail Polish Remover, $2.79, sallybeauty.com
This is where those brilliant little pointed Q-tips come in — acetone nail polish remover gives them the power they need to touch up without ruining your hard work.
Want more beauty tips? Check out the video below, and be sure to subscribe to Bustle's YouTube page for more hacks and tricks!
Images: Pixabay; Courtesy of brands