21 Eye-Catching Glitter Nail Designs
Yes, you can wear sparkling French tips, TYVM.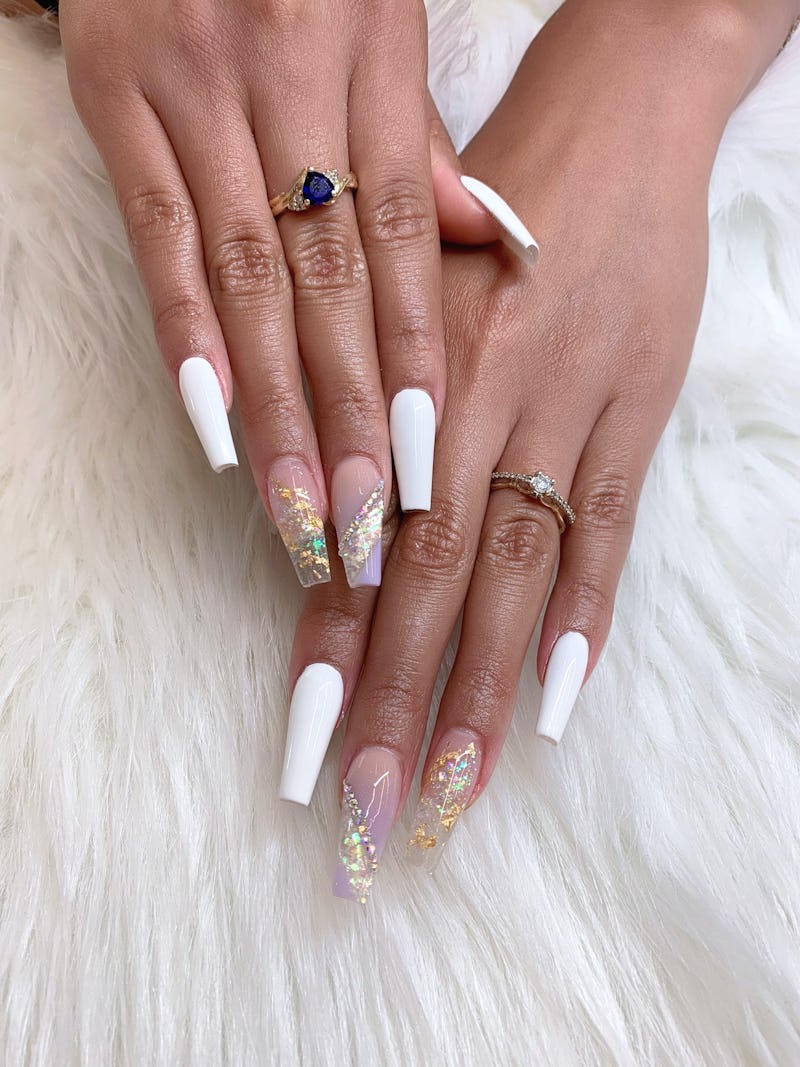 Shutterstock
Even the simplest manicure can add a pep to your step, but peering down at a set of glitter nails has the power to do away with any leftover winter blues and catapult you into spring. Whether you opt for classics like gold glitter nail designs or want to lean heavy into spring pastels and candy colors, a new season provides the perfect backdrop for sparkly tips.
"Getting your nails done with polish that you like — especially if you like glitter — makes you feel more confident to stretch your hands out," says Kerry Allen, a nail technician at Barry's Beauty Bar in Brooklyn, New York. Not only that, but Chelsea King, a Los Angeles-based nail artist and celebrity manicurist, says spring is a particularly great time to rock a glittery manicure. "Glitter is great for spring because it is just so fun. The sunlight hits and your nails sparkle, so it feels great to wear once the sun is coming out again," King tells Bustle.
In addition to the mood-boosting magic, King notes that glitter nails are a fairly easy way to add a little extra something to a basic manicure. You don't even have to visit a salon: All you need to do is pick up a glitter nail polish — perhaps in one of spring's trendiest shades — to DIY the shimmering style.
You've got endless options to pick from for your glitter nails, too, from the always-in-style French manicure to dazzling color mashups. King says her clients are loving gradient glitter lately. "It's something I can create rather quickly, so it doesn't cost clients as much as complicated designs," she tells Bustle. "It looks amazing and will go with anything." Still, Allen says she lets the sparkle lovers that sit in her chair lead the way when it comes to color, coarseness, and design — because there's no wrong way to do glitter. Keep scrolling for 20 glitter nail art ideas you'll want to add to your warm-weather mood board.
This article was originally published on