10 Movies With Beautiful Food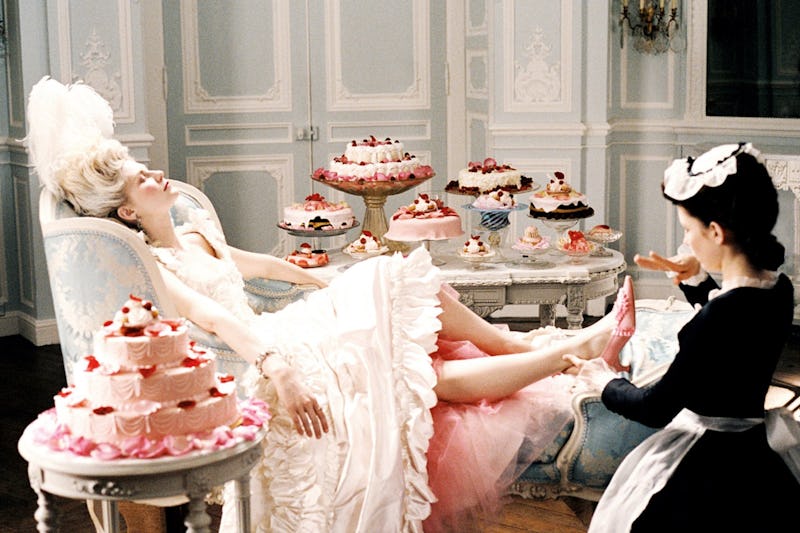 Thanks mostly to Instagram, everybody is a food photographer these days. Sure, those chili-flaked slices of avocado toast look extremely appetizing, but nothing beats the gorgeous food in movies. (Sorry to all the food-snapping 'grammers who may or may not be reading this. No tea, no shade, but you just can't compete with HD film cameras.)
It's simple psychology: watching someone prepare a scrumptious dish makes you want to eat that dish. That's the delicious power of social suggestion. Martin Scorsese's gangster classic Goodfellas gives you an irresistible hankering for spaghetti slathered in veal-infused Sunday sauce. After seeing Jiro Dreams of Sushi, you were most likely nursing a weeklong craving for perfectly steamed tamago. Your first viewing of Chocolat drove you to buy a dozen artisanal truffles in an attempt to recreate Johnny Depp's slow-motion, orgasmic bites of cocoa. The list goes on and on. You're only human, and your power to resist all those beautifully documented delicious things is only so strong.
All that talking about cinematic food is getting us mighty hungry, so here's a list of movies with beautiful food that will make you instantly salivate. You're welcome.
This post is sponsored by Burnt. Stay tuned for the release of the film on Digital HD Jan. 15 and Blu-ray™, DVD, and On Demand Jan. 26.
1. Jiro Dreams Of Sushi
Your spicy tuna roll is pitiful next to the creations of Jiro Ono, the subject of Jiro Dreams of Sushi. This documentary follows the career and legacy of this 85-year-old sushi master, who helms one of the only three-star Michelin restaurants on Earth. Watching him lovingly mold together fish and rice in slow motion will make you want to eat raw fish for weeks.
2. The Trip
This English comedy is as heavy on the absurdity as it is on gorgeous food. On a gourmet tour of the British countryside, Steve Coogan and Rob Brydon (playing themselves) gain entry to some of the most exclusive, highly rated, and pricey restaurants in Britain. Amid all of the beautiful food, Coogan and Brydon can't help making fools of themselves. See: the scene where Coogan and Brydon compete for the best Michael Caine impression.
3. Big Night
Two brothers with extensive culinary knowledge and very limited business acumen attempt to open an Italian restaurant in this 1996 classic. Three reasons to watch: pasta, wine, and more pasta. Also, young Stanley Tucci helps.
4. Goodfellas
This canonical gangster movie examines so many elements of Italian-American culture: weddings, organized crime, and ever-important Sunday dinner. Somehow, Martin Scorsese makes dinner for mafia dons in prison look like a meal at the best old-school red sauce joint in town.
5. Ratatouille
Leave it to Pixar to make the idea of a rat chef charming as opposed to an egregious health code violation. In spite of being, well, prepared by a rat, Ratatouille's titular dish had me jonesing hard for some French food.
6. Tampopo
This Japanese "Ramen western" follows a series of motley characters who develop unlikely bonds at a roadside noodle shop. If you aren't watching this movie while slurping a bowl of noodles and broth, you're just doing life wrong.
7. The Hundred Foot Journey
You might not instinctively crave French and Indian cuisines together, but The Hundred Foot Journey will change that. A French woman with the country's most prestigious restaurant has some serious competition when a talented young Indian chef moves to town. From the perfectly grilled filet mignon to the colorful curries, this film will make you extremely hangry.
8. Chocolat
If you ever wanted to open up a patisserie in a sleepy town and eat all the chocolate you could ever want, you can live vicariously through this romantic comedy. Juliette Binoche does just that in this movie set in midcentury France. '90s Johnny Depp doesn't hurt, either.
9. Marie Antoinette
If anybody knows how to shoot an artfully arranged plate of petit fours, it's Sofia Coppola. Watch at your own risk, because you will immediately want to eat all the pastel-colored, girly foods.
10. Burnt
"I want people to sit at that table and be sick with longing," says Bradley Cooper's character Adam Jones in Burnt. Be warned: when you peep some of the haute cuisine in this movie — poached eggs, halibut, fresh pasta— you most likely will be sick with longing.
Image: Sony Pictures; eOne Films, Madman, George Appiah (2), JustFilmTrailers, Ratatouille Movie Trailer, Trailers, Movieclips Trailer Vault, Zero Media/ YouTube