Meet Amberle From 'The Shannara Chronicles'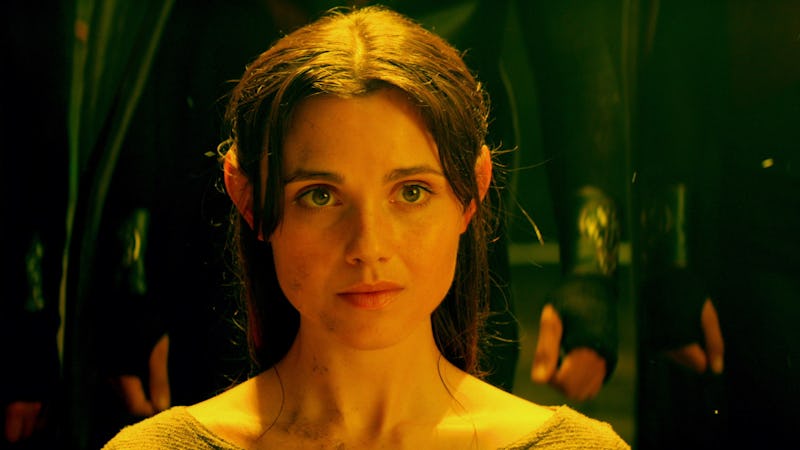 Fans of watching badass elves have been at a loss since The Hobbit wrapped up its journey to the big screen in 2014. But, rest assured, MTV is coming through for your pointy-eared fix. Its fantasy epic, The Shannara Chronicles , based on the novels by Terry Brooks, debuts on January 5 with plenty of elves in tow. The series follows the elven Amberle and human-elf hafling Will as they set off on a quest to save the world from a demon army. Sounds like a big job. But will Poppy Drayton, who plays Amberle, be our next Liv Tyler or Evangeline Lilly?
It's possible. At least the actress is excited about playing such a kickass heroine. "I think one of the most exciting things at the moment especially is that women are getting a chance to play these really strong female roles," Drayton told Showbiz Junkies. "It's just so encouraging and great to see because with all the feminism and stuff that's in the media at the moment, it's nice to have something that proves that hopefully the social stigma that has been prevalent in the last however many years, is hopefully starting to break down even more." Besides being a badass, here's what else you should know about Drayton.
She's From Across The Pond
The Shannara Chronicles may shoot in New Zealand, but this elf is a native of Surrey, England. Still, she's become a fan of her shooting home in the Southern Hemisphere. "They have black sand beaches and they have golden beaches and they have pine forests and they have huge, glorious mountains," she said in the same Showbiz Junkies interview. "It never ceases to amaze. It's quite breathtaking."
She's Been To The Abbey
Drayton has mostly has other TV credits to her name. Most notably, she played Madeleine Allsopp, daughter of Lord Aysgarth, on Downton Abbey's Christmas special. Like The Shannara Chronicles, her Downton character had to wear some serious costumes. "Some of the pieces are original vintage items and others are handmade dresses — draped, sequinned, beaded," Drayton told The Independent. "They were stunning. I felt like a china doll walking around the whole time, but I didn't get to keep any unfortunately."
Her Character Is Ready
Drayton means it when she says she's excited about playing a strong female character. Amberle is young, but she's ready to take on the responsibility of the entire elf kingdom."She's the apple of everyone's eye, really," she says in her intro video. "But I think that feeds her desire to prove her strength for those people."
She Digs The Elf Ears
Some might find those aural prosthetics to be cumbersome or uncomfortable, but Drayton likes the ears. "I miss them when they're gone," she told MTV. "You sort of feel like you've lost something. It's like you've gone back to reality, which is quite sad."
She Doesn't Like It When You Get Her Name Wrong At Starbucks
It's Poppy, people. It's not that hard. Then again, if The Shannara Chronicles becomes a big hit, everyone will know Poppy Drayton's name.
Images: MTV; Giphy; Nick Briggs/Carnival Films 2014 for MASTERPIECE