Did HBO's 'Girls' Just Announce An End Date?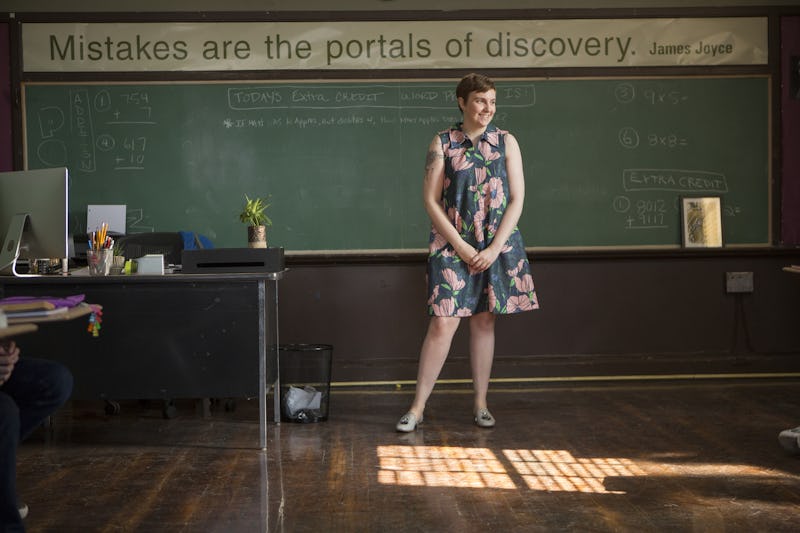 You guys, I am seriously sad. It's being reported by E! Online that Girls might be ending after its sixth season. Honestly, more than I'm wondering what I am going to have to look forward to during the cold, cold months of February and March of 2018, I am way more focused on the fact that, if Girls is possibly coming to an end, Hannah Horvath has like 10 more episodes to get her life together.
Not that the ending of this Lena Dunham-Judd Apatow comedy has to be neat and tidy and land on some high note with Hannah striking some perfect balance of settling down and taking on the world, of course. After all, Girls is known for its gritty realism about the lives of its four main characters as they navigate post-college life. Really, when I think about it, chances are that Hannah (and Marnie, and Shoshanna, and Jessa) will never truly have her life together. And that's OK! But, with Season 5 already wrapped, Lena Dunham and her writing partner-in-crime, Jenni Konner, basically would have 10 episodes left to end this thing — and, for such an influential show like this one, that's huge.
Dunham and Konner have two choices, as I see it. To end this thing with more of the same — an anti-epiphany, if you will, where not much has really changed for any of the characters — or to end it with a bit of pizazz and a shimmer of razzle dazzle.
Here's what I'm hoping for: That — if Girls is indeed ending after Season 6 — Dunham and Konner end Girls somewhere in between the two. I hope that they write an ending that embraces the harsh reality of being a twenty-something in New York City and that gives the audience a shred of hope that these four girls will keep growing.
After all, everyone loves a happy ending (even if it's just a hint of happiness and not outright overtures of joy).
The show, which has been a cornerstone of HBO's primetime lineup, returns for its fifth season on Feb. 21.
Image: HBO; Giphy