The One Nail Polish Trend To Try In 2016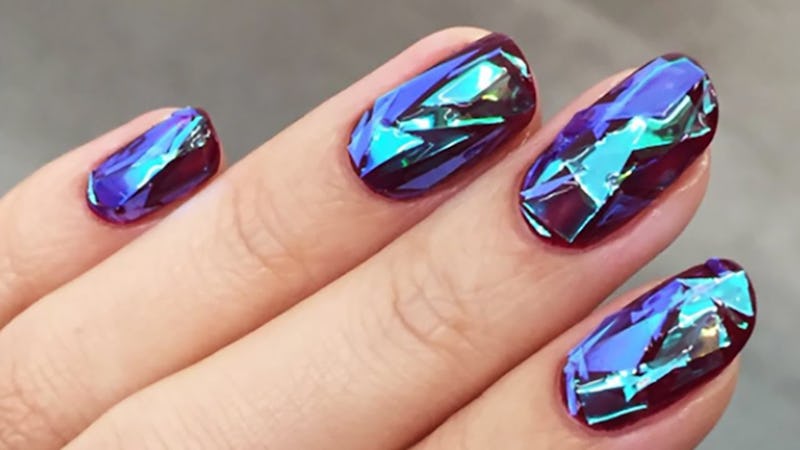 We love Korean beauty trends, and the latest craze is no exception. It's not a skincare routine, technique or product, either. Here's why broken glass nails are the one nail polish trend to try in 2016.
The broken glass nail manicure technique was created by Korean manicurist Eunkyung Park, who owns Unistella Salon in Seoul. Park is the go-to manicurist for celebrities in her country, and now her glass nail technique is taking over American fashion.
Broken glass nails were inspired by the inside of the abalone shell, which are lined with a pearlized rainbow finish. Park wanted to mimic the look for nails, and tried creating a glasslike finish with cellophane. After trial and error, she finally found a Japan-based candy company that sold the exact paper she needed to create glass nails.
"Everybody that is trying to copy this look is buying cellophane," Park said, according to InStyle. "Usually cellophane paper is flat, but with my rainbow film I always roll it, because your nails aren't flat either. They're more curved, so the whole point is to make sure it sits perfectly on the nail, otherwise they will just be flat and they won't lift."
To help others create the look, Park created film stickers. You can also find reflective paper, wrapping, rainbow film, or iridescent tissue paper to cut up and apply.
If you want to create your own broken glass nails at home, follow the tutorial below from vlogger Charlotte Stories.
To begin, you'll paint your nails as usual and apply a top coat. Then apply cut up pieces of paper or stickers with a tooth pick. You can use a single scrap of paper, or layer pieces on top of one another for a more 3D effect. When your glass is just how you like it, apply another top coat and let it dry!
Here's another tutorial from vlogger Creative Nail Art. Instead of simply painting her nails one color, she used different nail polish colors and sponged it onto her nail.
I'm obsessed with the pink iridescent look — so gorgeous!
If you're tired of your plain 'ol mani, be sure to step up your nail game with the shattered glass look. It's an easy way to achieve a high-end look and the perfect way to wave hello to 2016!
Image: Charlotte Stories/YouTube