7 Best (And Weirdest) Nail Art Trends Of 2015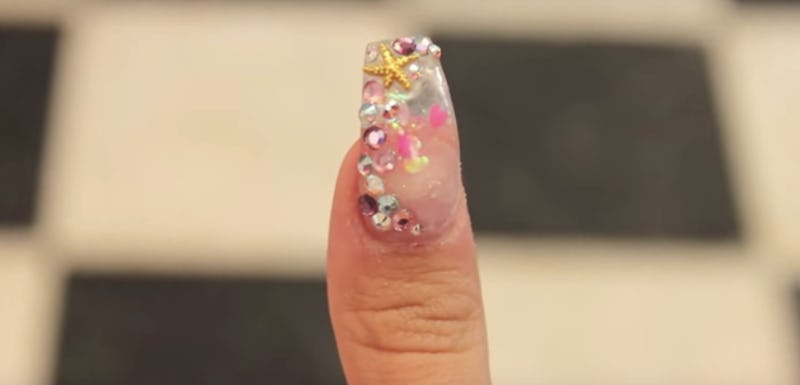 Even though 2015 was the year that E!'s infamous Mani Cam was retired from action, the death of the oft-derided finger walk down the mini-runway doesn't mean that people have lost all interest in nail art. This is proven by all of 2015's most popular nail art trends, which were creative, unique, and kind of strange — usually in a perfect-for-Instagram kind of way. If anything, 2015 was a great year for nail polish addicts, especially those with a flair for the outlandish and a penchant for the weird.
Certain classic nail art colors and patterns, like glam black nail polish or a glitter ombre manicure, reemerged, of course; but 2015 was a year of innovation for nail art. There were even some technological advancements, with the birth of services like NailSnaps that let you create nail art using your photos. Artists also tested out different materials and created fantastical 3D shapes that, realistically, seemed a bit impractical.
Even though the nail art trends that really made a splash on social media in 2015 were maximalist, some of them were actually much easier to pull off than they looked. Others definitely required some professional assistance. Perhaps next year will be the year the naked nail comes back in vogue, but until then, here are seven of this year's most impractical but totally rad nail art trends.
1. Negative Nail Art
Of all the nail art trends this year, negative space nail art might be the most tame and the easiest to do at home, even if you're not too confident about your DIY nail art skills. All you need is to leave some blank space on your nail and coat it with clear polish. It creates a subtle accent, and it's a nice change of pace from some of the year's more over-the-top trends. But that doesn't mean negative space nail art has to be boring. Some manicurists really harnessed the power of clear polish to create some elaborate and geometric designs.
2. Pizza Nail Art
2015 was the year science declared that pizza is the most addictive food; and this year, fashionistas went crazy for all things pizza-themed and pepperoni covered, including manicures. It's a foolproof, feel good look, because few things are more enjoyable than a slice of pizza! If drawing 10 pizza slices on your fingers seems like too many, you can always just create a pizza accent nail.
3. Stiletto Nails
Extreme nail shapes were popular this year, and few shapes are more extreme than the stiletto-shaped nail. Stiletto nails are pointy and potentially dangerous; and perhaps best described as claws. But they're perennially stylish, regularly rocked by cool teen Kylie Jenner, and prominently featured in her selfies.
4. Sweater Nail Art
As with many of this year's weirdest nail art trends, sweater nail art got its start on Instagram, according to Elle UK. It's a cozy holiday look, using gel polish to create a 3D design that mimics the look of a cable-knit sweater. The optical illusion is most convincing when the nail is finished off with a matte topcoat. But for untrained hands, creating this design probably takes as long as knitting a real sweater does.
5. Glass Nails
Korean beauty products made a huge splash in 2015, and so did this Korean nail art trend. Glass nails were created by Eunkyung Park at her Unistella Salon in Seoul, according to InStyle. She uses rainbow film (a kind of Japanese holographic paper) cut into tiny shapes and glued onto the nails, creating an iridescent and twinkling effect.
Some nail artists have taken it one step further, by adding their own designs and accents to the shattered glass. It even looks like this is a trend that might stick around into 2016, since Park has paired with MODI to create a line of nail stickers for those who want to get the look themselves but don't want to spend all that time cutting small shapes out of holographic paper.
6. Aquarium Nails
If you've ever wondered what you'd look like if sea monkeys could live inside your fingernails, then you're in luck because aquarium nails exist. Also known as "aqua tips," these acrylic nails are actually small capsules that a manicurist can fill with liquid and glitter to create a mesmerizing and customizable effect. There are tutorials on YouTube for those daring enough to try this look at home, but this might be one that's best left to the professionals.
7. Bubble Nails
This year's most WTF moment in nail art was definitely the bubble nail. The look is orchestrated by layering acrylic onto nails to create a 3D effect. Some of the bubble nail art is so dramatic and colorful that it looks like someone just glued gum balls onto people's fingers. It might not be the easiest nail art look to maintain, but at least it makes for a good 'gram!
With nails like these, well, we can basically take over the world... Right?
Image: thenailsqueen/YouTube