9 Books To Read If You Hated High School English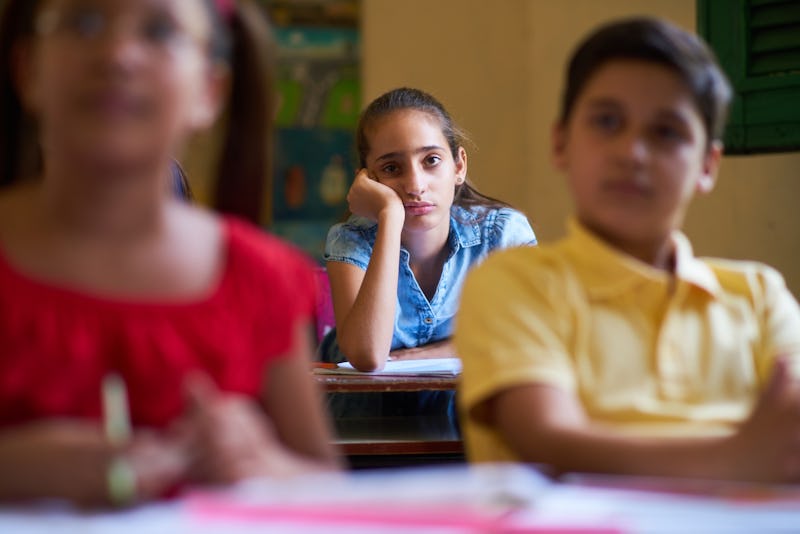 It's remarkable that I have a college degree in English, because I was not about my high school English class. Sure, I thought my teachers were great, I could slide by grade-wise, and anything was better than math class, but many of the books we read bored me to pieces. I was the girl who would skive off doing her Great Expectations homework in order to read Scott Westerfeld novels, who would guess her way through tests over The Crucible after being up all night re-reading Harry Potter.
Now, I will argue for the immense value of an English literature education until the end of time. Even if you don't like it, the things you learn in English class are absolutely vital in life. But, I truly believe that not enjoying the books you read in school doesn't disqualify you from being a reader. It just means that you have opinions, which is arguably the most important part of being a literary critic.
All too often, people use their distaste for high school English class as an excuse not to read. It drives me bonkers, because everybody is a reader, they just have to find the right book. Reading a book you can't get enough of is an amazing an experience, one that everyone can and should have. Besides, what didn't you hate in high school? Give it another shot.
So, if you didn't like high school English, here's some books to try on for size. Don't worry, you don't have to do annotations and there won't be a quiz in the morning. But I hope they'll spark something in you that keeps you turning the page.
So, maybe reading a lot of words isn't your thing. Welcome to the wonderful world of graphic novels. So many amazing stories get told by combining art with words, and Ms. Marvel is one of the coolest examples. The story of Jersey City teenager Kamala Khan, who discovers she has superpowers. Adventure combines with a nice helping of girl power in this fantastic series. If you love superheroes, and especially if you're a fan of Jessica Jones, this is a must for you.
There are so many wonderful adjectives to describe this book: cool, fun, adventurous, nutty. The apocalypse hits, throwing Austin, Texas (and the rest of the world) into zany chaos. Filled with rambunctious adventure and strange happenings around every corner, it's impossible not to be pulled in. Oh, and one of the key characters is a hermit crab. It's awesome.
Sedaris is always an excellent choice to listen to on audiobook, because his delivery is flawless. Not to mention, his writing is hilarious. This book is a collection of autobiographical stories about Sedaris' life, characterized by his witty personality and his keen observations. It reads like you're having a good drink with a lovely friend. And, trust me, it will make you laugh.
4. Peeps by Scott Westerfeld
Peeps is one of my favorite books, and my go-to recommendation for people who claim they're not readers. It's impossible not to be intrigued by this one. It's set in New York City, and vampirism is an STD. That's right, our hero Cal, is a carrier for a parasite that has turned all his girlfriends into vampires. He works for a centuries-old underground agency, and he's on the tail of a mystery that is even more bizarre and terrifying.
5. Nimona by Noelle Stevenson
If you prefer the Internet to books, the humor in this delightful graphic novel will resonate with you for sure. The story of a blood-thirsty shapeshifter who nominates herself the henchman of righteous villain Lord Blackheart, in a world that's filled with everything from crazy inventions to dragons.
6. Cartwheel by Jennifer du Bois
This book will grab you and get your mind ticking. While studying abroad in Buenos Aires, American student Lily Hayes' roommate is murdered and Lily is arrested. Cartwheel gets the story from every point of view— from key suspects to prosecutors to Lily's father —and as you read it, you won't be able to help theorizing your heart out.
7. Mort by Terry Pratchett
Terry Pratchett is supposedly the most shop-lifted author in the U.K., and when you read his books you'll see why. Set in the goofy, parody universe of the Discworld, his books are filled with lovable characters, insightful ideas, and hilarity all around. In this book, a guy named Mort finds himself the apprentice to Death himself, a job that, of course, leads him to all sorts of strange trouble.
If you haven't yet, you have to give YA fiction a spin. You'll fly through the pages of this one, and it will take you on an emotional ride. When ambitious New York teenager gets overwhelmed and attempts suicide, he lands in a mental hospital filled with interesting characters and fascinating stories.
With the new movie out, you've probably heard of The Martian. Not only is this book incredibly engaging, but if you consider yourself more of a science/engineery person, you'll get all kinds of geeky kicks out of it. The story of a man abandoned on Mars, and his ingenious efforts to survive.
Image: Fotolia