Behold This Glorious Donut Made Of Gold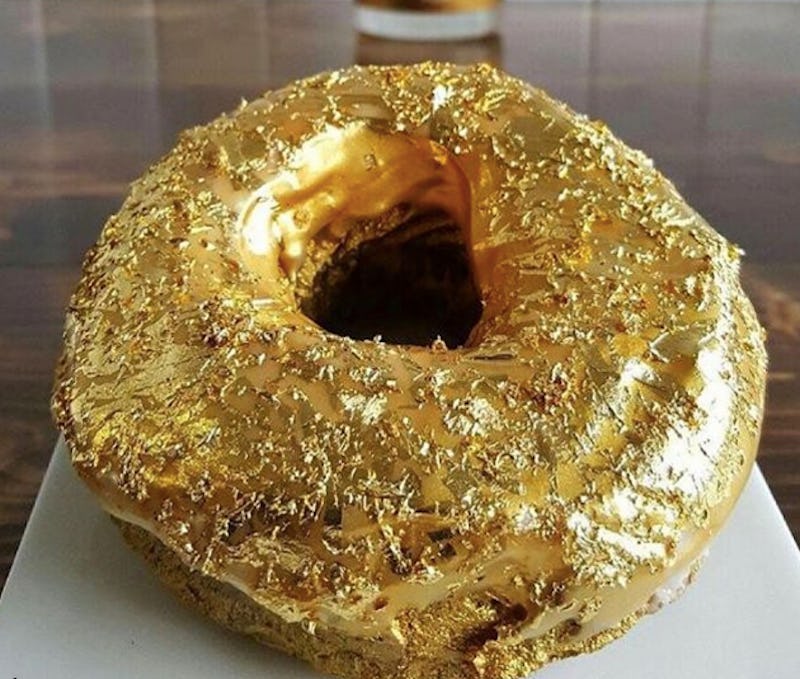 The holidays are over, so odds are you're officially out of ~treat yo self~ and diving straight into ~wow I can't believe I desecrated my bank account in two weeks~ mode. But maybe you'll make an exception for this donut made of gold. The Kardashian of donuts, this marvelous creation is made of icing made with Cristal champagne and filled with an ube mousse, champagne jelly, and covered with actual, legitimate 24 karat gold. All you have to do to consume it? Disapparate to the Manila Social Club in Williamsburg, Brooklyn, and get prepared to sell your kidney to shell out the $100 for it.
This isn't the first fancy pastry rodeo for the Manila Social Club, which frequently 'grams drool-worthy donuts that will make your stomach grumble and your wallet bleed. One of the gold donut's fellow creations, the Ube Bae Donut, caused such a stir during the holidays that they were forced to announce weekly sellouts on Instagram to stop people like me from showing up and likely bawling on their doorsteps (dessert is the closest thing to romantic love I have ever understood). While I cannot profess to have tried any of their donuts myself, I will say, they sure do look pretty.
Honestly, guys, this brings a whole new meaning to the words If you like it then you should've put a ring on it. Forget wedding bands. From now on, this is the only true ring we need to express our love for each other. Sure, unlike a diamond, it won't last forever, but life is short, y'all, so you might as well ingest a gratuitously gold-painted donut while you can.
Which brings us to an important point: how the hell can you eat gold? Turns out any ordinary person can just roll up and buy edible gold online. So if you're feeling the FOMO hard and you're still extra broke from buying Christmas presents for yourself I mean your family, then you can DIY by making your own (albeit less delicious) donuts and sprinkling your own edible gold on the top. That way you're only back $11.44 and can pretend you're one of the cool kids!
In case you missed the Ube Bae boat, they are these marvelously purple donuts that are a lighter, airier Filipino version of the French cruller. I imagine this is the king to the golden donut's queen in the fancy donut dynasty. (You know I'm way too invested in a dessert trend when I start writing fan fiction for it.)
In another life, fair donuts. Nay — another bank account. If anybody needs me, I'll be very sadly Instagramming my not-gold not-donuts like the boring, mortal human that I am.
Images: Manila Social Club