'Younger' Is A Go For Season 3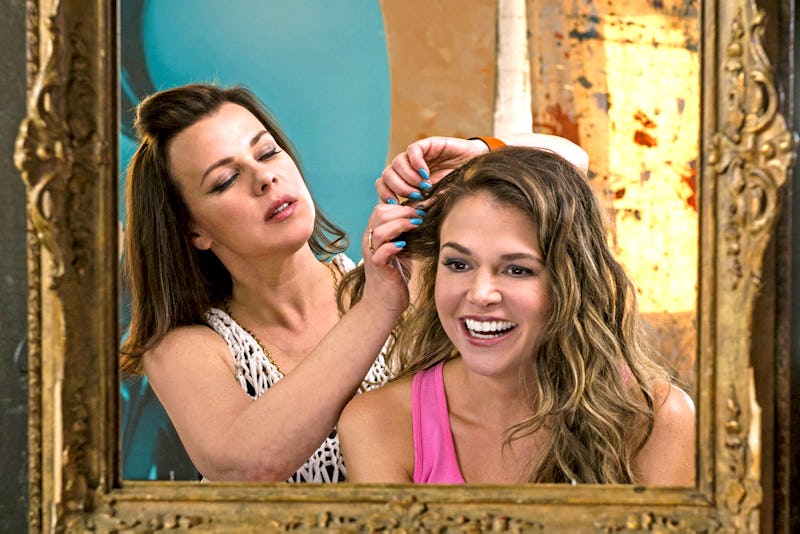 Finding a good TV show isn't easy these days, particularly when it comes to comedy. Everyone has their own definition of what's funny and what isn't, and there's no accounting for taste, but some things universally make you laugh. Younger is one of those shows, and while it's on a cable TV network, and one that many of us might have flicked right past on many occasions — TV Land, to be specific — it's well worth watching. Of course, I'm clearly not alone in my love for the sitcom, which stars Hilary Duff, Sutton Foster and Debi Mazar, among other amazing actresses, as TV Land has renewed Younger for Season 3. If that's not the best news I've heard all week, I don't know what is.
If you're not familiar with the premise of the show, it involves a 40-year-old recently divorced mom (Foster) who's forced to get a new job when she begins struggling financially. She finds it difficult to break into her dream job of publishing, and eventually decides to disguise herself as a 26-year-old after being mistaken for that age by a guy she meets named Josh. After getting a makeover from her BFF Maggie (Mazar), she's off to the races and becomes an assistant at Empirical Press. It just gets better from there and I don't want to spoil it, so you'll just have to watch for yourself.
Of the decision to renew Younger for a third season, TV Land's EVP of development and original programming Keith Cox said in a statement: "Younger was a critical success and fan-favorite right out of the gate, and Darren Star and his team of writers have brought an even sexier, shocking sophomore season to the table. We're thrilled with the show and what it's done for the network, and we're so confident in our viewers' passion for it. We're excited for our audience to see season two and beyond."
Given that the second season of the series hasn't even premiered yet, it shows how much confidence TV Land has in Younger's ability to continue to entertain. Then again, who wouldn't be? Even big name stars like Matthew Morrison, Kathy Najimy, and Ice-T will all be guest starring on Season 2 — and that's just to name a few.
If you're desperate for more Younger, you don't have to wait too much longer, however. Season 2 premieres on Wednesday, January 13 at 10 p.m. I know I'll be tuning in!
Images: TV Land