How To See 'Carol' Before The Golden Globes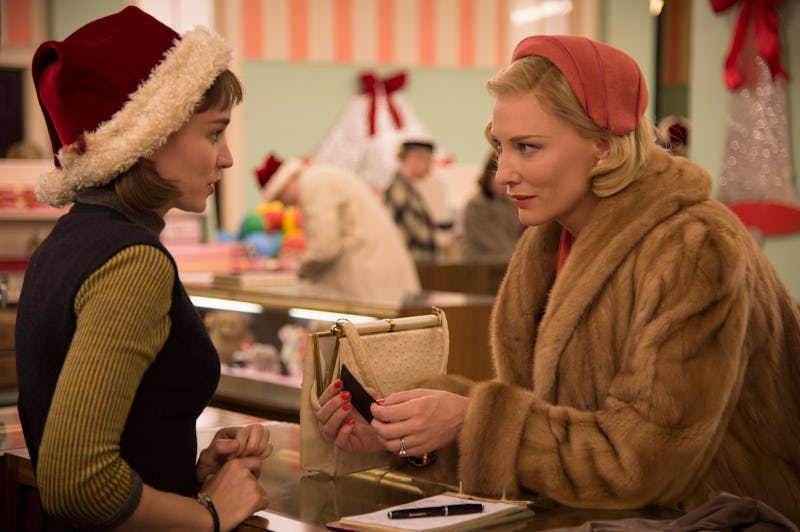 The holiday season was not a great time to be a small, intimate movie like Carol. With blockbuster juggernaut Star Wars: Episode VII — The Force Awakens working its magic on the world at large, there weren't (and still aren't) many screens left for limited release movies — which Carol definitely was. However, that should not stop you from finding out where to watch Carol before the Golden Globes air this Sunday, Jan. 10 on NBC. After all, Carol has five Golden Globe nominations — all in major categories. Not only is the movie up for Best Motion Picture in the drama category, both Cate Blanchett and Rooney Mara are nominated for Best Actress, Todd Haynes snagged a Best Director nod, and Carter Burwell's gorgeous score also got a nomination. The Foreign Press and critics alike are madly in love with this love story between two women in 1950s New York — and if you are lucky enough to be near a theater where Carol is playing you are going to fall hard for the movie too.
It's all about location with Carol. While many limited release movies premiere in theaters and OnDemand platforms simultaneously these days, Carol is not one of those movies. In fact, it looks like Carol isn't set to hit OnDemand services until February or March. In the meantime, though, the groundbreaking romance can still be seen in theaters — if you know where to look. Watching Carol might not be as easy as driving down to your local theater if you don't live in a big city, but there are still plenty of theaters where you can watch Carol, if you are willing to put in a bit of travel.
Below is a list of select theaters in the United States where Carol is still playing, according to every movie lover's best friend Fandango. Movie weekend road trip, anyone?
New York
California
Georgia
Washington, D.C.
Virginia
Oregon
Maryland
Massachusetts
Minnesota
New Mexico
Nevada
Illinois
Washington
Texas
Florida
New Jersey
Michigan
Tennessee
Ohio
Arizona
Arkansas
Pennsylvania
South Carolina
North Carolina
Indiana
Colorado
Oklahoma
Connecticut
Wisconsin
Nebraska
Kansas
Missouri
Kentucky
Louisiana
Iowa
Deleware
Good luck, movie fans!
Image: Weinstein Company