You Need To See Kanye West's 'Idol' Audition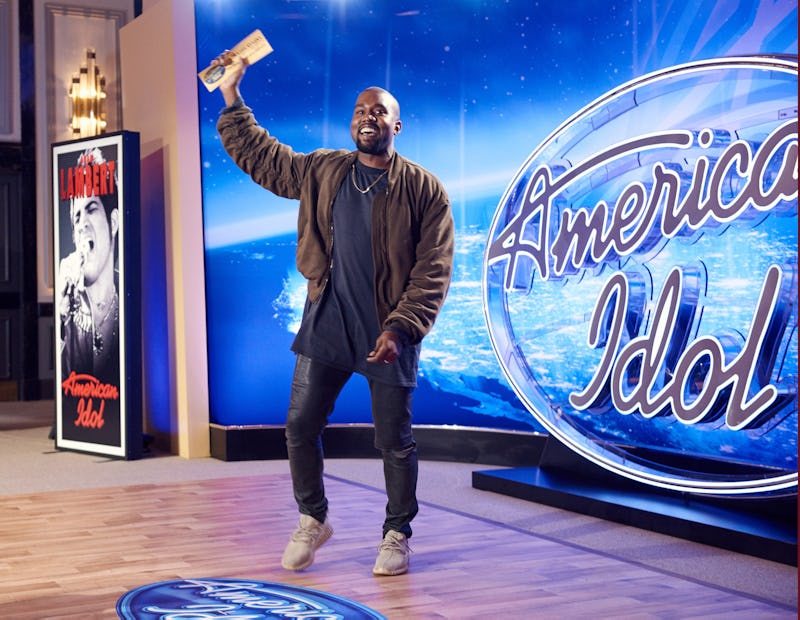 If I learned anything from the final season premiere of American Idol, it's that anything can and WILL happen. At the end of tonight's auditions, the audience was treated with an audition from arguably the most successful rapper/producer this show has ever seen— Kanye West. The superstar decided to surprise Ryan Seacrest and the judges at the San Francisco auditions and gave the audition of the night. But was his audition good enough to make it to Hollywood? The judges came to a unanimous decision — yes!
Growing up on the south side of Chicago, West never had a support system encouraging him to pursue his rap career. Though he made it big as a producer, no one ever believed in him as a rapper— besides his wife, Kim Kardashian, of course. But the 38-year-old proved them wrong tonight. Singing an original song, "Gold Digger," West blew the judges away with his clever rhymes and natural talent, and even buttered them up a little by including a shout out to Jennifer Lopez in his lyrics. Once he was finished, the judges needed little time to deliberate — West was on his way to Hollywood!
Okay, so obviously West's audition was fake but it was so unexpected that I just had to indulge in his performance. Whether it was a publicity stunt or all just for fun, I'm not sure and, honestly, I don't even care because it was so entertaining. There's no doubt this is the first of many celebrity appearances Idol has in store for viewers this season and I can't wait to see who's next. One question remains, though: Will West actually make an appearance in Hollywood? Because that's one show I'd love to see.
Image: Michael Becker/FOX