22 Anti-Valentine's Day Cards That Get It Right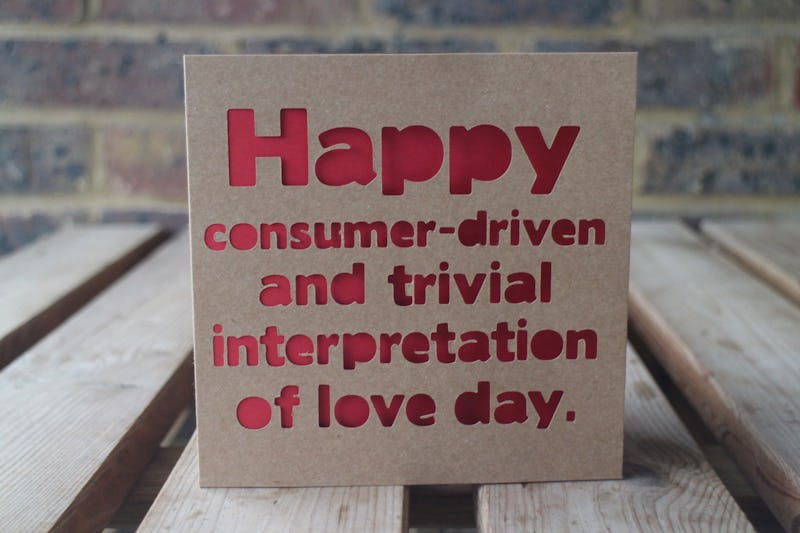 Whether it's because of the archaic perpetuation of gender stereotypes or the general commercialization of the holiday, there are some people who think Valentine's Day is pretty lame. But even the staunchest anti-Valentine's Day enthusiast might still feel pressured to get their partner something — luckily, there are some seriously perfect anti-Valentine's Day cards for people who can't stand this holiday.
I think I had Valentine's Day ruined for me early on. In elementary school, we were forced to give cards to everyone in our class — even the mean girls and the boys who wouldn't let me play soccer with them because I was a girl — so that no one would feel left out. And I didn't date in high school, so my teenage V-Days were spent sullenly avoiding all the kissing couples sporting heart-clutching teddy bears and "I Love You" balloons.
It wasn't until I started to date my current boyfriend five years ago that I got my first real taste of a "traditional" Valentine's Day experience. The first two years together, he brought flowers to my work, or we went out to a dressy, romantic dinner where we exchanged sentimental declarations of affection. This was lovely and everything, but I realized that we can do those same things every and any day, not just Valentine's Day — which is why we spent last year's Feb. 14 at the pub rolling our eyes at people's mushy Instagrams.
But you probably still want to get the special someone in your life something on Valentine's Day, so why not a card that describes exactly how silly you both think the whole affair is?
1. Love and tacos
I Love You More Than Tacos, $4.50, Etsy
Now, this right here, is a real declaration of love. But not a mushy declaration, more of an "I'm just being honest" kind of declaration.
2. Hate them, love you
I Hate Everyone But You Card, $4.25, Etsy
This might seem a little harsh, but to your fellow people-hating partner, it's a very lovely Valentine's Day card. Maybe don't show your mom, though.
3. Happy 14th
Anti Valentine Card, $3.50, Etsy
Hey, Valentine's Day really is just another day — we're the ones that put value to it. Any anti-Valentine's couples can simply celebrate another normal day together.
4. Dat ass
Funny Valentine's Day Card, $4.48, Etsy
I like this card, because 1) it's gender neutral, and 2) it expertly mixes a funny compliment with an emoji. You can say a bunch of nice things on Valentine's Day too, but talking about dat ass is fine, too.
5. Happy love day?
Happy Consumer-Driven Love Day Card, $4.29, Etsy
Well, that's one way to say "Happy Valentine's Day." The statement is not only true, but it will also delight any anti-Valentine's celebrants.
6. Obligatory
Obligatory Valentine's Day Card, $5, Etsy
This card pretty much hits the nail on the head. If V-Day isn't your thing, why give someone anything else?
7. You annoy me... less
Funny Valentine's Day Card, $3.93, Etsy
Finding the person who annoys you the least in the whole world is a magical thing. Make sure you let them know just how much they don't annoy you on Valentine's Day.
8. PDA
I Love PDA Said No One Ever Card, $5, Etsy
Valentine's Day will be filled with couples holding hands, kissing, and making googly eyes at each other. Prepare to hate those people with your non-PDA enjoying partner — because that's love, right there.
9. Love + wine
Funny Valentine's Day Card, $4, Etsy
Our significant others are great, but wine always lets you pick what to watch on TV. Luckily, you can spend V-Day with both!
10. Anti-Valentine
Anti Valentine's Day Card, $3.33, Etsy
This is a card that says that you just get your partner's aversion to V-Day. Instagram will love it.
11. Nice weiner
I Like Your Weiner Dog, $6, Etsy
For some, Valentine's Day is about romance. Romance is cool and all, but a giggle-inducing sex pun is probably more your style.
12. Sound of settling
You'll Do Card, $3.58, Etsy
Anti-Valentine's Day couples probably don't need to give each other some overly sentimental declaration of love and devotion. They can give this simple card instead.
13. Lamentine's Day
Snarky Valentine Card, $3.50, Etsy
I'm a big fan of wordplay and puns, so this card is a winner for me. And it's more of a playful poke at the holiday than a hateful jab.
14. Love and pizza
Pizza Card, $3.19, Etsy
Romantic expensive dinners on Valentine's Day might be commonplace for other people, but all you need are your two favorite things — pizza and your partner.
15. You're the only person
Funny Valentines Day Card, $4.50, Etsy
Hey, no judgements, I know how exhausting family can be. Your partner, on the other hand, is the only exception to your no long hangouts rule — on Valentine's Day, and every day.
16. These are my sexy panties
Sexy Granny Panties Card, $4.50, Etsy
Sexy lingerie has a time and a place, but you ain't got time for that.
Sexy Granny Panties Card, $4.50, etsy.com
17. I've been drinkin'
Let's Get Drunk Card, $4.50, Etsy
Short, simple, and to the point. Getting drunk with your partner is always fun — especially on Valentine's Day.
18. Not sick of you yet
Funny Valentine's Day Card, $3.93, Etsy
If you're not a people person, it can be hard to find your person. You guys can celebrate how not sick of each other you are on V-Day.
19. No bras, brah
Bra Card, $4.50, Etsy
Bras are basically the worst. So, being with someone who couldn't care less if you wear one is the best Valentine's Day gift.
20. Be wine
Funny Valentines Day Card, $4.50, Etsy
All those candy hearts that say "Be Mine" are cute, of course, but wine is probably more enjoyable long term. And yes, wine can count as a significant other on V-Day.
21. Suckers
Funny Anti-Valentines Day Card, $4.50, Etsy
Buying all that candy and presents and flowers for a person who already loves you does seem like a bit of a racket. Give them what they really want — this card and your presence.
22. Chocolate, please
Valentine Card, $4.50, Etsy
Valentine's Day might not be your cup of tea, but giving chocolate to your significant other isn't exclusive to the holiday. Just be careful not to eat their stash.