'Serial' Interviews Another Kidnapped American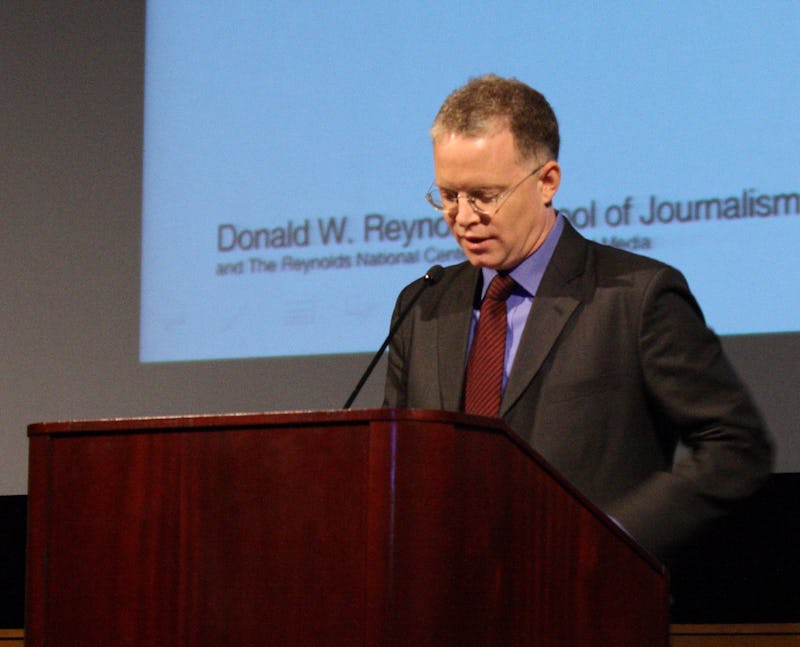 The latest installment of the podcast Serial, out Thursday morning, features a long interview with Pulitzer Prize-winning American journalist David Rohde, who, like Bowe Bergdahl, was kidnapped by the Taliban in Afghanistan. He was on leave from The New York Times and in Afghanistan to write a book, and on his way to interview a Taliban commander when he was kidnapped. Rohde spent seven months in captivity before escaping in June 2009.
Sarah Koenig, the host of Serial, focused the fourth installment on "The Captors" — the Taliban and others who captured and held Bergdahl. She starts describing Bergdahl's time in a transportable cage, but says that Bergdahl couldn't speak much about the larger happenings while he was held. For a bigger picture of what was going on with the Taliban, she turned to Rohde, who after his time with the Taliban wrote a book on it with his wife, Kristen Mulvihill, called A Rope and a Prayer.
Koenig says in the podcast that Rohde would have a good idea of how Bergdahl fit into the "Haqqani world order." The Haqqani network are an insurgent group fighting against NATO forces and the U.S.-backed government of Afghanistan on the Pakistan border. They're connected with the Taliban and were the ones in charge of holding both Rohde and then Bergdahl. Koenig said that after hearing Rohde's story much more of Bergdahl's story "clicked" for her with regards to where, how, and who was holding him.
Koenig says in the podcast that Rohde was picked up very near to where Bergdahl was kidnapped. He was accompanied by Tahir Ludin, a local reporter, and their driver Asad Mangal. The Taliban drove them around for a few days and then told to get out of the car and walk over some mountains.
The next morning they were in Pakistan, where cars drive on the left side of the road and signs are written in Urdu. "I knew we'd walked into the tribal areas over the mountains and I knew we were doomed. That's the worst place you can be taken in the Afghanistan-Pakistan region," Rohde told Serial. This is the same area where Bergdahl was held.
The seven months wore on Rohde, who explained in a piece published by the Times after his release that he made several mistakes, trying to negotiate their release himself, but in the end nothing worked:
Two phone calls and one letter from my wife sustained me. I kept telling myself — and Tahir and Asad — to be patient and wait. By June, our seventh month in captivity, it had become clear to us that our captors were not seriously negotiating our release.
At this point, seven months into his time in captivity, Rohde escaped with Ludin. According to coverage by The New York Times, the two climbed over a wall of the compound and walked to a military facility in the North Waziristan region of Pakistan. They were then flown to the American military base in Bagram, Afghanistan.
That ended a news blackout on his abduction. The Times had asked other publications to refrain from covering the abduction, with the idea that any attention would put his life at greater risk. The decision was a difficult one for the editors at the paper, who wondered at times if going public might help in some way.
Rohde's abduction in Afghanistan was not his first time in captivity. His coverage of Afghanistan was the latest in a list of dangerous assignments. In 1994 while working for The Christian Science Monitor, Rohde was sent to the Balkans to report on the conflict there. Based in Zagreb, Croatia, he played a role in exposing the ethnic cleansing of Muslims in Bosnia. He was one of the first people to see huge mass graves in Srebrenica with human bones, Muslim prayer beads, and shell casings as clues.
According to Christian Science Monitor reports from the time, he was captured in October 1995 when he went to Bosnian Serb territory to continue his reports. The Bosnian Serb officials initially denied having taken him, but they eventually said he had been detained for illegally entering their territory — a country that was not recognized by the United Nations.
There was intense pressure for his release from the U.S. State Department. While in captivity he was able to speak with his family, and he was released after ten days. The New York Times reported that he was interrogated, harassed and deprived of sleep. He went to court on further charges of espionage, but the Bosnian Serb leader eventually pardoned him "to promote good will at the peace talks."
A native of Maine and graduate of Brown University, Rohde got his start in journalism at ABC News. He went on to work as a freelance reporter in the Baltics, Cuba, and Syria before being hired at the Christian Science Monitor. In 1996 he began working for the Times, where he stayed until 2011. His Pulitzers are for his investigative work during the Balkan War and in Afghanistan — both times under perilous conditions. He now works for Reuters.
This season of Serial focuses on Bergdahl, the accused Army deserter who spent five years as a Taliban captive before the Obama administration successfully negotiated his release in May 2014. In December, Bergdahl was court-martialed and charged with desertion and endangering troops and could serve life in prison. He opted to defer entering a plea. Bergdahl's next hearing is Tuesday, Jan. 12.
Image: Wikimedia Commons