'Shark Tank's Ezpz Fixes Messy Meals With A Smile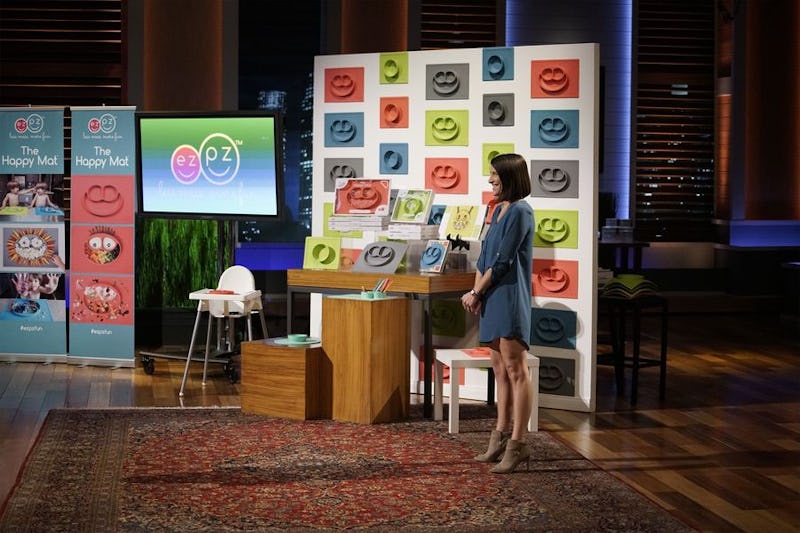 Is it any wonder that the best products for parents come from parents? The rise of the "mompreneur" makes total sense, considering that moms are most in tune to what others need. Take latest Shark Tank product ezpz, for example. It's a brilliant idea: It's a silicone placemat plus dish or bowl for little kids, and it suctions to the table. Kids can't tip the bowl over, and the placemat catches the mess. Ingenious!
I don't know if inventor Lindsey Laurain sought traditional funding sources first, but she did go the crowdfunding route, with a successful Kickstarter campaign that earned over $72,000. She's now looking to the sharks on Shark Tank to help her grow your business. That's fine and good, but your kid is making a mealtime mess now. Can you buy ezpz, even before learning of its Shark Tank fate?
If you have messy kinds, I have gooes news. You can already buy the ezpz happy mats ($24.99), happy bowls ($19.99), mini mats, and other specialty items through the ezpz website. In addition, the website offers a list of specialty retailers across the country who are currently carrying the ezpz products. And, of course, they're available on Amazon.
When Laurain meets the sharks, she'll have plenty of selling points. Her mats offer lots of advantages for busy parents trying to feed their kids without too much fuss. One key thing is that they can be popped in the dishwasher, oven, or microwave.
The silicone is also stiff enough so that you can stack the mats — either in a cabinet, or on the way to the dinner table. (If you stack a few mats with food in them, the mat part covers the food of the one underneath it so nothing spills.) They're BPA-, PVC-, lead- and phthalate-free. And they look pretty darn cute, too.
According to the Shark Tank Blog, "The Kickstarter campaign allowed Lindsey to get the tools made for mass production and do a large-scale production run. First available in early 2015, the ezpz has solid sales and is already selling well on Amazon. Laurain is anticipating big demand in conjunction with her Shark Tank appearance and has plans to launch a 'mini mat' and and cup in 2016."
We'll find out the exact numbers when she goes on the show, I'm sure, but I'm not surprised that the ezpz has such big numbers. There doesn't appear to be anything else like it out on the market, but there are tons of messy kids in the world (and fed-up parents sick of wiping up their spills).
To me, that's a recipe for a Shark Tank success, but I'm often terrible at guessing what the sharks will do. Instead, the parents of kids who like to throw their plates on the floor will have to tune in on Friday night with crossed fingers.
Image: Michael Desmond/ABC