9 Books To Cure Your Post-Holiday Blues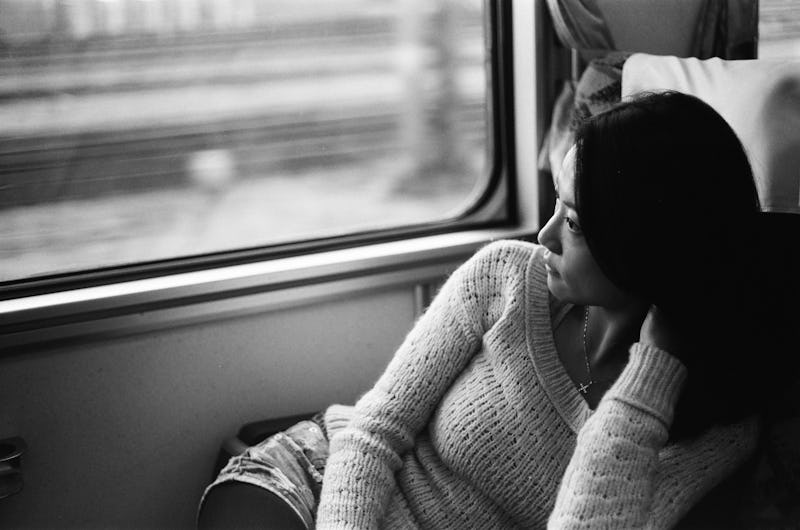 The streets are lined with the dried-out corpses of former Christmas trees. We've transitioned from ugly holiday sweaters back to ugly everyday sweaters, we've finished the last of the holiday leftovers, and we've already started slacking on our New Year's resolutions. And (depending on where you live) it's COLD outside. The post-holiday blues are upon us.
But don't despair, because January is not just the season of packing up Christmas ornaments and starting new gym memberships. It's also prime reading time: it's chilly, we're burnt out on socializing with friends and family, and we need something to look at while we sit and drink hot chocolate.
So if you need a major post-holiday pick-me-up, here are some books that are guaranteed to give you a much needed dose of winter cheer. There are hilarious cartoons, funny memoirs, cheerful fantasy adventures, and cozy armchair mysteries to get you through that long, holiday-less stretch between New Year's Day and Valentine's. I mean, it's pretty much impossible to feel cold when you're curled up with a good book (especially if your preferred reading position is wrapped in several quilts). If you're looking for books that hold an unflinching mirror up to the worst aspects of society, you might want to look elsewhere. But if you want something upbeat and fun, read ahead:
Kate Beaton is the queen of humorous history comics, and her first collection is full of her signature wit (and adorable drawings of Napoleon). Hark! A Vagrant features a very sexy Batman, some riffs on Nancy Drew covers, and clever jokes at the expense of everyone from Macbeth to Brahms to the Bronte sisters. It's absolutely perfect for eggheads with a sense of humor, and you might even accidentally discover a new historical hero or two.
Any modern comedy fan is probably familiar with David Sedaris. If you like other books by David Sedaris, then you will like this book by David Sedaris. If you've never heard of him before, then you will like this book by David Sedaris. If you enjoy reading about alternative Santa Claus myths, dysfunctional families, and strip poker, you will definitely like this book. Sedaris finds the humor in even the strangest and most tragic corners of life, and his overly personal writing style is a deeply upsetting delight.
Fencing, fighting, torture, poison, true love, true hate, revenge, swashbuckling, monsters, swell escapes, and just a little bit of sex — this book is perfect, and anyone who says otherwise is jealous. It's a good old-fashioned adventure story, but it's also a sly and modern tongue-and-cheek retelling, but it's also just a whole lot of un-ironic fun and romance. Completely impossible not to love.
If you've already read books by Tina Fey, Amy Poehler, and Mindy Kaling, and you're in need of another side-splitting comedy memoir, Rachel Dratch has got you covered. Dratch writes candidly about her time on SNL, the ups and downs and devastating disappoints of her career, an unplanned pregnancy, and how it all worked out anyway. She manages to write a feel-good book while keeping it real about the challenges of a life in the entertainment industry (although anyone who's ever had to deal with having a career and a love life can surely relate).
Jules Feiffer has written everything: comics, plays, movies, novels, children's books — he's done it all. But his comics in particular are just so off-beat, unique, and insightful. Passionella is a collection of his short graphic stories, all of them deceptively simple and a great deal of fun to read. He writes about knights, robots, athletes, and movie stars, and each story is more charming than the last.
6. Stardust by Neil Gaiman
Stardust is a fairy tale. It starts out in the sleepy town of Wall, where Tristran Thorn has fallen madly in love with the beautiful Victoria. To win her hand in marriage, however, he must retrieve a fallen star from far off in the land of Faerie — and this, of course, turns out to be much more of an adventure than he bargained for. Stardust spins a strange, beautiful story of magic and romance, ideal for cozy winter reading.
Sarah Vowell writes whip-smart books about American history, peppered with humorous memoirs from her own life. She confronts Gettysburg, Buffy the Vampire Slayer, Teddy Roosevelt, twins, Tom Cruise, and that's just scratching the surface. The Partly Cloudy Patriot deals with larger themes of identity and (of course) patriotism, but it's all written with Vowell's lovable, socially aware sense of humor.
Terry Pratchett's books can sometimes be a bit overwhelming: He's created so many complex fantasy stories, where do you even start? Well, The Wee Free Men is pretty straight forward: you've got a bunch of tough, tiny blue men, and you've got a sensible little girl named Tiffany, and together their going to fight the Queen of the Elves. If the other fairy tales on this list have too much romance and not enough hitting-things-with-frying pans for you, then check out Pratchett's hilarious book of nightmares and little blue warriors.
Smart, savvy Precious Ramotswe has opened a detective agency in Gaborone, Botswana. The result is a mystery series best experienced from your most comfortable armchair. Precious deals with missing husbands, teenage daughters, liars, con men, and thieves: the mysteries themselves are genuinely engaging, but the real fun is in Precious' cunning solutions as she tries to balance her own life with her new business. Her attitude is nearly always upbeat, and it's very infectious.
Images: Unsplash