Shop Forever 21's Awesome Plus Size Activewear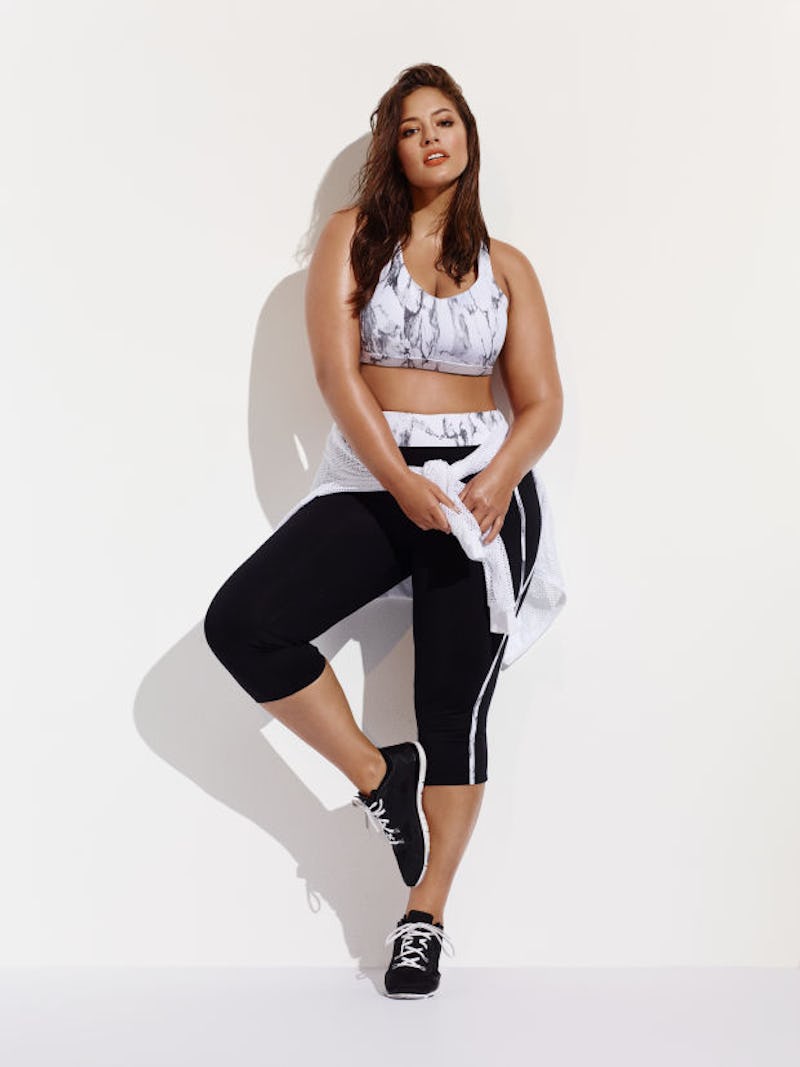 For all you lovers of the Forever 21 active range, rejoice! It just got a whole lot more inclusive. That's right, Forever 21 Plus launched an active range, featuring beloved model Ashley Graham in the ad campaign. So, if you're a plus size lady and you've have some trouble finding chic workout attire, look no more, because this retailer has got you covered.
The new line features some seriously sick athletic wear. From marble-printed sports bras to neon yellow trimmed leggings, you're gonna find something perfect to wear on the treadmill. A personal favorite is the sports bra with "No Days Off" printed on the elastic band. If these amazing athletic designs don't motivate you to work out, I'm not sure what will. The line will be available in extra-large to 3XL sizes. The best part? They all run under $30. So you can can your sweat on in some very affordable pieces.
Whether you're into a morning yoga session or some high-intensity cycling, Forever 21 says this line will be perfect for you. Despite the low price point, the store claims each piece features flat lock seams, key pockets, and a gusset design that allows functional comfort. Not too shabby! The best news? You can shop it all online at the Forever 21 website.
1. Varsity-Striped Open-Mesh Top
Plus Size Varsity-Striped Open-Mesh Top, Forever 21, 19.90
2. Athletic Capri Leggings
Plus Size Athletic Capri Leggings, Forever 21, $22.90
3. Contrast-Paneled Capri Athletic Leggings
Plus Size Contrast-Paneled Capri Athletic Leggings, Forever 21, $19.90
4. Mesh-Paneled Capri Athletic Leggings
Plus Size Mesh-Paneled Capri Athletic Leggings, Forever 21, $22.90
5. Contrast-Paneled Athletic Hoodie
Plus Size Contrast-Paneled Athletic Hoodie, Forever 21, $24.90
6. Marble Print Sports Bra
Plus Size Marble Print Sports Bra, Forever 21, $17.90
7. No Days Off Sports Bra
Plus Size High Impact - No Days Off Sports Bra, Forever 21, $19.90
8. Heathered Zip-Front Athletic Jacket
Plus Size Heathered Zip-Front Athletic Jacket, Forever 21, $29.90
9. Heathered Cutout Athletic Top
Plus Size Heathered Cutout Athletic Top, Forever 21, $17.90
10. Contrast-Trimmed Athletic Leggings
Plus Size Contrast-Trimmed Athletic Leggings, Forever 21, $22.90
Images: Courtesy Forever 21