Why The Lack Of Plus Size Fashion Makes Zero Sense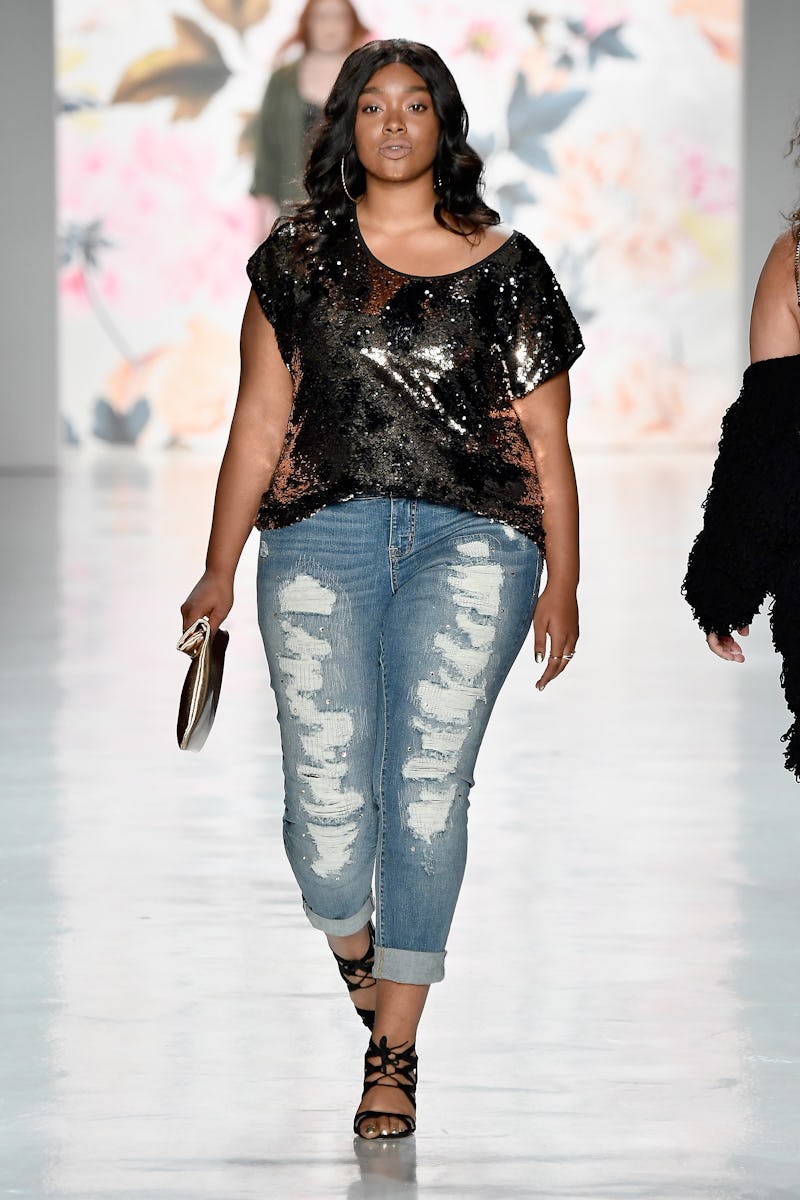 Frazer Harrison/Getty Images Entertainment/Getty Images
ModCloth is celebrating the one-year anniversary of its plus-size line, and with it has come some revelations: this site is starting a revolution (no exaggeration intended!).
In 2013, the globally renowned indie and vintage-inspired e-retail store made a vow to provide women of all sizes a choice, a voice, a great shopping experience and an open, diverse community. Their size range would include everything from an XS to a 4XL. They would cater to every body type. They would incorporate plus-size models into their advertisement campaigns fearlessly and beautifully. And since last June, these decisions have proven immensely successful.
In one year, ModCloth's plus business has doubled, evolving into a multi-billion-dollar industry. From working with only 35 plus designers at the start, they now work with over 160, and offer over 1,200 styles at any give point. After surveying over 1,500 women, the folks at ModCloth found out that plus-size customers place 20 percent more orders on their site than the straight-size customer. And when you think about it, that last stat isn't all that surprising. Considering that more women wear a size-16 than 0, 2 and 4 combined, selling a plus range is undoubtedly a positive move — for both the customer, and the brand.
That designers continue to ignore the plus-size customer continues to be a baffling predicament. It's been proven time and time again that the average American woman is a size 16 (with over 50 percent of women identifying as a 16 or over). And yet, as ModCloth's survey will tell you, most women feel the retail industry ignores plus-size needs. Why? The simple fact, as proven by this e-retail site, is that including a wider size range will lead to attracting more customers, and attracting more customers will lead to designer and brand profit — in some instances, profits in the billions of dollars range. Yet designers never fail to exclude the plus-size woman.
Just a few weeks ago, Melissa McCarthy revealed that her motivations for starting a plus-size line of her own largely stemmed from the exclusion of plus-size women in high fashion. She told Redbook, "Two Oscars ago, I couldn't find anybody to do a dress for me. I asked five or six designers — very high-level ones who make lots of dresses for people— and they all said no." This is an internationally-beloved star, and yet still no one wanted to design for her because she doesn't meet the pre-approved, ideal size defined by Hollywood, or the media, or society.
We have, through the years, heard a number of designers express their feelings on plus-size women. No can forget the time Karl Lagerfeld called Adele "a little too fat" only to then claim his comments helped her take the plunge to lose weight — which is obviously his gift to humanity. When Britain's Next Top Model judge and designer Julien Macdonald openly proclaimed that "a catwalk model is a size six to eight" and that "[BNTM] is a serious show. You can't have a plus-size girl winning — it makes it a joke," we all cringed. Macdonald wasn't even trying to hide the fact that he personally wouldn't dream of designing for or supporting a plus-size woman. Co-designer of The Lake and Stars Maayan Zilberman told reporters that her brand wanted to cast plus-size models in their first fashion week show, but were basically shot down by agencies and other designers: "Agencies are horrified we're putting girls from plus division in with [skinny girls], and some agents said flat out they wouldn't put their 'good girls' with plus sized models."
There exists an idea that not just models, but all women, must be in the 0-6 range, but the reality is simply that most women are not. Designers, brands and agencies convince themselves that anything larger than a 6 is unattractive, unappealing and not suitable for their clothes. But if they just put their personal bigotry aside, they would realize that expanding their size range and catering more women will lead to more business. And as Lagerfeld has admitted, "I am basically the most superficial person in the world," — so you'd think more business would ultimately make him a richer, "happier" man.
It's not just high-end designers who have this exclusive mindset. Spanish fashion chain Zara has no intentions of expanding into a plus size line — a US size 8 is the equivalent to an XL at the store, according to ABC — despite being the largest fashion retailer in the world. Due to this, the company isn't expanding as quickly in the US as it has across the globe, missing out on the massive middle America market.
Nigel Barker, the English photographer best-known for his work on America's Next Top Model, told Salon that designers simply can't afford to make dresses in a 10 or larger. "They really want to make one size that's a sample size, and for whatever reason, they decide it's gonna be a 4, or if it's a large size, it's gonna be a 6. Quite often it's between a 2 and a 4, and it fits a girl who's around 5-foot-9, and that's their look," he said.
If it's a question of money, however, we can turn back to ModCloth. They have created a shopping experience akin to real life — in which women of all sizes exist. They faced a lot of skepticism from the industry when they made the decision to include such an extended size range (as well as models of all sizes), and yet here they are a year later, with a multi-billion-dollar industry and millions of happy customers worldwide. They have shown that any extra costs needed to make larger sizes — or incorporate a more varied range — pays itself off, umpteen-several times over. Because at the end of the day, real women come in all shapes and sizes, and when a site or brand or designer realizes that, real women will be drawn to them. Want to learn more about the stats that clearly prove it behooves retailers to expand into plus size? Check out Modcloth's awesome infographic on the subject.