20 Healthy Snack Recipes To Try In 2016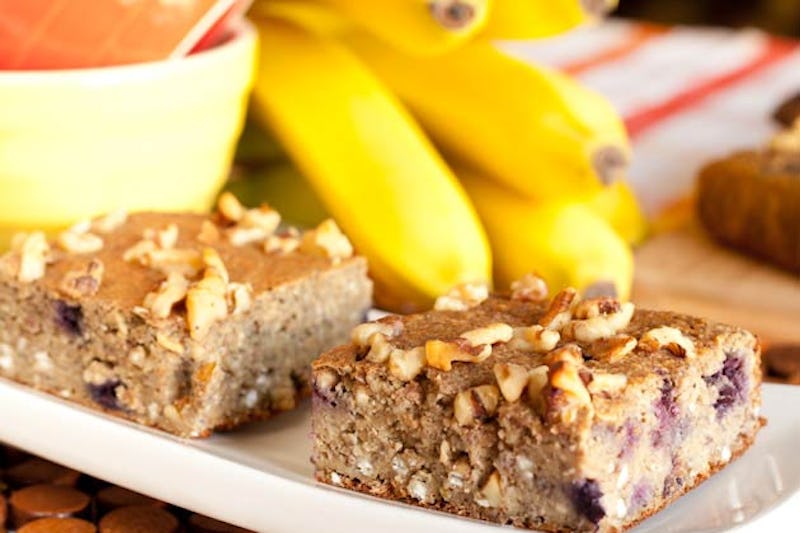 So, you've made it your new year's resolution to eat healthier? You go, Glen Coco! Eating good-for-you foods that are still delicious can be tough, but finding the right healthy snack recipes to make and later munch on during the day definitely makes it easier. Luckily for you, there are tons of options to choose from — you just need to know where to look.
Even if you freaking love kale more than life itself, healthy eating definitely requires a little planning in advance. For example, you can eat a healthy breakfast, lunch, and dinner — but what happens when 3 p.m. hits, and you're absolutely starving? Enter these healthy snacks. These small bites will keep you full, and feeling good all day long. The best part? There's not a celery stick or "handful" of unsalted cardboard almonds in sight. Because, seriously, who will make the active choice to pass up office pizza for a cold, sad little salad? No one I'd ever trust, that's who.
These 20 healthy snacks are full of flavor, texture, and taste. Plus, there is a little something for everyone, no matter what your preference. From savory trail mixes to yummy peanut butter bites, there's something here to meet every craving.
1. Apple Sandwich
This honey, peanut butter, and raisin apple stack from The Kitchn will keep you satisfied from desk to dinner.
2. Vegan Chia Seed Crackers
Have a long day ahead and losing steam? Pop a few of these endurance crackers from Oh She Glows in your mouth for a quick boost.
3. Salt And Vinegar Chickpeas
Craving chips but looking for a healthier alternative? These salt and vinegar chickpeas by Oh She Glows pack the crunch to fool your brain — plus, they taste great!
4. Kale Chips
Pack in some leafy greens without eating another cold salad. A Spicy Perspective nails it with this kale chip recipe.
5. Collard Wraps
You can put anything into a collard that you would in a sandwich — but this carrot hummus by Love and Lemons makes for a tasty little snack.
6. Almond-ella Toast
It's like Nutella, but without any of the junk. Get your chocolate fix with this almond-ella toast from Love and Lemons.
7. Herb-Roasted Nuts
These rosemary cashews from The Kitchn take boring nuts to the next level. Try them with any of combination of your favorite nuts, herbs, or spices.
8. Homemade Trail Mix
The stuff you buy in the grocery store usually has tons of sugar and unnecessary additives. Try this homemade, gluten-free version from With Style and Grace.
9. Chickpea Salad
This chickpea salad from With Style and Grace is a no-cook, little-effort healthy snack. Where can I sign up?
10. No-Bake Peanut Butter Bites
These little energy balls from How Sweet Eats are the perfect little mid-day mouth pop.
11. Zucchini And Parm Crisps
These zucchini and parmesan crisps from Damn Delicious taste way too delish to be veggies.
12. Almond Milk And Date Shake
This almond and date milkshake by With Style and Grace is chock full of good-for-you ingredients, but tastes indulgent enough to be dessert.
13. Air-Popped Popcorn With Truffle Oil
With Style and Grace uses truffle oil to elevate this popcorn and make a healthy snack feel special.
14. Blueberry Banana Cake Bars
Chia and hemp seeds give these blueberry and banana bars from Healthful Pursuit an extra health kick.
15. Vegan And Gluten-Free Crackers
Made with almond flour, these homemade rosemary crackers by Healthful Pursuit still taste the same as your old standbys.
16. Zucchini Pizza Bites
These zucchini bites by Closet Cooking are like pizza rolls' cooler older sister. They're also great with eggplant.
17. Cheddar Quinoa Bites
You can make a dozen of these cheddar quinoa bites by Closet Cooking at once, freeze them, and pop them in the microwave when you want one.
18. "Baked" Bananas
Sprinkle a little cinnamon and sugar over banana slices, and nuke 'em in the microwave for 30 seconds. Averie Cooks is a genius.
19. No-Bake Chocolate And Coffee Cookies
Get the recipe for this perfect 3 p.m. pick-me-up from Cookie and Kate.
20. Wasabi Nori Crisps
Spicy. Crunchy. Naturally salty. What else do you need in life other than these nori crisps? Get the recipe from The Kitchn.
For more food inspiration and ideas, check out Bustle on YouTube.
Images: The Kitchn, Oh She Glows, A Spicy Perspective, Love and Lemons, With Style and Grace, How Sweet Eats, Damn Delicious, Healthful Pursuit, Closet Cooking, Averie Cooks, Cookie and Kate