20 Healthy Recipes To Start Out 2016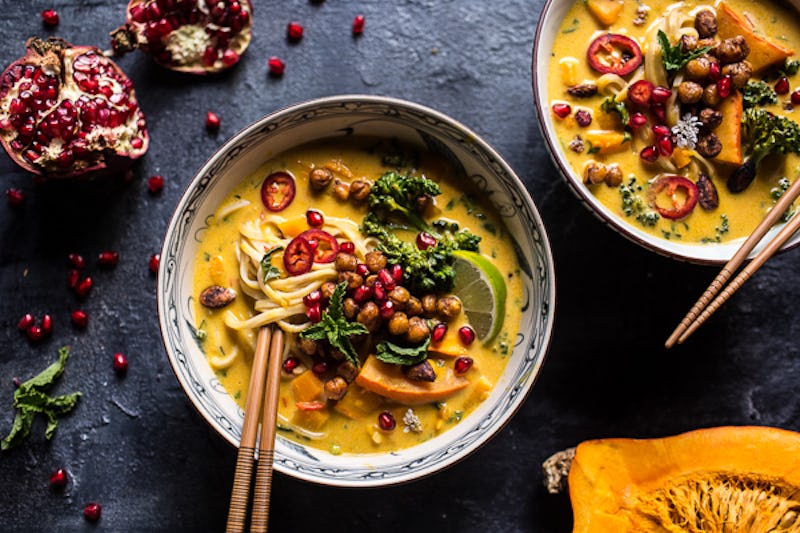 One of the most common and yet most often neglected goals for the New Year is to improve eating habits, cutting out all that late-night pizza and those early morning bagels that seem to work their way into our diets. As much as I love indulging in all the tasty treats that come along with the holiday season (cookies! pies! cheese!), I will admit that I'm looking forward to trying some healthy recipes for the New Year. 2016 can be delicious and healthy.
It's a simple fact that if our New Year's resolutions are easy, then we are much more likely to actually do them. Keeping New Year's resolutions can be tough, especially if they're a little bit unrealistic. Sure, we want to eat healthier, but it would be an extreme challenge to go from our current lifestyles to one that completely cuts out sugar, dairy, gluten, and more. Instead, by focusing on wholesome meals that taste good, you can ease yourself into a healthier diet bit-by-bit. The trick is finding healthy things that don't taste like you're making a compromise.
To start off 2016 right, these 20 meals are sure to make achieving your New Year's resolution of eating healthier much more doable.
1. Warm Brussels Sprout Salad
Roasted Brussels sprouts are a staple of the holiday season, but this warm salad by A Beautiful Mess makes a great, easy meal anytime.
2. Lemon-Butter Grouper Fish Tacos
Taco Tuesday never looked better, thanks to A Cozy Kitchen.
3. Dal-Stuffed Sweet Potatoes
Instead of loading up potatoes with tons of cream and butter, try this recipe by Green Kitchen Stories.
4. Healthy Banana Muffins
For a quick, make-ahead breakfast, Cookie and Kate's muffins really hit the spot.
5. Veggie Oat Taco Salad
Take a break from the burrito bowl, and try making your own Mexican-inspired feast with the help of Cara's Cravings.
6. Garlicky Spinach Artichoke Dip With Baked Tofu Sticks
A Cozy Kitchen has totally transformed your favorite game-day snack. And it's seriously good.
7. Skinny Broccoli And Mixed Vegetable Stir-Fry
Skip the takeout, and start chopping some veggies. Averie Cooks knows how to make one great stir-fry.
8. Peas And Pesto Quinoa Patties
These quinoa patties by A Beautiful Mess can easily spruce up a salad, or make a sandwich even more crave-worthy.
9. Enoki Mushroom Stir-Fry
A Cozy Kitchen knows that everything is better when you put an egg on top.
10. Tofu And Mushroom Miso Soup
Looking for a lighter meal? Steamy Kitchen breaks down how to make the best miso soup.
11. Quinoa Salad With Sweet Potato, Kale, And Pesto Vinaigrette
A homemade pesto vinaigrette gives Cookie and Kate's salad some major oomph.
12. Creamy Tomato Kale Bisque
This isn't the stuff from the can. Cara's Cravings' tomato kale bisque will warm you from the inside out.
13. Black Bean Burrito With Guacamole
You deserve a burrito filled with plenty of avocado. Just ask Naturally Ella.
14. Thai Pumpkin Laksa With Crunchy Fried Chickpeas
This fragrant soup by Half Baked Harvest may be prettier than it is delicious.
15. Korean Bibimbap
With wholesome ingredients like vegetables and rice, A Spicy Perspective's bibimbap makes a perfect weeknight meal.
16. Lighter Stuffed Shells
Eating healthy doesn't mean having to give up your pasta. The Kitchn shows how to make slight adjustments to this classic dish.
17. Mushroom Falafel
This isn't your halal cart go-to. Five and Spice's mushroom falafel is perfectly satisfying without being greasy.
18. Roasted Delicata Squash Tacos
No meat, no problem. Love and Lemons' squash tacos are a tasty option if you're going veg.
19. Winter Chicken Vegetable Soup
It may not be Grandma's recipe, but I can guarantee Half Baked Harvest knows how to make one heck of a chicken soup.
20. Moroccan Carrot Salad With Millet
The best thing about Naturally Ella's carrot millet salad? It's super easy to pack up and bring anywhere!
For more food inspiration, check out Bustle on YouTube.
Images: A Beautiful Mess (2); A Cozy Kitchen (2); Green Kitchen Stories; Cookie and Kate (2); Cara's Cravings (2); Averie Cooks; Steamy Kitchen (2); Naturally Ella (2); Half Baked Harvest (2); A Spicy Perspective; The Kitchn; Five and Spice; Love and Lemons