7 Foods To Put On Your Eyes That Aren't Cucumbers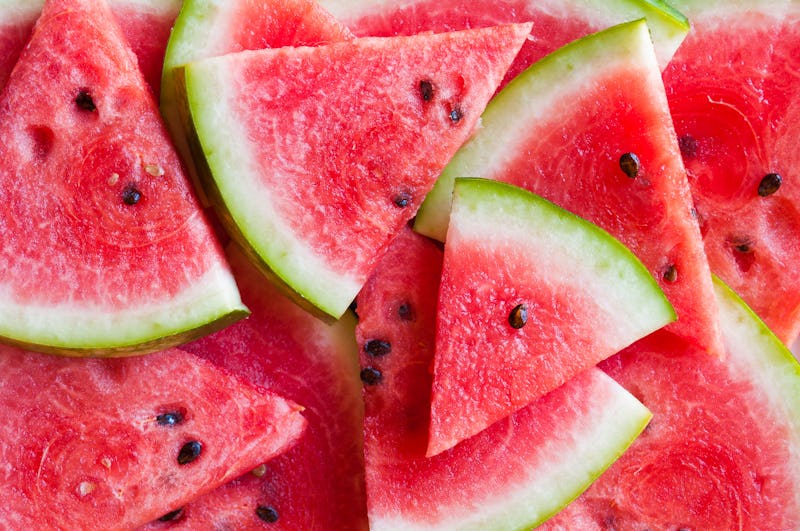 When it comes to the ultimate in luxury spa day comfort, my mind always thinks of cucumber slices over tired eyes. But if you're in need of a spa-like boost and don't want to use the go-to veggie rounds, you can reach for all of these fruits and veggies to put on your eyes that aren't cucumbers! These foods may not have the same iconic glam appearance status, but who the heck cares what they look like slathered on your face if they feel good?
Before I dive into all the deliciousness you can put on your face to soothe tired eyes and brighten skin, I definitely don't want you to completely disregard cucumbers. Back in August, I was really curious about whether or not cucumbers on tired eyes actually works and the answer is a loud and proud yes. Thanks to cucumbers' magical flavanoid and antioxidant properties, those glamorous little slices really are worth putting over your eyes every once in awhile.
Beyond cucumbers though, there is literally a world of amazing fruit and veggie options that will work to relieve puffy eyes and help give you your glow back. If you're still recovering from epic New Year's parties, put these on your face ASAP my friend.
1. Papaya
Containing enzymes that act as a gentle and natural exfoliant, papaya slices left over your eyes for about fifteen minutes will leave your face nice and glowy.
2. Avocado
If you can handle the sticky feeling, smearing mashed avocado over your eyes adds a huge dose of moisture and hydration. In fact, avocado is the key ingredient in my favorite DIY face mask!
3. Banana
For the ultimate in glowy skin, it's hard to beat bananas. The potassium boosts brightness in a way cucumbers never could! Just mash half a banana, close your eyes (tight), and slather the mashed banana over your lids. Leave for as long as you can stand the stickiness (ideally fifteen minutes) and rinse.
4. Watermelon
RooGirl explained that the A and C vitamins in watermelon wedges help to fight puffiness, redness, and dryness when placed over eyes for several minutes. I won't judge you if you devour the slices afterward.
5. Iceberg Lettuce
To soothe any redness and inflammation, a few thick slices of iceberg lettuce over each eye will do the trick.
6. Mashed Strawberries
Lovelyish recommends mashing up strawberries and rubbing the fruity goo under your eyes for half an hour to perk up dull skin. Given how antioxidant packed these little fruits are, I have no doubt it works!
7. Potato
One of my favorite bloggers, CrunchyBetty, is all about rubbing a potato slice over her eyelids and face if she's feeling extra oily. I tried this bizarre suggestion for myself yesterday and, not gonna lie, felt unexpectedly squeaky clean after!
Want more beauty tips? Check out the video below, and be sure to subscribe to Bustle's YouTube page for more hacks and tricks!