9 Books To Read If You Miss English Class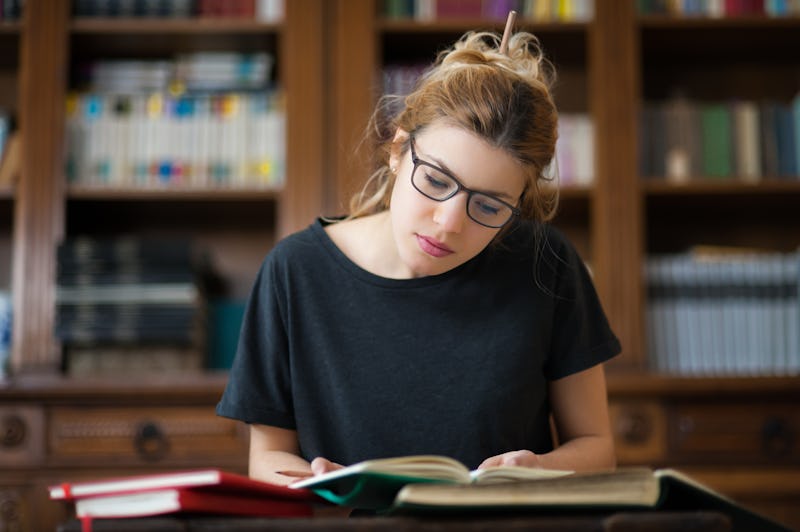 I know I just wrote an article about how I wasn't crazy for high school English, but here's the thing: I miss English class more than anything. After I graduated high school, and while in college, I became thoroughly addicted to in-class literary discussion, eventually getting a B.A. in English. Maybe it's the difference between high school and college class structures, maybe it's because of changes in myself, but in college, I fell hard and fast for the magic of English Lit class. And now that I'm out, I'm dying to go back.
Books you read for English class have their own special shine to them. They have to be ripe with literary merit, and they have to have room for interpretation and discussion. They awaken thoughts and opinions inside of you, and they beg to have papers written about them.
With this list, I tried not to just rattle off the old stand-bys. I pulled a mix of contemporary and older literature, selecting books that awaken that English major spirit. (Not that you had to have majored in English or even gone to college to get a kick out of these.) Some of the books on this list were actually parts of my personal curriculum, while others deserve to be.
So, dust off those highlighters and sharpen your intellect. Class is in session.
1. My Brilliant Friend by Elena Ferrante
Elena Ferrante has certainly been making waves — if you love English lit and you haven't picked her up, this is definitely your next read. Telling the story of two girls growing up in tumultuous Naples in the 1950s, Ferrante's writing is elegant, captivating, and has just the right amount of heft to it. As John Freeman puts it: "Imagine if Jane Austen got angry and you'll have some idea of how explosive these works are."
2. A Room of One's Own by Virginia Woolf
How could Virginia Woolf not be on this list? A key feminist text, A Room of One's Own is an extended essay that uses a fictional narrator and a fictional narrative to explore the role of women in relation to fiction.
3. The Monk by Michael Lewis
We read this for my "Classic to Romantic" class in college, and everyone in my class fell in love with it. Set in a Spanish monastery, this 18th century novel reads like an insane telenovela. Murder, gender-swapping, incest — this one's got the whole nine yards.
4. Consider the Lobster by David Foster Wallace
If you've talked to me for even just five minutes, I've probably let you know how much I love David Foster Wallace. His writing dares you to think beyond the surface of everything you encounter. This essay collection is the perfect place to start, as DFW dives into everything from the dictionary to the inner-experience of lobsters being cooked.
5. Small Island by Andrea Levy
This was part of the curriculum for my "New British Voices" class while I was studying abroad in the U.K., and it floored all of us. The story takes place in London in 1848 and follows four characters: Hortense Joseph, who arrived from Jamaica; her husband, Gilbert, who has just returned from war; their white land-lady, Queenie; and Queenie's husband, Bernard, who unexpectedly arrives home from combat with a trunkload of issues. Steeped in issues of race, identity, war, and relationships, you'll have plenty of thoughts and questions as you charge through this read.
6. The Unbearable Lightness of Being by Milan Kundera
There is no end to my love for this book. Steeped in philosophy, this story dances around the idea of love and how we come to be in it. Set in Prague in 1968, Unbearable Lightnessis about Tomas, a womanizer in constant question of his place and meaning in life, who finds himself confusingly in love with a woman named Tereza. Seriously, this is a book you'll take with you.
7. The Gap of Time by Jeannette Winterson
Where my Shakespeare nerds at? This is Jeannette Winterson's "cover version" of A Winter's Tale, set in modern-day London and an American city called New Bohemia. Winterson toys with race, sexuality, and positions of power to reposition the classic story into an intriguing examination of jealousy, technology, and status.
8. The God of Small Things by Arundhati Roy
If you love symbolism, metaphors, structure, and beautiful writing, this book will hit you in the best places. (No wonder it won the Man Booker Prize...) Set in India in 1969, this is the story of two twins, Esthappen and Rahel, and their family as they navigate childhood, change, and loss. I guarantee it will make you feel and make you think like no other book has.
9. Nine Stories by J.D. Salinger
The Catcher in the Rye is so popular that loving it is a cliche. For my money, though, this short story collection is one of the best out there. Including the beloved "A Perfect Day for Bananafish," this is a solid good way to get your classic literary kicks and to study short story mastery at work.
Image: Fotolia