20 Funny Valentine's Day Gifts You Need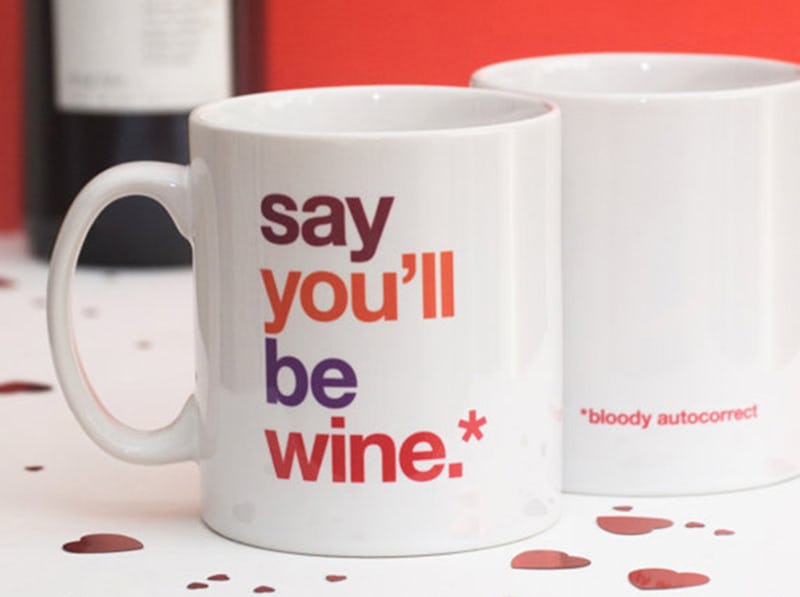 Between the ridiculously corny romance cards found in every aisle of every drugstore to the super sappy movies, commercials, and TV shows, it's too easy to take Valentine's Day seriously. But love shouldn't always be a super serious thing, and that's why I love good funny Valentine's Day gifts. When you're too somber about this holiday, it makes things tough. People in relationships feel like they have to spend a ton of money and time on making the day "perfect," and people who are single end up feeling lonely and sad. What's the point in that?
This year, let's all have a lighter attitude about Feb. 14. Instead of dropping a few hundred dollars on something pricey and elaborate, give your significant other or your best friend (or both) something that will make them laugh. Every time they use it, they'll giggle, think of you, then smile — and that's kind of the best gift you could give someone. I'm pretty positive V-Day will be a lot more fun if you relax, take it easy, lower high expectations, and spend the day joking around with the people you love the most. Here are 20 hilarious Valentine's Day gift ideas to get you started. Now just try not to blow your money on every single one of them OK?
1. Farting Boxers
If your boo loves to be gross around you, then you need to get him these boxers for Valentine's Day. They'll make him laugh, and they'll make you smile every time he farts around you.
Bewild My Way of Saying I Love You Boxer Shorts, $13.95, Amazon
2. Festive Beer
Searching for the perfect gift for the person in your life who loves a nice, cold beer? Here it is! Instead of just buying them a boring six-pack, decorate that six-pack with a greeting card holder like this one.
Beer Greetings, $15.95, Amazon
3. A Swear Word Coloring Book
Adult coloring books are super popular right now, so why not get your stressed out, over-worked loved one the gift of relaxation through coloring for Valentine's Day? It doesn't get much more zen than coloring an elaborate picture of... the F word? Yep.
The Sweary Coloring Book For Adults, $14, Amazon
4. Apology Notepad
Apologizing is hard, but also, unfortunately, necessary for relationships to work. Buy this for your significant other so they can apologize to you and you can apologize to them — in the right way.
Apology Nifty Notes, $8, Amazon
5. A Compliment Book
Ah, love. Ah, rude comments when one of you is annoyed. There will come a time when your significant other says something mean to you that they don't really mean, and they will need to grab an emergency compliment from this book. Then they will appreciate this gift.
Emergency Compliment Book, $15.85, Amazon
6. Boys Tears iPhone Case
If you're looking for a gift for your single friend who needs a little cheering up this Feb. 14, get this iPhone case. Yes, it's a little extravagant, but it's funny and it makes a statement — and it will definitely put a smile on her face.
Valfre Boys Tears iPhone Case, $5, Amazon
7. A Funny Journal
There's something amusing about this little journal that is perfect for making the trendiest person in your life feel loved this Valentine's Day. Simple and cute — all you really need.
Love Lined Journal, $3.90, Forever 21
8. A Punny Mug
You love cheese, you love your bae, your bae loves cheese. Why not get them something that accurately explains all of that in a cute, funny way? You're welcome.
Paper Chase Valentines You're Grate Mug, $10.50, ASOS
9. Sex Tips Book
OK, so this isn'y your typical ~sexy~ sex tips book. It's sex tips from the 1800s that are sure to make you giggle with your partner or friend — whoever you choose to gift it to.
Sex Tips Book, $6, ASOS
10. A Pizza Phone Case
We all know deep down that pizza is our one true love. Buy this pizza heart phone case for the person you love the most this February. It's a real sign of your affection.
Skinnydip Heart Pizza iPhone Case, $21.50, ASOS
11. A Valentine's Day Flask
The single party girl in your life will be very appreciative of this flask, which shows off something important to many of us: happy hour. Let's not forget our priorities.
Peace, Love, Happy Hour Flask, $18, Francesca's
12. A Funny Mug
This year, get your boyfriend a mug that is not conceited in any way. Hey, it's not conceited if it's true, right? Remind your BF of how lucky he is and make him laugh a little bit every time he pours a cup of coffee.
Valentine's Day Mug, $15, Etsy
13. A Poop Emoji Cross Stitch
Why would anyone need a cross stitch of a heart-eyed poop emoji? I have no idea, all I know is that someone needs to buy this for bae this Valentine's Day. I mean, come on — how can you resist?
Crazy In Love Poop Emoji Cross Stitch, $18.26, Etsy
14. Meh Beer Coozies
You know what item you never realize you need more of until you need it and can't find one? Beer coozies. Give this very useful gift to your friend who feels very blah about Valentine's Day this year. It's festive without being over-the-top, and they're pretty amusing.
Valentine's Day Beer Coozies, $5, Etsy
15. Truth Pillows
Let's be real: this is the bed situation for any couple. I know my boyfriend can't go one night without complaining how I take up so much room on the bed (he's exaggerating). Make light of the situation with these hilarious and on-point pillow cases.
Your Side My Side Pillow Cases, $17.80, Etsy
16. A Truthful Mug
This mug is funny, cute, and could work for a significant other or a friend. Plus, it's the perfect mug for wine, and no one even has to know you aren't drinking coffee.
17. A Special Towel
I mean, you can't argue that it isn't helpful, you know?
After Sex Towel, $10.78, Amazon
18. A Chocolate Man
For your friend who is just looking for the perfect man. You literally are giving her exactly what she asked for. AND she can eat him.
Chocolate Perfect Man, $8.95, Paper Source
19. Drake Necklaces
Who needs "BFF" necklaces when you could get Drake necklaces? Declare yourself Champagne Mami and your BF Champagne Papi, and all will be right for Valentine's Day.
His and Hers Necklaces, $50, Etsy
20. A Funny Water Bottle
The gym rat in your life doesn't even realize they need this, but they obviously need it. Hey, you don't even have to give this to someone who works out a lot — everyone needs to drink water, and also, eat pizza.
ban.do Getting Pizza Water Bottle, $21.95, Paper Source
For more ideas, check out Bustle on YouTube.