James Franco & J.J. Abrams Make Magic In 11.22.63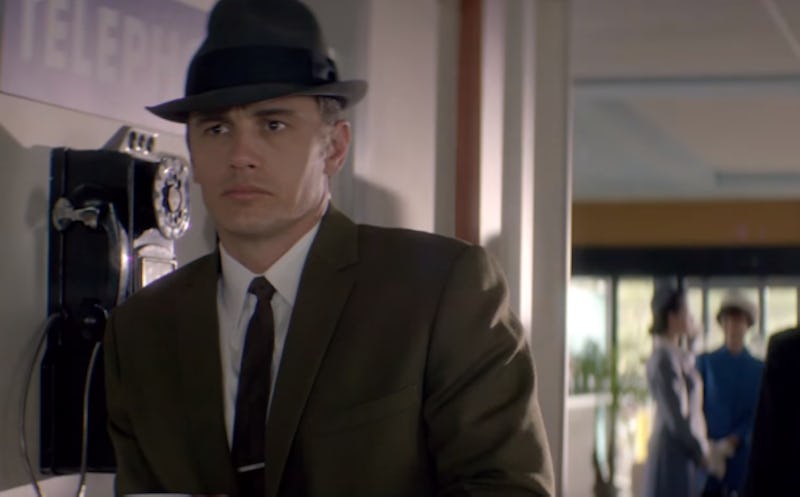 The idea of turning a popular book into a movie or TV series is hardly new. In fact, it seems like these days, most of the things we watch appeared on our bookshelves or Kindles before making their way to our screens. It's a mixed blessing — on the one hand, it kinda sucks that adaptations like these mean that less original talent is being fostered and brought to light; on the other hand, the opportunity to bring some of our most beloved literary universes to life is pretty amazing. That's just what's happened with Stephen King's 11.22.63, a time travel adventure book that's now been made into an original series. The first trailer for Hulu's 11.22.63 is now here, and it seriously looks amazing.
If there were ever two Hollywood figures I wouldn't put together, it'd be J.J. Abrams and James Franco. Both are brilliant at their respective projects, but their styles couldn't be any more different. Abrams excels at action and adventure of all kinds, while Franco tends to choose projects that are a bit more "artsy fartsy", for lack of a better term (and with Pineapple Express excepted). Still, somehow the combination of Abrams' expert directing and Franco's quirky acting combines perfectly here, making 11.22.63 a series you'll definitely want to watch.
If you're unfamiliar with the premise, King's novel tells the story of Jake Epping, a recently divorced GED teacher who travels back in time to prevent the assassination of John F. Kennedy. How does he get there, you ask? Well, via a portal in the pantry of a local diner which was discovered by the diner's owner, Al, who's lived in the past quite often. You see, the portal takes anyone going through it back to September 9, 1958 at exactly 11:58 a.m., so if Jake is going to stop Kennedy's assassination, he'll not only have to live in the past for five years, but also face up to the challenges that will attempt to keep him from changing the past. Sounds amazing, right?
Abrams' directorial style of fast-moving and high drama shots pairs really well with Franco's tendency to play slightly off-kilter and idiosyncratic characters in really unique ways. Perhaps their individual styles combine so well particularly because this is a Stephen King project, King himself being a near legendary figure in the genre. Either way, there's something about 11.22.63 that comes together pretty seamlessly and not only feels exciting, but incredibly intriguing and really well-made.
11.22.63 will be an eight part limited series and, as mentioned, will be available to stream on Hulu. The only sad part is that you won't be able to stream it until February 15, which, given how good this actually looks. We'll just have to be patient for a while longer.
Image: Hulu