Nick Viall Has Been Busy Since 'The Bachelorette'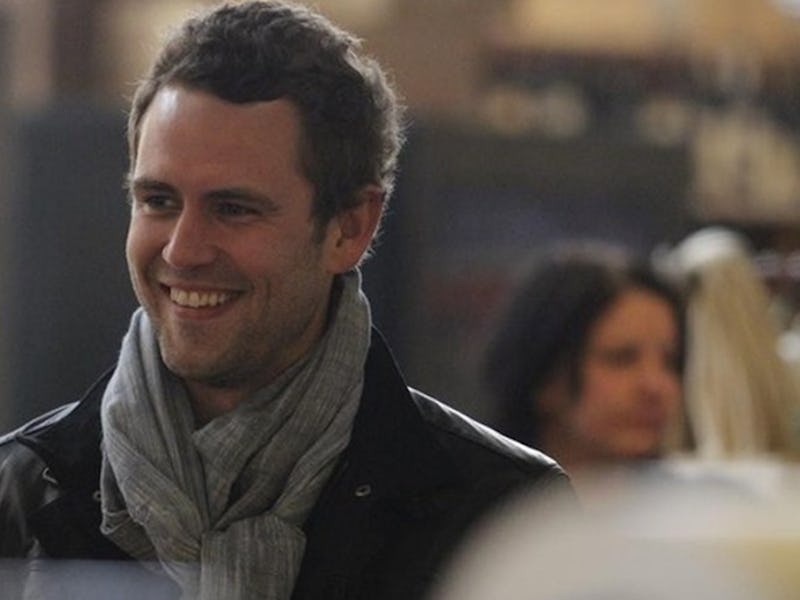 The Bachelor and The Bachelorette have always had their share of controversial characters — Juan Pablo Galavis, Brad Womack, Jake Pavelka. But one of the most reviled characters in the show's history, and really for no reason, has been twice-over Bachelorette contestant Nick Viall. We first met the Chicago-based software salesman on Andi Dorfman's season of The Bachelorette, where he came in the runner-up position behind former baseball player Josh Murray. Nick then showed up in Kaitlyn Bristowe's season of The Bachelorette where he came in second again, but what is Nick Viall doing now?
Though Nick went as far in Kaitlyn's season as he did in Andi's season, I feel like we got to know Nick better when we saw him the second time. Nick showed up midway through the season in a quest to claim Kaitlyn's heart. The other guys were, of course, displeased to have a usurper in their midst. They were even angrier when Kaitlyn took a real shine to Nick, bringing him to the top two of the competition. The pair even slept together before the Fantasy Suite, which producers pretended had never happened before (even though it had definitely happened before). Nick really laid himself bare for The Bachelorette, and he's had his heart broken twice. Sad. But, like any good man, Nick's picked himself up and dusted himself off and he's living a pretty great post-Bachelorette life.
He's Doing Some Modeling
Nick obviously a pretty handsome dude, but now he's getting paid to be a handsome dude. Nick told Bustle in an interview with Julie Alvin that a scout from the Wilhelmina Models agency approached him on the street, completely unaware of his reality television fame. So now he's making some dough off of those tight abs. Take a look at his portfolio. You'll like it.
He's Pretty Single
Nick also told Bustle he's not really dating anyone seriously. "I don't actively not want to have a girlfriend," he said. "I don't want a girlfriend just so I have someone to have lazy Sundays with and 'Netflix and chill' with." While I'm sure there are many women who would like to be that Netflix companion, I'm glad he's taking his time to meet someone real. For now, he can chill with Mom.
He's Hanging With His Family
Nick loves his big family. Hell, I love his big family (I virtually met them all when he was on The Bachelorette — twice). His mom is the best, and it looks like Nick is spending plenty of time with her and his fam since coming off of The Bachelorette.
He's Burying The Hatchet
It's like seeing Tom and Jerry getting along — In November, Nick joined forces with his Bachelorette nemesis and Kaitlyn Bristowe fiancé Shawn Booth for Movember, raising money for prostate cancer research. A good cause can squash any disagreement, don't you think?
He's Eating — A Lot
A man after my own heart — Nick takes a lot of pics of food on his Instagram, and it seems like he relishes his meals. His abs may not seem like they allow room for error, but the snaps of noodles and big steaks prove otherwise.
Looks like Nick is leading a nice, nearly-normal life. Non-reality TV time really suits him.
For everything Bachelor Nation, check out Bustle's podcast, Will You Accept This Podcast? and follow our Bachelor fan page on Facebook.
Image: ABC