'Mob Wives' New Star Has Some Allies Already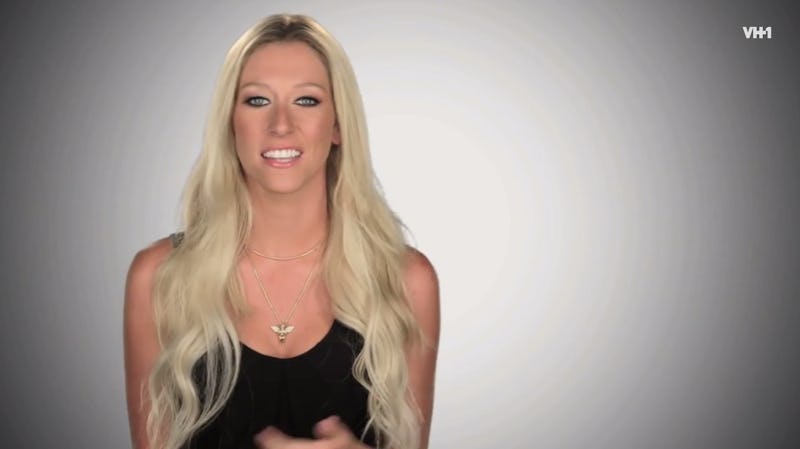 Just because Season 6 will be the final season of Mob Wives , that doesn't mean we won't be seeing any new faces. Brittany Fogarty is a new Mob Wives cast member, but don't let her youth fool you. Like many of the women who appear on the VH1 reality series, Brittany has grown up around organized crime and its consequences, so she knows how to stay strong no matter what comes her way.
And Brittany is definitely going to need that strength during what's sure to be a drama-filled final season, especially since we all know that newcomers aren't always welcome in reality TV, especially on Mob Wives. According to the Season 6 trailer, it looks like Brittany will have an ally in Mob Wives OG Karen Gravano for reasons I will explain later. But just because she has someone in her corner doesn't mean others won't be coming for Brittany.
So, will Brittany be able to put all of mob connections behind her in order to follow her own dreams that have nothing to do with her family? We'll have to wait and see when Season 6 of Mob Wives premieres Wednesday night. But here's some intel on Brittany to tide you over until then.
She Knows The Mob Wives Life
According to her VH1 bio, Brittany's parents Andrea Giovino and John Fogarty "were both heavily involved in the mob," which she also discusses in the video above. Her mother used to hold underground card games for New York's mob families, and wrote about her experiences in the book Divorced from the Mob: My Journey from Organized Crime to Independent Woman. Brittany's father was in Sammy "The Bull" Gravano's "muscle crew," according to VH1, which is how Karen, the daughter of "The Bull," knows Brittany.
The bio also explains that when Brittany was just about to turn 2 years old, her parents were arrested and faced eight years in prison. However, her mother convinced her father to cooperate with the Feds so that she could avoid jail time and stay home to raise their children. According to The Guardian, Brittany's father "confessed to an undisclosed number of murders" and spent six years in prison before joining the Witness Protection Program. The website also reports that he befriended Sammy Gravano while in prison. Shortly after his sentence began, the rest of Brittany's family was relocated by the government from Staten Island to Bucks County, Pennsylvania, according to the New York Post, after learning that the mafia put a hit out on her mother's life.
She Has A Complex Relationship With Her Father
Brittany said in an interview with Bikini.com that the reality of her father's actions as a member of the mob hit her when she was a teenager and affected their relationship. "I don't think that as a young child you really understand what it means to murder someone, so as I got older and as I was a teenager, and as these things were becoming more real for me, I think I took my anger out on my father," she said. I pushed him away, I didn't understand." It sounds like much of her time on Mob Wives will focus on Brittany's struggle with her father to put the past behind them and have a closer, more loving relationship in the future.
She's Young
Brittany just turned 25 years old on Christmas Eve, making her one of the youngest Mob Wives cast members ever. But with everything Brittany has gone through in her life so far, she is clearly not naive. I definitely wouldn't mess with her.
She's A Model
Brittany is looking to start a new path for her future. She has her sights set on making a career out of modeling, and has already rocked the runway for designers such as Michael Costello, Donna Mizani, and Gregorio Sanchez. She also co-owns a jewelry line called Brikell Jewelry. It looks like Brittany wants to take the fashion world by storm one way or another.
She Loves Her Some Big Ang
Brittany hit it off immediately with her Mob Wives castmate Angela "Big Ang" Raiola. "I think it was easy for us to connect because we had things to talk about as far as my aunts, and she grew up with them, and she knew them," Brittany told Wetpaint. "She has that fun, loving personality, way about her, and I'm very similar."
She'll Probably Feud With A Fellow Newbie
It doesn't sound like Brittany is going to hit it off with all of her Mob Wives castmates. She and fellow newcomer Marissa Fiore are rumored to go at it this season after Marissa insults Brittany, according to Page Six. In the Season 6 trailer, it does look like Marissa gets into a fight with a woman with blond hair, who could be Brittany.
Well, whether or not Brittnay ends up in a brawl, we all know that the final season of Mob Wives is going to be explosive.
Images: VH1; Giphy