17 Sweet, Not Sappy Valentine's Day Cards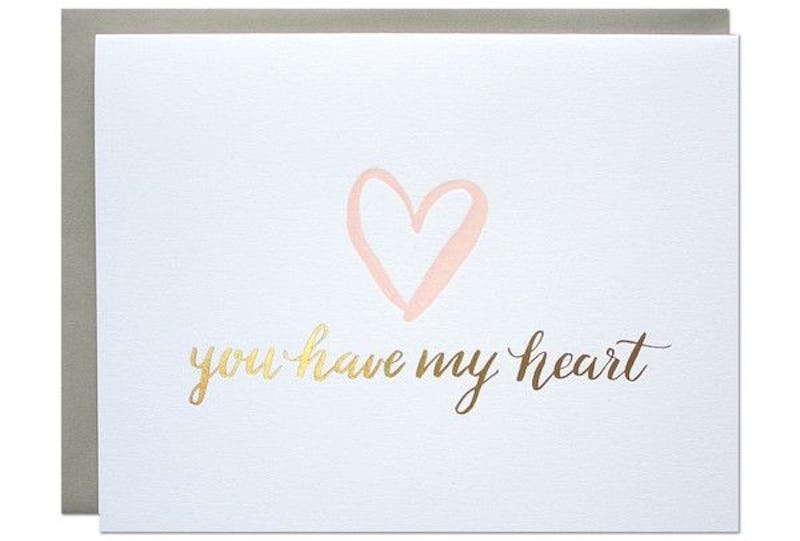 Valentine's Day is a holiday loved by some and loathed by many because of its utter sappiness. But really, people are just trying to share their affection with their loved ones, and if there's one day to partake in the mushy-gushy love fest, Valentine's Day is the day — that's where these romantic Valentine's Day cards come in. They're sweet, without feeling too saccharine. In other words, they're the perfect way to express your affection, without succumbing to all the PDA that makes people so vehemently opposed to the idea of Valentine's Day in the first place.
As tempting as those kissing face or heart-eye emojis might be, do they really convey how you feel about your significant other? How they give you butterflies, and make you laugh like no one else? How much you appreciate that they are always by your side through PMS, stomach bugs, and that one time you had to take a trip to the hospital for mono?
This Valentine's Day, share your affection with your partner by taking the time to tell them all of your feels in a love letter. Sure, boxes of chocolates, bouquets of roses, and candlelit dinners are all romantic gestures, but a genuine, handwritten card is sure to melt your Valentine's heart. Here are 17 sweet and sentimental cards to help you achieve #RelationshipGoals status.
1. You have my heart
For the one who holds the key to your heart.
My Heart, $5, Parrott Design Studio
2. To my Valentine
A beautiful card to share a beautiful message.
To My Valentine Card, $6, Anthropologie
3. E. E. Cummings
The ultimate love letter.
E.E. Cummings Letterpress Love Card, $6.95, Paper Source
4. Lobster Love
For the Ross to your Rachel.
Lobster Love, $5, Parrott Design Studio
5. Stars
To share your infinite love.
Hello! Lucky Love You More Card, $5, Urban Outfitters
6. All my love
To quote John Legend, "'Cause all of me, loves all of you, love your curves and all your edges, all your perfect imperfections."
All of Me Hand Lettered Greeting Card, $5, Etsy
7. Balloon
For memories of puppy love.
Balloon Greeting Card, $4.50, Rifle Paper Co.
8. You're my sweetheart
Simple and sweet.
Sweetheart Greeting Card, $5, Parrott Design Studio
9. You're the bee's knees
For your honey.
Life is Sweeter, $5, Crumple + Toss
10. Hugs & kisses
It's sweet and simple — I love you like XO.
XO Greeting Card, $4.50, Rifle Paper Co.
11. Guess how much I love you?
A storybook sentiment for a storybook love.
To the Moon and Back Greeting Card, $4.50, Rifle Paper Co.
12. Star-crossed lovers
For a fated love that is written in the stars.
Star Crossed Lovers, $5.95, Papyrus
13. My anchor
For a love that's as deep as the ocean.
My Anchor, $4.50, Rifle Paper Co.
14. Te amo, mi amor
A romantic message in a romance language.
Mi Amor, $4.50, Rifle Paper Co.
15. You're my person
For your other half, your soulmate, your person.
Letterpress You're My Person A2 Card, $4.95, Paper Source
16. Always & forever
To express your eternal affection.
Always and Forever Heart, $4.50, Rifle Paper Co.
17. Je t'aime
Because everything sounds a little more romantic in French.
Je t'aime, $4.50, Rifle Paper Co.
For more inspiration, check out Bustle on YouTube.