The 'Pump Rules' Midseason Trailer Is A Must-Watch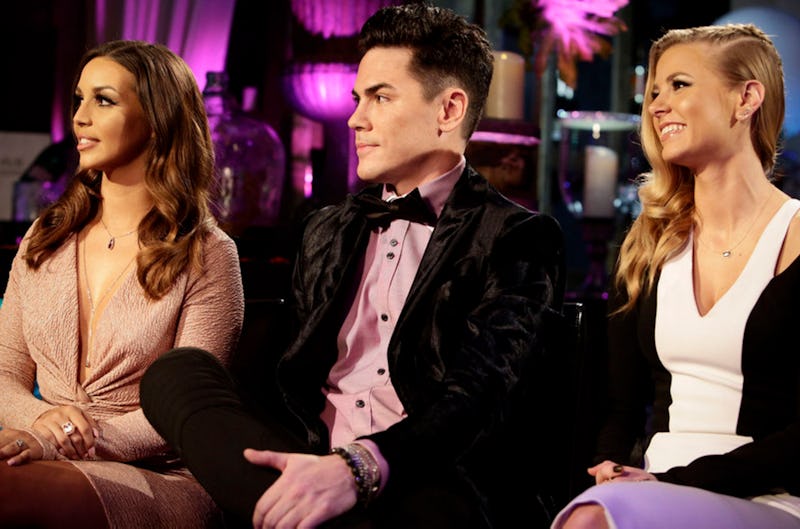 If you thought the current installment of Chrissy Teigen's favorite Real Housewives of Beverly Hills spinoff would be losing steam anytime soon, think again. Bravo has released a fresh, SUR-perbly dramatic trailer for the remaining Vanderpump Rules Season 4 episodes. And if the trailer is to be believed (and oh how I want to believe it!), the second half of Pump Rules Season 4 will be just as, if not more glorious than the first half. This show is so good to us.
There are a lot of major quotes and tears and reunions and butts sprinkled throughout the preview, but there is one scene in particular that really caught my eyes and ears. And it is the scene where Scheana confronts Tom Sandoval and Ariana about the tension that has been building between the couple and the other SURvers. After Scheana tells the duo that they have a "'we're better than everyone' attitude," Tom Sandoval replies, "I've never acted like I'm better. Ever, ever, ever. Ever. Ever."
The scene took my breath away.
Why does this scene resonate with me? What is it about this moment that commands my attention? Why did I rewind and rewatch this scene several times in a row? I will tell you why: The scene reminds me of 1993 movie The Sandlot. I love The Sandlot. I love Vanderpump Rules. And I love Tom Sandoval's Squints-y delivery of the word "ever."
Welp, now I can't stop playing this Sandlot clip on a loop. (I could very well end up watching this clip for for-ev-er. Or until my laptop's battery dies.)
Tom Sandoval? More like Tom Squintsdoval!
SUR-ev-er... SUR-ev-er... SUR-ev-er.
Image: Nicole Wilder/Bravo