Ben & JoJo Have Serious 'Bachelor' Chemistry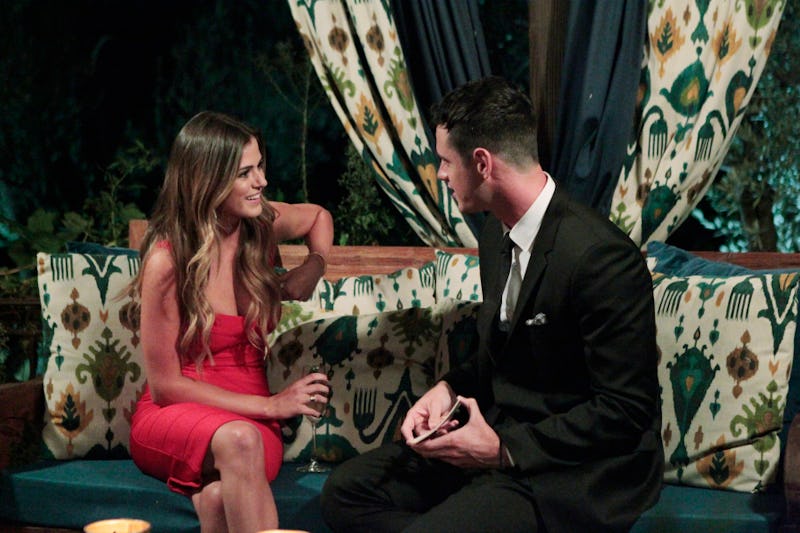 Remember that time during the premiere when Bachelor Ben Higgins said he wasn't kissing this season until he got to know everyone? According to his behavior on Monday night's episode, he's gotten to know the women plenty. And, if his smooches are any indication, he's definitely feeling a connection with some of them, especially JoJo. On Monday night's group date, Ben took his women on a school-themed date followed by a more intimate gathering, and JoJo ended up with the first group date rose of the season — after a steamy makeout sesh, of course.
JoJo didn't get too much alone time with Ben until the second phase of the group date, when Ben and the ladies hung out on a rooftop to enjoy the view... and a little one-on-one time with their Bachelor. Just minutes after JoJo commented that she hadn't had any time to hang out with Ben, he whisked her away to a private spot on the top of the building and after a little conversation, they ended up kissing. A lot. And obviously, those kisses meant something to Ben, because when it came time to hand out that group date rose, it went straight to JoJo. She was thrilled, because duh, this is a big deal.
The rest of the ladies? Unsurprisingly, they did not feel the same way, especially Jubilee, who thought that after her moment with Ben where she opened up to him about some personal stuff, they'd really formed a connection. But JoJo was over the moon, and if their kisses are going to predict the rest of the season, the rest of the ladies better watch out. She's some serious competition!
And honestly, they're super cute together. You get that rose, JoJo!
For everything Bachelor Nation, check out Bustle's podcast, Will You Accept This Podcast? and follow our Bachelor fan page on Facebook.
Image: Rick Rowell/ABC