Get To Know 'Bachelor' Contestant Joelle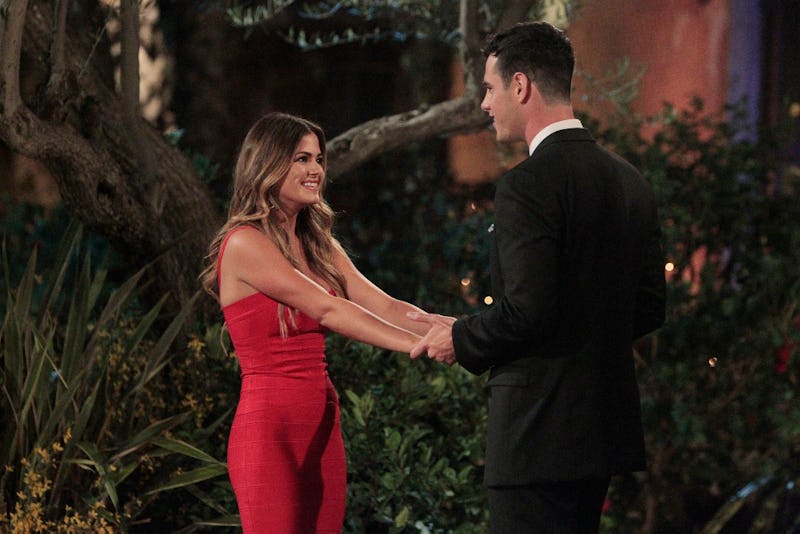 Without looking up spoilers, I am predicting that JoJo will be one of the last Bachelor contestants standing this season (if she doesn't win the whole thing). Joelle "JoJo" Fletcher is one of the girls trying to win Ben Higgins' heart on the 20th season of The Bachelor. She's a country music-loving, real estate developer who hails from Dallas, Texas and I did a little snooping to find out everything I could about her, so you don't have to. And, I definitely found some interesting things, including a link to the Bachelor world.
Ahead of the premiere host Chris Harrison revealed JoJo makes a grand entrance in the first episode when she gets out of the limo wearing a unicorn mask. The host had this to say about the contestant:
She is a little spitfire from Dallas — my hometown, so gotta love her. She is a real estate developer and a free spirit, but recently went through a breakup. As strong and bold as she seems on the outside, she is a little gun shy and reluctant, to say the least. Her main thing is letting go, and Ben keeps trying to get her to do so because he likes JoJo. They hit it off immediately and have chemistry. But she's that girl who has the walls up. Also, she had one of the more unique entrances, as she came out wearing a unicorn mask. I think she was making a joke about how guys are always holding out for a unicorn.
That's one way to get Ben's attention! Of course without the mask she's a drop dead gorgeous Texas gal, so that probably helps too. So, what else do you need to know about JoJo?
Her Brother Was Also On A Reality Love Show
JoJo's stepbrother, Ben Patton, was on Eva Longoria's Ready For Love. The show was on NBC in 2013 and Ben was one of three eligible bachelors trying to find love. The show was hosted by Giuliana and Bill Rancic and only lasted three episodes on TV before being moved online. Hopefully her brother gave her some reality TV love tips!
She's A Republican
After the last election she posted this E Card on her Instagram account. Turns out she was a fan of Mitt Romney. Let's just hope she's not a Donald Trump fan.
She Apparently Knows A Former Bachelor
It was a long time ago, but she and her brother Ben once went shooting with former Bachelor Jake Pavelka. Hmm, that's an interesting connection to the Bachelor world, isn't it?
Her Ex Owns A Salon
Reality Steve did some digging and learned that her ex's name is reportedly Chad Rookstool and he owns Chad Rookstool Salon in Dallas. Reality Steve also claims that her ex is currently watching her dog while she's on the show, but sources said they are definitely broken up. Seems weird, but exes can be friends, so let's give her the benefit of the doubt.
Her Puppy Is Adorable
Meet Jackson. He's too cute!
She's Religious
She and Ben seem to have that in common. Her Instagram is peppered with photos of bible verses and quotes. She also mentioned in her Bach bio that if she could eat lunch with any three people, dead or alive, Jesus would be one of them. Maybe this is something that will bring Ben and her closer together.
She Looks Like Isla Fisher
Doesn't JoJo look just like Isla Fisher from Wedding Crashers? Maybe this is a sign that her own wedding will soon be on the way!
For everything Bachelor Nation, check out Bustle's podcast, Will You Accept This Podcast? and follow our Bachelor fan page on Facebook.
Images: Rick Rowell, Craig Sjodin/ABC; notanrph/Tumblr