Who To Root For Super Bowl XLVIII When You Don't Actually Care Who's Playing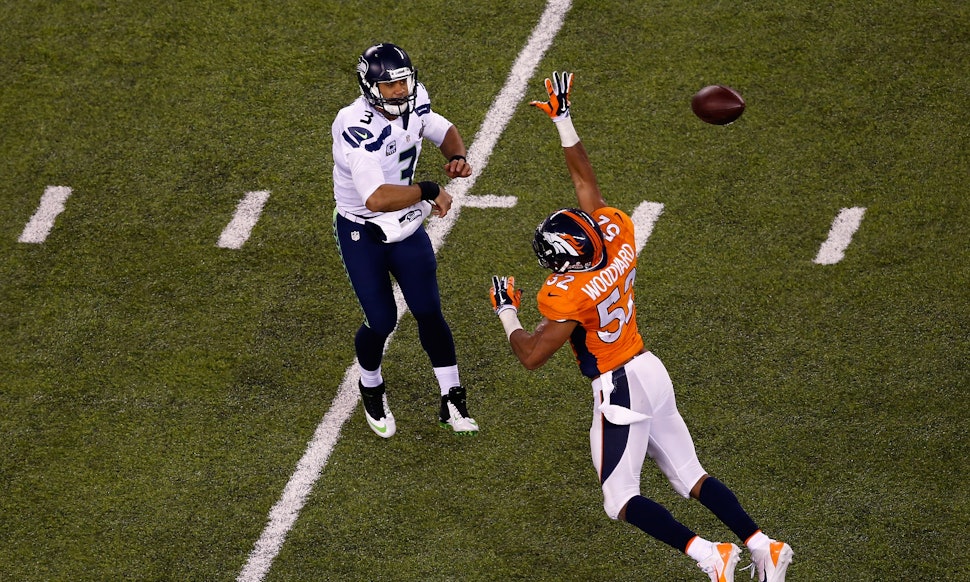 Jeff Zelevansky/Getty Images Sport/Getty Images
So, guys, the Seattle Seahawks and the Denver Broncos are going to be playing in this huge thing called the Super Bowl on Sunday. If you're not a football fan you're probably thinking "OK, but IDGAF". I hate to break it to you, but this game is one of the largest televised events all year (sahhry, Oscars) and if you don't pick a team you're going to find yourself mindlessly watching the game and eating nachos while you wait for the good commercials to come on — which, yes, can be fun in and of itself but wouldn't you rather feel a little invested in the goings on? If your definition of Super Sunday is going to a boozy brunch where you avoid talking about football entirely, I'm here to help you pick a team. (P.s. I loooove football so much I'm just going to call myself a football expert. Yes, seriously.) Here are the definitive factors any non-football fan needs to consider when picking which Super Bowl team to root for. Hint, there are only two choices...
Which team has the player with the most inspirational story?
One of the coolest things about the NFL is realizing that the players are human, too — and some have amazing success stories. Take Derrick Coleman, the Seattle Seahawks' fullback who's the first legally deaf offensive player in the history of the NFL. Yeah, we just got the chills, too.
Who's the underdog?
Ha! And you thought this one was going to be easy. The Seahawks ended the 2013 season with the best defense in the league. But then again, the Broncos were the No. 1 offensive team this year. REALLY? How does this shit happen? According to Vegas, the Broncos are currently favored by 3 points, which technically would make Seattle the "underdogs." But don't EVER mention that to Richard Sherman.
Which team has the craziest fans?
It's no surprise the Seattle Seahawks call their fans the 12th Man, which is a well-deserved nickname. In fact, they're so loud and proud that Seattle has actually recorded small earthquakes during football games. Your move, Denver.
Which team has the best celebrity fan?
Yuuuup, that's your Best New Artist of the Year Macklemore taking a selfie with Seattle's Russell Wilson. Macklemore and Seattle head coach Pete Carroll are officially 2014's most unexpected BFFs. The pair have been friends for over a year, meaning that Carroll basically discovered the artist. That's how it works right?
The Broncos' biggest fans are "South Park" creators Trey Parker And Matt Stone. You might not know their names by heart, but maybe you've heard of this tiny, Broadway show they also created called "Book Of Mormon"?
Who's got the more attractive colors?
The Seahawks have some of the coolest jerseys in the league, regularly rocking a color combo of College Navy, Action Green (read: awesome, trendy neon), and Wolf Grey. BUT, the Seahawks announced they'd be wearing white jerseys with navy pants to the big game. Ugh, that's confusing. The Broncos will wear their traditional Broncos Orange like they own it since, well, they really do own it.
Who has the better local cuisine?
Things are about to get really, really awkward. Denver serves fried bull testicles to its fans… AND THEY WILLINGLY EAT THEM! The best part is that they're called Rocky Mountain Oysters, which definitely doesn't seem like a bait-and-switch at all. Nope, no chance. Though this dish is only served at Denver's baseball stadium, any city trying to pass off testicles as a deep fried delicacy seems suspicious to me.
Which team has the better (looking) QB?
Peyton Manning is a freaking legend. But Russell Wilson totally has that new-guy-on-the-block appeal. I mean just look at him. Oh yeah, and just to clarify: Manning's on the Broncos and Wilson's on the Seahawks. Hope that helps.
If you're into completely irrelevant facts
The Seattle Seahawks is the only team in the league to share the first three letters in both their team and city names. So what you're thinking?! I'm thinking that spells L-O-Y-A-L-T-Y. In all caps.
Which team is more controversial?
Seahawks player Richard Sherman went totally ape shit in a recent sideline interview and this Bronco's player definitely got arrested (before having a breakout season), but let's be honest, you don't really care about NFL controversies. So you might as well just be on Team Jackson. Team Janet Jackson that is. Actually, let's just scratch this one.