The Academy Wasn't Feeling The Force This Year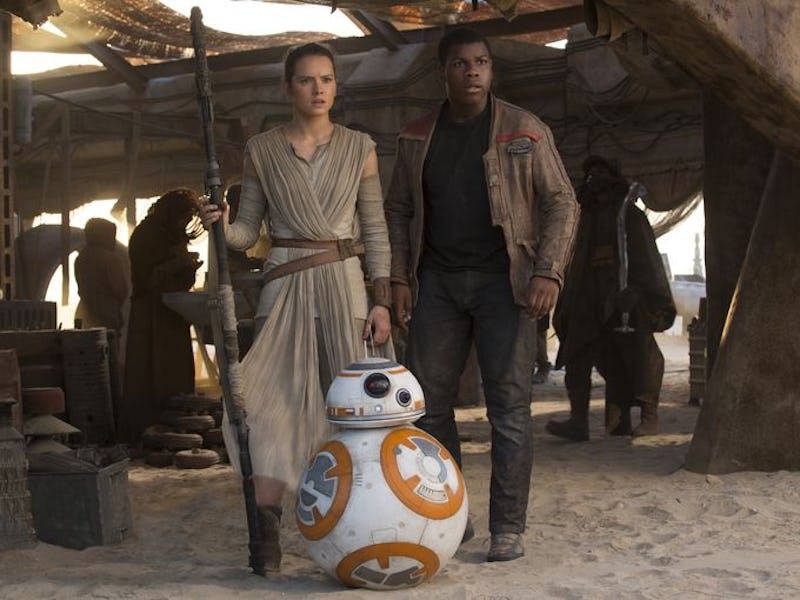 While there's always an element of unpredictability when it comes to the Oscars, I'm pretty sure mine wasn't the only jaw that dropped on Thursday morning upon learning that J.J. Abrams' Star Wars: The Force Awakens wasn't nominated for Best Picture. It wasn't the only surprise in that category, either; many were disappointed that Todd Haynes' drama Carol wasn't a contender, despite having been a frontrunner for the actual Best Picture award. Still, the absence of The Force Awakens, unanimously beloved by fans and critics alike and already the highest-grossing film in the U.S,. just seemed like a shoo-in for a nomination.
Sure, there were worse snubs in this year's nomination list; just look at the fact that there were no Oscar nominations for films featuring non-white protagonists, despite the acclaim Creed and Straight Outta Compton have received. But the lack of Star Wars: The Force Awakens for Best Picture truly hearts, and although I remain bewildered by this year's Oscar conversation, here are five likely reasons why the movie wasn't nominated for Best Picture this year.
1. Timing Is Everything
The fact that The Force Awakens didn't open until December and began screening for critics and industry members late in the game might be why it missed out on precursory awards from circles like the Director's Guild and Screen Actor's Guild, which can sway and influence Oscar votes.
2. Sci-Fi Films Don't Have A Habit Of Winning Best Picture Oscars
In USA Today, awards critic and columnist Pete Hammond noted that "science fiction has a very sad traffic record at the Academy." Although the original, Star Wars, picked up seven Oscars, it still ended up losing to Annie Hall for Best Picture. Since then, the sci-fi series has become better-recognized by the Academy for its visual effects and technical achievements than for its performances and directing.
3. Star Wars Has Already Received Plenty Of Nominations
The original 1977 Star Wars nabbed a lion's share of 11 Oscar nominations including Best Picture, Best Supporting Actor for Alec Guinness as Obi-Wan Kenobi, and best director for George Lucas. It then went on to win six Oscars, plus a special achievement award for Benjamin Burtt Jr.'s creation of alien, creature and robot voices. Similarly, Return of the Jedi racked up four Oscar nominations, while The Empire Strikes Back and The Phantom Menace earned three Oscar nominations. Also, in more recent years, Attack of the Clones and Revenge of the Sith received one Oscar nomination a piece.
4. Crowdpleasers Don't Always Grab Oscar Attention
No doubt, Academy voters represent the most esoteric film elite. So maybe it should come as no shock that they don't tend to honor films based on fan enjoyment and popular appeal. True, there's occasionally one "mainstream" movie that makes the Big Picture nominee list, like this year's Mad Max: Fury Road, but as a rule, they're left out entirely.
5. This Year's Race Is Incredibly Crowded
I mean, just look at the other nominees. While I'm sure that The Force Awakens was initially included on a lot of Academy voters' lists, it still needed to earn 5% of first-place rankings to secure a Best Picture nomination. My feeling is that it got squeezed out of the Oscar conversation due to the strength of other equally deserving films that fit a certain agenda, like the politically topical Spotlight, or The Revenant and Room as emotionally heavy-hitting dramas. At least it's comforting to know that if The Force Awakens had to be taken down, it was by done by more-than-worthy opponents.
But before all you Star Wars fans out there get misty-eyed, don't forget that The Force Awakens is still in the Oscar race for Best Editing, Best Original Score, Best Sound Editing, Best Sound Mixing, and Best Visual Effects. Fingers crossed!
Images: Walt Disney Studio Motion Pictures; Giphy (4)