10 Harry Potter Quotes About Saying Goodbye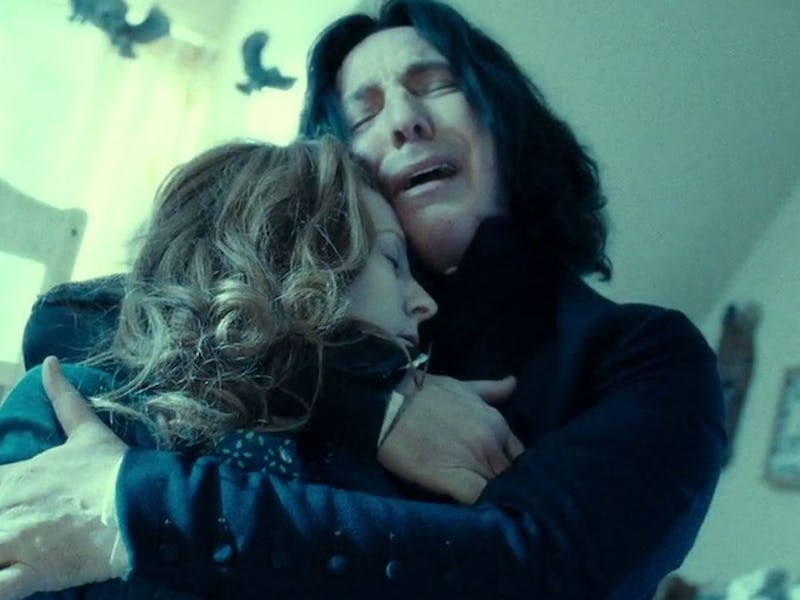 Saying farewell is never easy, especially when it's to someone as wonderful as the late, great Alan Rickman who, for eight movies, brought life to one of the most complicated Harry Potter characters of all, Severus Snape. On Thursday, the world lost another great talent (and amazing man) when it was announced Rickman died of cancer at age 69, and Harry Potter fans all over the world are grieving that loss. Potterheads everywhere are expressing their feelings and their condolences for Rickman's passing, and it isn't surprising that many have turned to Harry Potter quotes about saying goodbye to help get them through this emotional time.
Harry Potter fans are no strangers to saying goodbye. Over the course of seven books and eight movies, we've seen friends turned against each other, hearts broken, and lives taken far too soon, so by now, we should be experts at this whole sadness thing. It was heartbreaking to read the scene where Snape killed Dumbledore in the Astronomy Tower, and it was a punch in the gut to watch Snape's memories unfold after his death, but nothing that happened in the books can compare to the real-life heartache we feel after saying goodbye to Alan Rickman this week.
To help get you through another tough farewell, here are 10 goodbye quotes from Harry Potter. Snape, we will always miss you.
1. "Things we lose have a way of coming back to us in the end, if not always in the way we expect."
— Luna Lovegood, Harry Potter and the Order of the Phoenix
2. "You'll stay with me?'
Until the very end,' said James."
― J.K. Rowling, Harry Potter and the Deathly Hallows
3. "Bye-bye, Norbert!" Hagrid sobbed, as Harry and Hermione covered the crate with the invisibility cloak and stepped underneath it themselves. "Mommy will never forget you!"
— J. K. Rowling, Harry Potter and the Sorcerer's Stone
4. "He must have known I'd want to leave you."
"No, he must have known you would always want to come back."
― Ron Weasley & Harry Potter, Harry Potter and the Deathly Hallows
5. "It's cruel that I got to spend so much time with James and Lily, and you so little. But know this; the ones that love us never really leave us."
— Sirius Black, Harry Potter and the Prisoner of Azkaban
6. She stopped and looked back. For a moment Harry had the strangest feeling that she wanted to say something to him: she gave him an odd, tremulous look and seemed to teeter on the edge of speech.
— J.K. Rowling, Harry Potter and the Deathly Hallows
7. "To have been loved so deeply, even though the person who loved us is gone, will give us some protection forever."
— Albus Dumbledore, Harry Potter and the Sorcerer's Stone
8. "Could I — could I say good-bye to him, sir?" asked Hagrid. He bent his great, shaggy head over Harry and gave him what must have been a very scratchy, whiskery kiss. Then, suddenly, Hagrid let out a howl like a wounded dog ...
For a full minute the three of them stood and looked at the little bundle; Hagrid's shoulders shook, Professor McGonagall blinked furiously, and the twinkling light that usually shone from Dumbledore's eyes seemed to have gone out."
— J. K. Rowling, Harry Potter and the Sorcerer's Stone
9. "See you. Harry," said Ron, clapping him on the back.
"Bye, Harry!" said Hermione, and she did something she had never done before, and kissed him on the cheek.
— J. K. Rowling, Harry Potter and the Goblet of Fire
10. "Bye, then, Potter, said Moody, grasping Harry's shoulder for a moment with a gnarled hand.
"Take care, Harry," said Lupin quietly. "Keep in touch."
"Harry, we'll have you away from there as soon as we can," Mrs Weasley whispered, hugging him again."We'll see you soon, mate," said Ron anxiously, shaking Harry's hand."Really soon, Harry" said Hermione earnestly. "We promise."Harry nodded. He somehow could not find words to tell them what it meant to him, to see them all ranged there, on his side. Instead, he smiled, raised a hand in farewell, turned around and led the way out of the station towards the sunlit street...
— J. K. Rowling, Harry Potter and the Order of the Phoenix
Images: Warner Bros.; Giphy (10)