12 Of The Most Iconic Gowns In Literature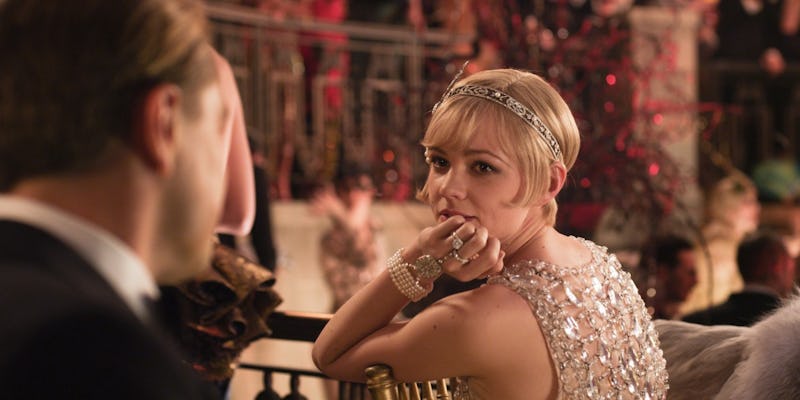 As the Oscars approach, I can't help getting excited for one of my favorite parts of the event: the beautiful gowns. The parade of amazing dresses is always a great tribute to fashion, and while I'm guessing which films, directors, and actors will walk away with the Academy Awards, I'm also wondering which designer dress the stars will choose to wear while accepting said award.
Of course, if we're talking about dresses, it needs to be mentioned that some of the best gowns are written into our favorite books. After all, writers can craft an amazing dress just through imagination — no sewing necessary — and believe it or not, these dresses can play major roles as symbols in their respective books.
In her novel Orlando, Virginia Woolf says that "vain trifles as they seem, clothes have, they say, more important offices than to merely keep us warm. They change our view of the world and the world's view of us." Certainly, this proves true for many book characters: not only do their outfits give insight into their character, the clothes can even change the course of the story. So this year, perhaps the Oscar-nominated actresses should look to the pages of classic literature to find inspiration for the perfect iconic gown.
1. Hermione's Yule Ball Dress Robes
She was wearing robes made of a floaty, periwinkle-blue material, and she was holding herself differently, somehow — or maybe it was merely the absence of the twenty or so books she usually had slung over her back.
—J.K. Rowling, Harry Potter and the Goblet of Fire
2. Anna Karenina's Black Dress
Anna was not in lilac, as Kitty had so urgently wished, but in a black, low-cut, velvet gown, showing her full throat and shoulders, that looked as though carved in old ivory, and her rounded arms, with tiny, slender wrists. The whole gown was trimmed with Venetian guipure. On her head, among her black hair—her own, with no false additions—was a little wreath of pansies, and a bouquet of the same in the black ribbon of her sash among white lace. Her coiffure was not striking. All that was noticeable was the little wilful tendrils of her curly hair that would always break free about her neck and temples. Round her well-cut, strong neck was a thread of pearls.
—Leo Tolstoy, Anna Karenina
3. Hester's Scarlet Letter-Embroidered Dress
Her own dress was of the coarsest materials and the most sombre hue, with only that one ornament—the scarlet letter—which it was her doom to wear.
—Nathaniel Hawthorne, The Scarlet Letter
4. Anne Shirley's Puff-Sleeved Dress
Anne took the dress and looked at it in reverent silence. Oh, how pretty it was—a lovely soft brown gloria with all the gloss of silk; a skirt with dainty frills and shirrings; a waist elaborately pintucked in the most fashionable way, with a little ruffle of filmy lace at the neck. But the sleeves—they were the crowning glory! Long elbow cuffs, and above them two beautiful puffs divided by rows of shirring and bows of brown-silk ribbon.
—Lucy Maud Montgomery, Anne of Green Gables
5. Miss Havisham's Wedding Dress
She was dressed in rich materials,—satins, and lace, and silks,—all of white. Her shoes were white. And she had a long white veil dependent from her hair, and she had bridal flowers in her hair, but her hair was white... It was not in the first few moments that I saw all these things, though I saw more of them in the first moments than might be supposed. But I saw that everything within my view which ought to be white, had been white long ago, and had lost its lustre and was faded and yellow. I saw that the bride within the bridal dress had withered like the dress, and like the flowers, and had no brightness left but the brightness of her sunken eyes.
—Charles Dickens, Great Expectations
6. Holly Golightly's LBD
It was a warm evening, nearly summer, and she wore a slim cool black dress, black sandals, a pearl choker. For all her chic thinness, she had an almost breakfast cereal air of health, a soap and lemon cleanness, a rough pink darkening in the cheeks. Her mouth was large, her nose upturned. A pair of dark glasses blotted out her eyes.
—Truman Capote, Breakfast at Tiffany's
7. Scarlet O'Hara's Curtain Dress
The moss-green velvet curtains felt prickly and soft beneath her cheek and she rubbed her face against them gratefully, like a cat. And then suddenly she looked at them... "Scoot up to the attic and get my box of dress patterns, Mammy," she cried, giving her a slight shove. "I'm going to have a new dress."
—Margaret Mitchell, Gone With the Wind
8. Daisy Buchanan's White Dress
"Sometimes [Daisy] and Miss Baker talked at once, unobtrusively and with a bantering inconsequence that was never quite chatter, that was as cool as their white dresses and their impersonal eyes in the absence of all desire."
—F. Scott Fitzgerald, The Great Gatsby
9. Dorothy Gale's Gingham Dress
Dorothy had only one other dress, but that happened to be clean and was hanging on a peg beside her bed. It was gingham, with checks of white and blue; and although the blue was somewhat faded with many washings, it was still a pretty frock. The girl washed herself carefully, dressed herself in the clean gingham, and tied her pink sunbonnet on her head.
—L. Frank Baum, The Wizard of Oz
10. Offred's Handmaid Outfit
The skirt is ankle-length, full, gathered to a flat yoke that extends over the breasts, the sleeves are full. The white wings too are prescribed issue; they are to keep us from seeing, but also from being seen. I never looked good in red, it's not my color.
—Margaret Atwood, The Handmaid's Tale
11. Cinderella's Magical Gown
"Now that no one else was at home, Cinderella went to her mother's grave beneath the hazel tree, and cried out:
Shake and quiver, little tree,Throw gold and silver down to me.
Then the bird threw a gold and silver dress down to her, and slippers embroidered with silk and silver. She quickly put on the dress and went to the festival."
—Jacob and Wilhelm Grimm, Cinderella
12. Wanda Petronski's Hundred Dresses
The minute they entered the classroom they stopped short and gasped. There were drawings all over the room, on every ledge and windowsill, tacked to the tops of the blackboards, spread over the bird charts, dazzling colors and brilliant lavish designs, all drawn on great sheets of wrapping paper. There must have been a hundred of them all lined up!
—Eleanor Estes, The Hundred Dresses
Sometimes the best dresses aren't made of fabric, but pen and paper.
Images: Walt Disney Studios, Metro-Goldwyn-Mayer (3), Warner Bros (3), Paramount, Lionsgate, CBC, Screen Gems, Focus Features