Ben Higgins' Contestants Aren't The Youngest Ever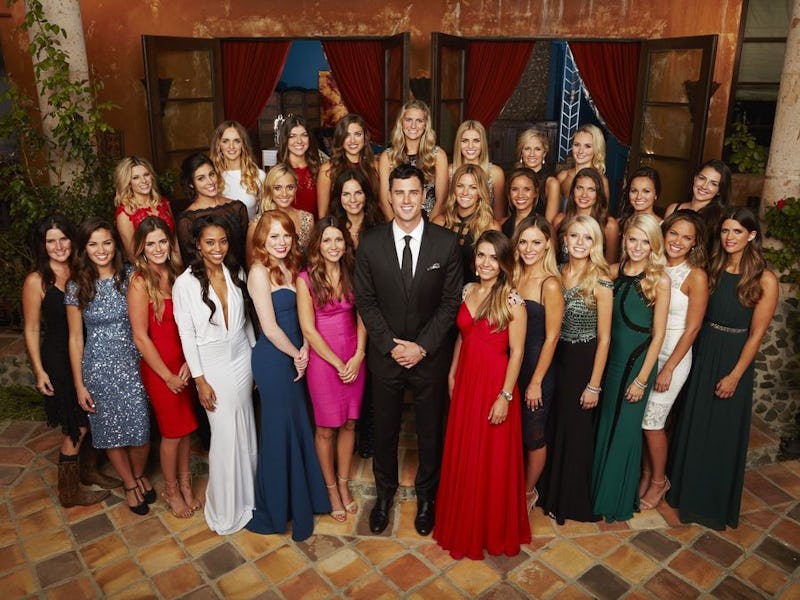 "He's too young!" I screamed when I learned Ben Higgins was the new Bachelor . Most of that outburst came from the fact that I — a 23-year-old — felt Ben and I belonged together, and it realistically had nothing to do with his age. Sure, 26 is a bit younger than past Bachelor men, but it's really the age of The Bachelor contestants that has viewers talking. I mean, some of them are 22 years old! Well, if that was a thought you had when learning about this season's women, you might be shocked to learn that this isn't even the youngest cast in Bachelor history.
Initially, I was surprised that there were 22-year-olds on Ben's season of The Bachelor. It reminded me, again, that I royally screwed up by not applying — it could have been me — but it also made me wonder if I would have been able to handle a show like The Bachelor at 22, right out of college. Then again, everyone's journey is different, so it doesn't really matter what I would be able to handle in comparison to those actually on the show. Plus, this isn't even the youngest cast of Bachelor contestants — that honor was bestowed upon Andrew Firestone's Season 3 of The Bachelor in 2003.
In honor of Ben "going back to high school" on Week 2 of his love adventure, I dusted off my Math Brain to figure out the average age of each season's women courtesy of contestant data from Reality TV World. The only season without data available was Season 1. Regardless, Ben's season isn't the youngest there's ever been. His average contestant age is 25.07 years old while Season 3's average age was 24.64 years old.
As you can see in the chart above, rarely does the Bachelor's age come anywhere near the average age of the women. Jesse Palmer's Season 5 came the closest with him being 25 and his women being 25.04. Interestingly, repeat Bachelor Brad Womack got four years older between Seasons 11 and 15, but the age of his women actually decreased from 27 to 26.86.
At the end of the journey, though, age is just a number. It's really difficult to judge if the age of the contestants directly affects the seriousness of their intentions. Sure, there can be a 22-year-old on the show that is only doing it for fame, but there could also be a 30-year-old on the show doing it for fame, too. We just have to put our trust in Ben and believe he'll be able to read those that are there for the ~right reasons~ and those that aren't — no matter how old they are.
For everything Bachelor Nation, check out Bustle's podcast, Will You Accept This Podcast? and follow our Bachelor fan page on Facebook.
Images: Craig Sjodin/ABC; Dawn Foster/Bustle