'Degrassi: Next Class' Stars Get You All Caught Up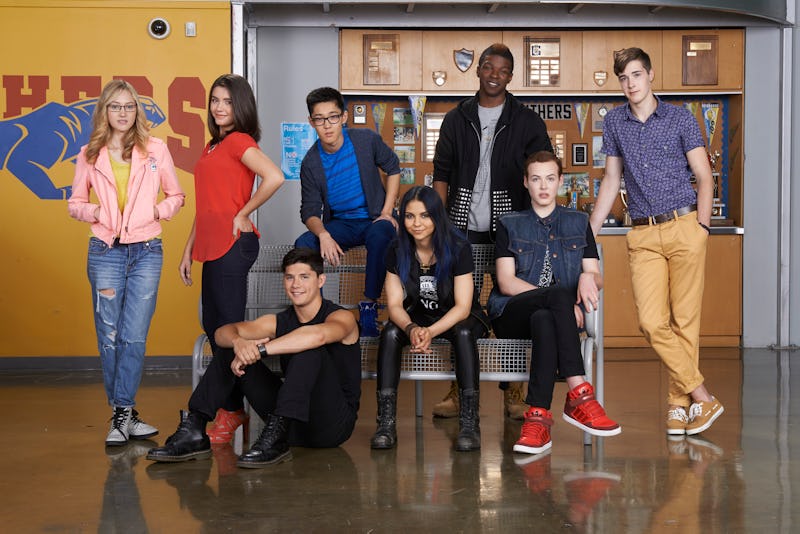 Due to the accessibility of streaming services, I have a feeling that Degrassi: Next Class on Netflix is going to draw in a lot of new audience members, as well as nostalgic viewers who maybe haven't watched the show since "The Drake Years." However, most of these actors have already been playing these character for several seasons. So, for that reason, here's what you need to know about three of the previously established Degrassi students according to the actors themselves: Frankie, Zoë, and Zig, played by Sara Waisglass, Ana Golja, and Ricardo Hoyos.
First off, Frankie Hollingsworth — who along with her twin brother Hunter and older brother Miles are quite visible at school, because their dad is the mayor. "She has always known exactly who she is and has kept great people around her," Waisglass says. "She's had a lovely relationship with her boyfriend and she's got great friends as well. I think that's important to know going into this season because a lot of it falls apart and she has to figure out a way to deal with that. Eventually she'll learn the lesson of not everything in life goes your way and you just have to push through and find your own reasons to smile."
Zoë and Zig, on the other hand, have slightly different trajectories. "With Zoe, she was the Queen Bee and she was at the top of the social ladder and then she was sexually assaulted," Golja says, "and you see how her life really changes and how she deals with that. With this season, this brand new season, you really see her struggle with who she thinks she is and who she wants to be, versus who she truly is at heart."
As for Zig? "He comes from a troubled past," Hoyos says. That's the most important thing to know about him, and since it doesn't figure too heavily into his introduction on the Netflix series, I'd have to agree. That's one of the best things about Degrassi, whether it's The Next Generation or Next Class. The characters go through a lot of changes, and their past really matters and molds them. Whether you're watching these characters for the first time on Netflix, or you've been on this ride along with them, that's sure to come across.
Want more Degrassi? Watch the stars of Next Class guess teen slang from different generations in the video below.
Images: Steve Wilkie/Epitome Pictures; WiffleGif (2); zoerrivas/Tumblr