'Pump Rules' Pilot Moments That You Totally Forgot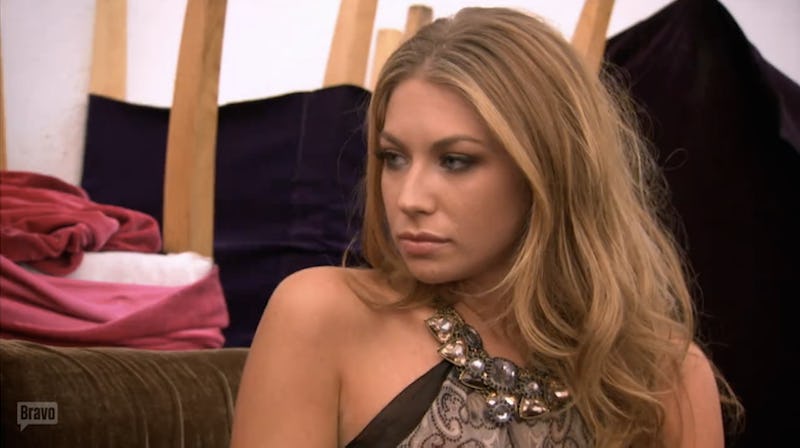 The year was 2013. Lisa Vanderpump, a fan-favorite on Real Housewives of Beverly Hills, got a spin-off show on Bravo called Vanderpump Rules. Little did I know at this time that Vanderpump Rules would be the best worst thing to happen to TV. Vanderpump Rules has evolved since the pilot, but like a fine wine, it has only gotten better with age. Relationships that existed in Season 1 are almost completely extinct in Season 4. Friendships have gone from good, to bad, to ugly, to good again. What I'm trying to say is: nothing is the same and everything is the same.
While watching the Season 1 premiere, I realized something almost immediately: there are a lot of things I never noticed or completely forgot about. Like, at one point in my life I was actually rooting for Kristen and Tom to make it work? Who was I then? Watching Season 1 is strange in the sense that I know a lot of drama is about to go down in the next three years for the cast members and they have no idea what they're getting themselves into. You almost want to scream to Kristen to get out now while she still can with pride.
Nah.
Here are the things you probably completely forgot about from the Vanderpump Rules pilot.
1. The Old SUR Outfits Were Really Bad
By "really bad" I mean an actual swatch of fabric that didn't allow the SURvers to wear any type of bra or underwear.
2. Stassi Might Be A Royal Princess
Stassi says in the pilot that her mom has told her she's a descendant of a Swedish princess, which is why she "tries to act like one." If she's not actually royal, she's definitely the Queen Bee of SUR a la Season 1.
3. Scheana Is Still Riding The Fame From Her Affair With Eddie Cibrian
It's basically all anyone talks about in the pilot, even though Scheana is already dating Shay (her now husband).
4. Stassi & Jax: A Love Story
Jax and Stassi are an item in the pilot, although they don't even last the season. Jax describes their relationship as "a heated passion." LOL.
5. Scheana Is The "Brunette Britney Spears"
In the pilot, Scheana records some backup vocals, if you will, for her new song. She describes herself as the Brunette Britney Spears, and even says that she would get mistaken for Britney Spears in high school. Also, according to Scheana, being a pop star is about being a performer and not a singer, which she proves in the recording booth.
6. No One Wants To Be A SURver For Life
All of the staff has goals, and none of them involve SUR. Kristen wants to be a serious actress, Katie wants to have a record label. Tom Sandoval also wants to act. Jax is modeling for a BMW ad. Basically, everyone has big dreams outside of SUR.
7. Kristen & Tom Are Actually Cute Together
I found myself actually rooting for these two together and hoping they'll last when watching the pilot. Joke's on me.
8. Stassi Hated Scheana (Kidding, You Didn't Forget That)
Stassi was "pissed" when she learned that Scheana would be working at SUR after learning about Scheana's relationship with Eddie Cibrian. Throughout the first episode, Stassi 1) makes Scheana cry, 2) tricks her into completing Stassi's side work at SUR, 3) slut shames her, saying she doesn't want her boyfriend to hang out with girls like her, and 4) makes sure other people hate her, too.
9. Lisa Actually Liked Kristen At One Point
Kristen and Lisa had their issues in recent seasons, but in the pilot, Kristen was one of the better employees at the restaurant.
10. Peter Used To Date Stassi
According to him, they dated for four months but he knew it was a mistake two months in. He also gave Jax advice on how to date her.
11. Tom Was In Another Band
Now, Tom is in Charles McMansion, but at the time, Sandoval was flat ironing his hair for another band called Pierce the Arrow.
12. In 5 Years, Tom Sandoval Wanted To Be Married With Kids
Meanwhile, Kristen wanted to be known for her serious acting. I think I see the root of their problems.
13. Katie and Kristen Looked Identical
Now, I would never make the mistake, but I know I can't be the only one who said, "the one dating Tom... with the brown hair... her name starts with a 'K'..." only to realize I was describing both of them.
There you have it. Now, I'm going to just casually watch the remainder of Season 1, for research purposes.
Images: screenshots/Bravo (14)