The 'Vanderpump Rules' Season 4 Trailer Is Here!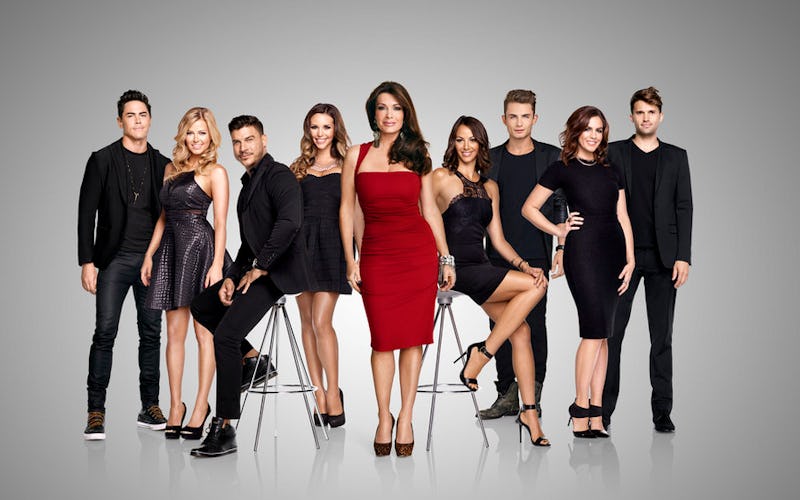 There's a lot of exciting news coming from Bravo this Wednesday, including the fact that Kathryn and Thomas from Southern Charm are expecting another baby. But I'm not here to talk about that. However, I am here to improve your day with this Vanderpump Rules Season 4 trailer. The SUR servers are back for even more drama and ridiculous moments that will make you extremely happy with your own life.
First and foremost, the new season of Pump Rules premieres Monday, Nov. 2 on Bravo, so put that in your calendar!
Second, there is a lot going on in the trailer — but would you really expect anything less? And in the midst of all the wild partying, there's actually one very serious moment that occurs. The trailer makes it look like Scheana's husband, Shay, has an addiction problem. The video cuts to queen Lisa Vanderpump saying, "He needs to get clean. He needs to take responsibility for the fact that he's married this girl and he needs to get his sh*t together." That's some heavy stuff, but it isn't the first time the show has featured addiction. Remember Jax's ex-girlfriend and former SUR server Laura-Leigh who also had a substance abuse problem, as well?
Aside from the seriousness, the trailer does showcase some entertaining moments that will get you exciting for Season 4. Check it out.
1. Schwartz Proposes To Katie
As expected, Schwartz's proposal to Katie is featured, and it will probably be one of the happier moments of the season.
2. Jax Wants To Settle Down
Huh? Really, Jax? You want to get married and have kids? Well, seeing as he has a new girlfriend, maybe she's "the one?" Plus, he really needs "another girl's name tattooed on [his] arm," so, yeah....
3. There's A New SUR Employee
Her name is Lala, she is involved in a lot of drama, and she even shoves Kristen.
4. James Has A New Girlfriend
Now that Kristen and James are dunzo, James has moved onto, wait for it, Lala! Anyone else feeling like this is déjà vu? Oh, and it also looks like he might have cheated on Kristen.
5. Jax And Sandoval Are Fighting, Again
Jax just really needs Tom to chill out about his band and music. Wait... Tom has a band?
6. Ariana And Kristen Still Hate Each Other
*yawn* When will it end? And if you're wondering, Kristen thinks she is "the most powerful b*tch in the world."
7. A Familiar Face Returns
That's right, Stassi is back and has the best conversation with Lisa.
Now, make sure you watch the trailer in its entirety, because there is so much I didn't even discuss. Enjoy!
Images: Tommy Garcia/Andrew Eccles/Bravo; vanderpumprules (2)/Tumblr