14 Feminist Valentine's Day Gifts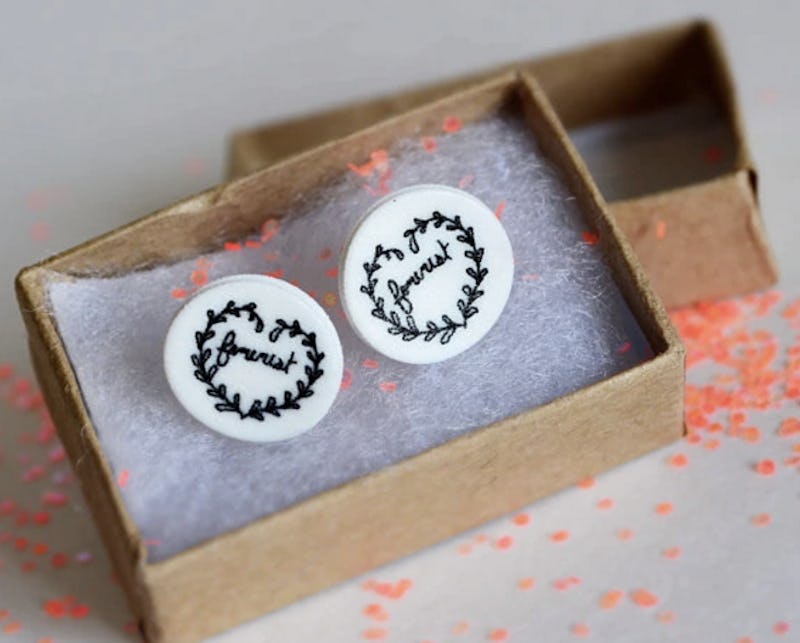 It's happening again: every TV commercial features diamonds and jewels, the stores are full of heart-shaped boxes of chocolates, and right about now, people everywhere are beginning to stress out over what gift to get their Valentine. Instead of going with a cliche present, turn Feb. 14 into a celebration of equality and love by getting feminist Valentine's Day gifts for the special people in your life.
The holiday has been criticized for being anti-feminist, but there are plenty of ways to celebrate Valentine's Day in a feminist way. Valentine's Day has become a highly commercialized, heteronormative holiday that seems to celebrate limiting gender roles, but at its core, the holiday is meant to celebrate love in all of its forms. Whether you are celebrating with a significant other, your fellow Galentines, or yourself, Valentine's Day — like every other day of the year — should be a day filled with women empowerment, self love, and equality for women and men alike, no matter who buys dinner.
Show the one you care for just how much you love them and equality with one of these 14 feminist Valentine's Day gifts. Trust me, they will blow even the biggest box of chocolates or bouquet of flowers out of the water.
Feminism Throw Blanket , $49, Amazon
Want to get cozy with your Valentine this year? Make sure you do it under this floral, fuzzy, feminist throw blanket, whose floral pattern I'd take over actual flowers any day.
'All About Love: New Visions' by bell hooks, $9, Amazon
Usually, cultural criticism and romance don't go hand-in-hand, but Bell Hooks' All About Love changes that. A smart, inquisitive look at what exactly love is and how to practice it in the best way, both individually and as a culture, All About Love is the perfect gift for your feminist, book nerd beau.
Venus Symbol Necklace , $31, Amazon
Simple, delicate, yet powerful, the Venus symbol has long been associated with the feminist movement. Give your sweetheart one of their own to wear proudly around their neck, because honestly, they probably have enough heart-shaped jewelry to last them a lifetime.
V-Day Donation, Any Amount, VDay.org
Valentine's Day has become a commercial holiday, but instead of buying your sweetheart a bunch of stuff, help change the world in their name. Donate to V-Day, a virtual organization fighting to end violence against girls and women, and let your Valentine know that you care about not only them, but women world wide.
Feminist Ear Studs, $15, Etsy
Jewelry is a pretty typical gift for any romantic holiday, but these beautiful, handmade earrings are more dazzling than any diamond studs.
Frida Kahlo Socks, $10, Feminist Apparel
You might not normally think of socks when you think of romance, but depending on where you live, February can get pretty chilly. Warm your Valentine up with these bold Frida Kahlo socks that are not only thoughtful, but also very practical.
"Best Sistar Ever" Pencils, $6, Etsy
Celebrate Galentine's Day Leslie Knope style, and stuff your friends' gift bags with these feminist-friendly pencils that celebrate sisterhood. You and all your girl gang will be able to write down your radical feminist ideas in style.
Akola Leaf Necklace, $52, Akola
If you're going to buy jewelry for your Valentine, make it something special. No, I'm not talking about diamonds and pearls. Get your beau a necklace, ring, or earrings from a company like Akola, whose mission is to economically empower women globally and whose profits go to directly supporting that cause. Learn more about its mission here.
Riot Grrrl Tank Top, $30, Feminist Apparel
The heart motif is usually overdone on Valentine's Day, but not when it comes to simple designs like this bad ass tank top. Forget the teddy bears with heart eyes, don't even think about heart-shaped balloons, but hearts for riot grrrl? Those are totally acceptable.
Yami Clutch, $25, Raven and Lilly
A girl can never have too many clutches, especially when the proceeds of them go towards aiding women in poverty. Ditch designer and get your Valentine an accessory like this clutch from Raven and Lily that does more than just hold her belongings, but helps to empower women worldwide.
Girl Scout Cookies , $4-5, Girl Scouts;
Everyone — I repeat, everyone — likes sweets on Valentine's Day. Instead of going the traditional box of chocolate route, pick up your beau's favorite Girl Scout cookie. Chances are you know someone at work selling them, or you've seen them tabling outside your local grocery store, so grab a box and know that you'll be satisfying your sweetheart's sweet tooth while helping to support and empower young girls around the country.
Image: Pixabay
Feminist Killjoy Sticker Sheet, $5, Etsy
If you're handing out Valentines among your girlfriends, make sure to include one of these pro-girl gang sticker sheets. They're bold, unapologetic, and the perfect little way to say "I love you and your feminist agenda."
Floral Uterus Mug, $15, Society6
Celebrate love and the female body this Valentine's Day with this floral uterus mug. Every day your Valentine uses it, they'll not only think of you, but they'll hopefully mull over reproductive rights, consent, and other issues facing women. Who needs romance when you have that, am I right?
Valentine's Day Feminist Pin, $2, Etsy
Forget those candy hearts stamped with "Be Mine," and change the language of Valentine's Day by asking your partner to be your equal this year.
For more ideas, check out Bustle on YouTube.