You Need To Know These 8 Lipstick Hacks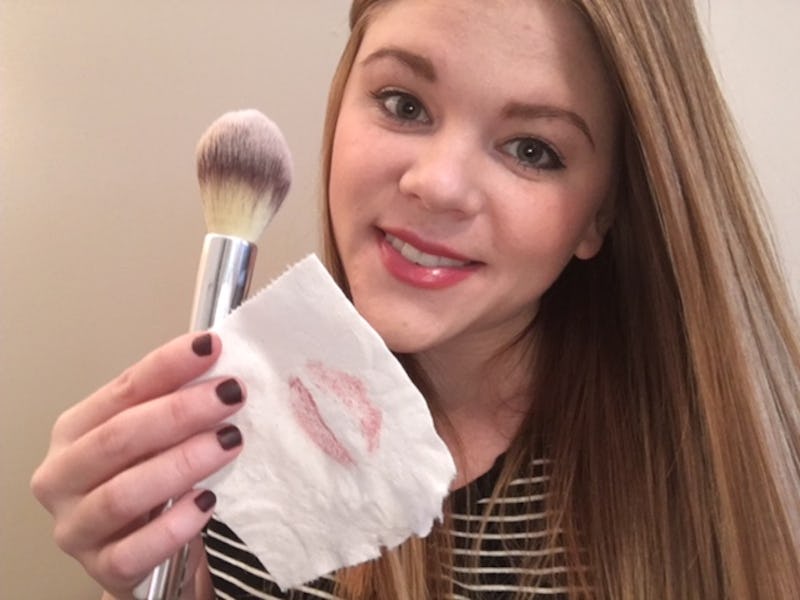 Lipstick is one of the most intimidating products, but with the right tips and tricks, it doesn't have to be difficult to master. Thankfully there are simple tricks and hacks to mastering lipstick that are so simple even a beginner can do them. It turns out that trying a bold new look isn't so scary when you've got great advice on your side!
Whether you're a lipstick beginner or are looking to learn some new tricks, it's incredible how big a difference one tip can make in your makeup world. There are tons of ways to apply lipstick, not to mention different formulas and brands, which is what makes the product so intimidating, but with a few of these tips you'll be on your way to the perfect pout — every. single. time. Say goodbye to your fear because once you read these tips, there will be no lippie look that you can't master.
From how to apply liner with precision to making your lip color last, there's a brave woman who has gone before us and is willing to share the secrets to the perfect lipstick. *Insert prayer hands emoji here.* I'm a firm believer that there's nothing that a little girl power can't fix, and it holds true with every beauty tutorial made. These expert lipstick hacks, demonstrated by yours truly, prove just that.
1. The Lip Pop
To keep lipstick off your teeth, put your finger in your mouth and pull it out, making a "pop!" sound with your lips. This gets all the lipstick residue off the inside of your mouth and onto your finger instead. Just be sure to have a makeup wipe handy!
2. Get Fuller Lips
Believe it or not, contouring your lips is actually pretty easy. Just put a few dabs of concealer on the inside of your lip and smack your lips together to blend it out. Apply a lighter shade on your cupid's bow, and then apply the color you want all over your lips.
3. Make Your Lipstick Matte
Matte lipsticks can be super expensive, but it turns out all you need is some finishing powder to get rid of a glossy finish. I used E.L.F.'s under eye setting powder, which is only $3.
e.l.f. High Definition Undereye Setting Powder, $3, Target.com
4. Long-Lasting Lipstick
Translucent powder is also perfect for making your lipstick last all day. Just put a tissue over your mouth, apply a thin layer, and you're good to go!
bareMinerals Mineral Veil, $22, Sephora.com
5. Fixing Smudges
Instead of smearing the product all around your face, just put some concealer over the smudge and blend it out. Bonus tip: add a little bit of concealer underneath the fullest part of your bottom lip to create even more of a pout.
e.l.f. Studio Concealer, $3, Drugstore.com
6. Long-Lasting Liner
People often think of long-lasting lipstick, but a long-lasting lip liner is just as important. You can actually use your long-wear lipstick as liner itself. All you'll need is makeup remover and a Q-tip or a makeup remover wipe. Just wipe off the inside of your lipstick and you're left with long-lasting liner.
Refreshingly Clear Makeup Remover Wipes, $10, Honest Beauty
7. Define Your Cupid's Bow
To get a more stand-out lip shape, exaggerate your cupid's bow by drawing more of a point rather than your typical curve.
8. Removing Lipstick Stains
Garnier Fructis Flexible Control Hairspray, $3.96, TheOnlineDrugstore.com
According to PopSugar, hairspray is the best way to remove unwanted lipstick stains. Just spray, let it set, and rub.
Lipstick application suddenly got so much easier!
Want more beauty tips? Check out the video below, and be sure to subscribe to Bustle's YouTube page for more hacks and tricks!
Images: Kali Borovic (8), Courtesy Brand (1)