Judd Apatow Reveals Details About 'Love' Series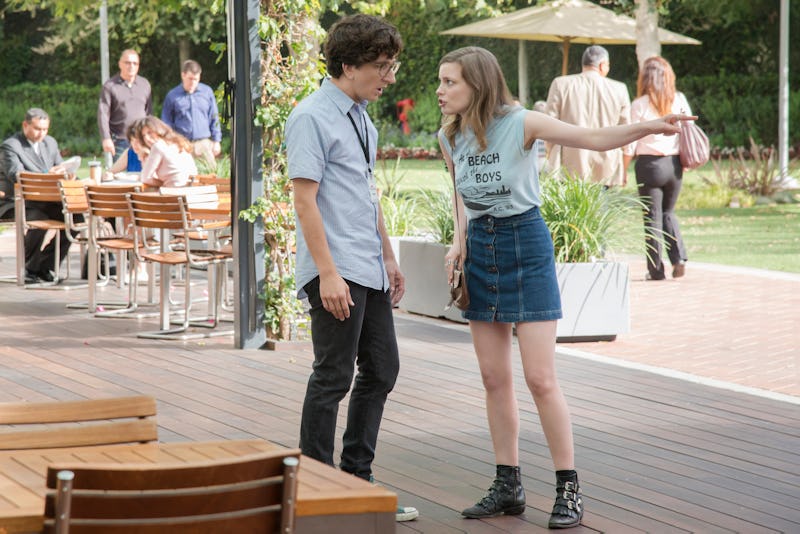 He's known for his raunchy comedy features and collaborations with Lena Dunham and Amy Schumer, but now Judd Apatow is making his way to Netflix for his 10 episode series, Love . The show centers around nice guy Gus and party girl Mickey as we follow their budding relationship, beat by beat, as they have many ups and downs. "I think people want to see characters struggle to find happiness. We all feel that way. It's a bumpy road and we're trying to figure it out," the director and producer says.
For Apatow, who wanted to make the show without the traditional time constraints or guidelines of a feature length production, Netflix was the perfect partner. "It allows us to tell the story in the right amount of time. There are only so many endings to a movie. It's either happy or it's No Country For Old Men and he gets shot at the end," the 48-year-old says. "You either rescue the guy or you let him die. In a TV show you're able to show all the nuances. It's much more truthful because you don't have to tie it up with a bow."
The series stars Community's Gillian Jacobs and co-creator and writer of Love, Paul Rust. Jacobs' Mickey is a flawed female protagonist, a struggling addict and an intense personality. "The show is incredibly relatable for me and for my friends. I've certainly had some public fights with some people. I've definitely cried on a stoop. It felt at times eerily familiar," she says. "It's great to see a character who wears her vulnerabilities on her sleeve. She's someone who is struggling to figure things out and who wants love. As an actor, selfishly, those are my favorite types of characters to play."
All 10 episodes of Love hits Netflix February 19.
Images: Suzanne Hanover/Netflix