Watch The First 'OITNB' Season 4 Teaser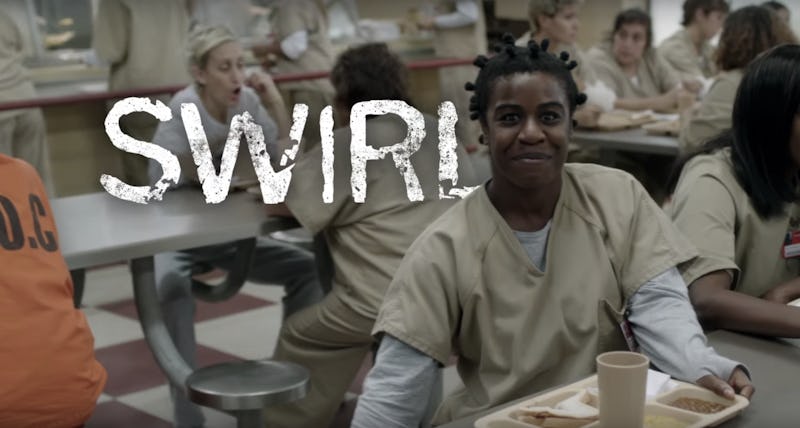 If fans have learned anything from the women of Litchfield, it's to "trust no bitch" — and the first trailer for Orange is the New Black Season 4 doesn't hesitate to remind you of just that. In the teaser for the show's June 17 return, viewers get to see a bunch of memorable old quotes and images, albeit very little new information. The lack of details is frustrating, for sure, but hey, at least you can rest easy knowing that the return of OITNB is coming up so, so soon.
When fans last left Litchfield, all seemed as well as it could be — well, sort of. The ladies were running wild and free in the lake, except for Alex (Laura Prepon) who may or may not be dead — but probably isn't. Piper (Taylor Schilling) had gone straight-up cold killer and got Stella (Ruby Rose) sent to the Shu. Daya's (Dascha Polanco) baby got taken away from her creepy step-dad Cesar (Berto Colon), and with no Bennett (Matt McGorry) in sight, hopes weren't high for a Daya-Bennett reunion. Things may not have been perfect, but overall, life for the ladies of Litchfield wasn't all too bad, considering.
But Season 4 might bring some huge changes, as Judy King (Blair Brown) a Martha Stewart-like figure, is joining the prison. According to Brown, who spoke at Netflix's Television Critics Association panel on Sunday, that could mean big things. "Because [Season 3] ends with the overcrowding in the prison, you do push all the groups together and the alliances that happen are unexpected," Brown said, according to Buzzfeed. Added OITNB creator Jenji Kohan, "We're always trying to make new combinations. It's so exciting to watch these women perform [so] we're trying to keep it interesting for ourselves too. We're always looking for that."
Unfortunately, the new trailer doesn't provide much more information than what's already known. Still, here's what it could reveal:
1. Someone New Is Coming
That bus can only mean more ladies are joining the quirky and fun cast of OITNB.
2. Things Are Going To Get Interesting
No surprise there — the show is always full of twists and turns.
3. You Still Can't Trust Anyone
Duh. According to an interview Laverne Cox (Sofia) gave to TVGuide last year, the feud between Gloria (Selenis Levya) and Sofia is still up and running.
4. The Gang's All Here
All the characters fans love are present and accounted for in the trailer — although where they will be in Season 4 is less known. Specifically, here's hoping that the isolated Nicky (Natasha Lyonne) will return to our loving arms.
5. The Show Will Still Be Powerful
OITNB has always done a great job of making viewers feel just as caged as everybody else, and it appears that will continue in Season 4.
6. Chaos Will Happen
I mean, just look at that clip. Are you excited yet?
7. Somebody Gave Taystee a Label-Maker
And a cubicle! You go Taystee. The one new piece of news the trailer offers is that this hard-working smartie is doing some sort of office job, possibly at the prison.
Hopefully Netflix will soon give fans a little more to go on. But let's be real — it's not like I won't be super hyped anyway, even if they don't give any more info until the June premiere. This trailer just served as a reminder of how much I love all the people of Litchfield, and how excited I am for their return in just a few months' time.
Images: Netflix